I'm glad you've taken the time to get acquainted with me. I am a mother of 3 grown children and grandmother of 9. My deep faith in God is what defines my life. Jesus Christ is the lover of my soul and without Him, I would not be where I am today. He has brought me through some rough times, the worst when I lost my husband to cancer a few years ago. My desire is to be a praise to Him and a blessing to others.

Here are somethings you might like to know about me.




1. I was born in Kansas but grew up in upstate New York
2. I've traveled across country twice on a Greyhound bus. (I hope I never have to do it again!)
3. I lived in Tennessee for a short time.
4. I have a dog named Doc-Boy who thinks he's a human but he's really a Silky Terrier and a cat named Thelma who is queen of the house.
5. I am an L.P.N. and work in Home Health.
6. I have battled weight issues for many years and am determined to get healthy.
7. I used to be a "Trekkie" but not so much anymore.
8. I had to evacuate 3 times in 4 weeks from my home in Florida because of hurricanes in 2004.
9. I love watching "Storm Stories" on the Weather Channel especially the ones about tornados.
10. I was named from Melanie in "Gone With The Wind".
11. I graduated top in my LPN class.
12. My dream vacation destinations are the Holy Land and Hawaii.
13. I have attended a Messianic Jewish Synagogue and celebrate Chanukah as well as Christmas.
14. I love ice cream, and Ben & Jerry are close friends.
15. I lived about 100 miles from Mount St. Helen's in Washington state when she erupted in the 1980's.
16. I love music especially contemporary Christian. I also like some classical, some country and timeless classics.
17. I love pastel colors especially blues, lavenders and pinks.
18. I tend to pick certain favorite movies and watch them over and over again.
19. Some of my favorite movies - "Lord Of The Rings Trilogy", The Three Amigos", "Singing In The Rain", "Twister", to name a few.
20. I am trying to learn sign language perhaps as a ministry someday.
21. I love Pepe - the king prawn from the Muppets.
22. I collect anything to do with light houses.
23. I have a collection of "Miss Read" books about English country life.
24. I homeschooled my youngest son from 7th grade until graduation in June of 2001.
25. My favorite "Jesus" movie is the "Matthew" video series with Bruce Marchiano.
26. My grandmother was very artistic as well as my mother and my younger son but I think it skipped a generation!
27. Macaroni and cheese and hot dogs are still one of my favorite meals.
28. I love to walk on the beach and wake up hearing the ocean waves.
29. I love Cherry Cokes and raspberry iced tea.
30. I balance my check book to the penny every month.
31. I would love to have a garden but am not very good at growing things.
32. I love to furnish with country victorian.
33. I love tea and have a teapot and several tea cups from England.
34. I used to dance in a Messianic Jewish dance group until I gained weight.
35. I finally learned how to program my cell phone with numbers and speed dial!
36. My favorite place is home with my dog and cat.
37. I have so many photos to scrapbook I'll be busy forever!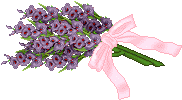 Some things I would like to accomplish!




~learn to quilt
~become a published writer
~learn sign language
~learn all about my computer, how to take it apart, how it works
~take classes on web design and web graphics.
~learn to make sense of my Paint Shop Pro






Here are some of my favorite things!



~chocolate
~teddy bears
~quilts
~flavored coffee
~ice cream
~scented candles
~Wilderness Lodge at Walt Disney World






Here are some adopties cuties that just speak volumes about me. Each cutie is linked to it's originator. Thanks, guys!


Lady and flower bouquet graphics by Pollyanna Graphics