New Author on the Block
by Netto Takashi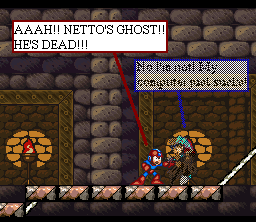 : I apologize for only updating my comics once every eternity, but it's not my fault this time!


: Yeah! One computer's Paint program stopped working, another was, until recently, almost always being used by his nephew, and ITS Paint program only works on Bitmaps, and the other computer runs Linux, which has no Paint program!

: Screw Netto's comics, take a look at my filler comics!


: You stopped updating those for good some time ago, Tiefy!

: DO NOT SAY THE WORD OF MACEAGE, LEST MY MACE EVER RETURN FROM THE SHOP!!


: You never sent it in--it's still in your weapons cache.

: ...oh.

: If, for some strange reason, you wish to contact me, e-mail me at [email protected]


: Or sign our guestbook! SIGN, DAMMIT!

: If you have a perfecly normal reason, these methods also work.
Sign Guestbook View Guestbook

: Here are a bunch of roleplaying forums that have also been keeping me busy!
MegaMan Multiverse RPG, or MMMulti for short. I am its lord and founder, Gigas Bass!
MegaMan EXE RPG, or MMEXE for short. My username there is Netto EXE. I'm Netto Takashi, and my NetNavi's name is Spectrum! Randy Mann is my NPC, and his NetNavi is Randoman! Yes, I'm well aware that they're one and the same in this comic! Tiefling was, until recently, the NetNavi of Luke "Gamenerd" Cambion, played by Grand Lord Tiefling!
RockMan EXE Chaos, or EXE Chaos for short. This forum takes place 20 years after MMEXE. My username THERE is Randy EXE. My NPCs are still Randy Mann and Randoman. Netto Takashi still has Spectrum as a NetNavi, but he's become some souped-up ultra-Navi, and therefore refuses to get involved in anything that doesn't affect the entire world. Netto's main-stream Navi is Aile, taken straight from MegaMan ZX!
---
UPDATES:
2004-03-20: Put in everything.
2004-05-01: Added comics 76 to 86. Added UPDATES section to this page. Corrected some errors found on pages.
2004-08-19: Moved to Yahoo! GeoCities and added comics 87 to 106.
2004-08-21: Added this cool little counter at the bottom
2004-09-04: Added Comic 107
2004-09-07: Added Tiefling's filler comics, and updated the blurb at the top
2004-09-21: Added Guestbook
2004-10-27: Added Comic 108 and NeoBanner
2005-02-24: Finally got Geocities to cooperate, and added comics 109-113
2005-03-17: Added comics 114-116, fixed links on index page, fixed comic 113
2005-06-20: Finally got some time to add comics 117 to 119, apologized for extremely small/late update
2006-07-27: Having made comics 120 and 121 almost a year ago, finally decided to upload them (guess how much I suck)
2006-08-23: Having made comic 122 the day after the last update, and comic 123 yesterday, I've just uploaded them (maybe I don't suck quite as much as I thought)
2007-05-16: Made and uploaded an apology image, and updated the front page (maybe I DO suck as much as I originally thought)

---