[home]
Colin Wee motivates people in ecommerce and ebusiness by using online CRM and Project Management tools. Colin Wee provides consulting for ecommerce and ebusiness professionals with unbiased and objective career enhancing information. Your ecommerce job opportunities are yours to build; you are your own brand name!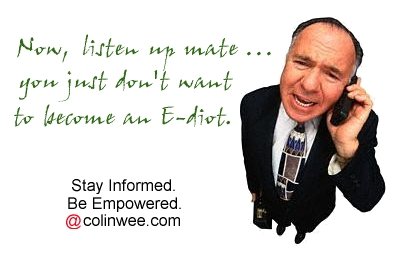 Other sites Colin Wee is associated with:
PositionMEonline Search Engine Optimization: PositionMEonline combines spidering technology with website optimization services to ensure websites get a high ranking within search results.

Colin Wee's Motivating E-commerce Professionals Site: Colin Wee is an E-business professional creating value for other executives in the Internet industry. Add yourself to colinWee.com's networking opportunity and alliances page.

Executive Development Courses at Ninjado: Colin Wee has developed and offers a very popular coporate women self defence and personal safety course through his martial arts school. He intends on putting the whole self defence course online in the near future and needs link popularity to go through the roof! This offering is for Every Woman Expo sed to risk in their professional and social lives. We are not affiliated with Jan de Jong Martial Arts School in any way.

Verbal Judo Tactical Negations: Colin is associated with Will King who offers a tactical negotiations course called verbal judo. Verbal Judo also affiliated with the executive development site at ninjado.com.

Alex Har's One1 Marketing Sentinel: Alex Har is a direct marketing professional who traverses both traditional and online marketing disciplines. He has over 20 years of experience in the industry and has been affiliated with Colin Wee for a number of years.
Contact Us:


ColinWee.com is an ebusiness information portal for professionals and entrepreneurs alike. We have diverse representation internationally, and strong industry affiliation in the South East Asian and Australasian E-business industry. Please contact us for more information on locations and availability.

Email Form

Advertising Opportunities:
ColinWee.com offers advertising opportunities through this site and banner/link exchanges with value added online alliances. Please direct all such requests to us via email. Otherwise, if you would like to be proactive, you can cut and paste the following directly on your web page:

<a href="http://www.colinwee.com" target="_blank" >
<img src="http://members.iinet.net.au/~colinwee/images/bannerexchange.jpg" alt="Motivating Ecommerce & Ebusiness Human Resources" border=0></a>

This will produce the following banner and effect:

We would like to thank PositionMEonline for optimization services helping us achieve higher rankings in search engines.
Visit Colin's Martial Art, and Women Self Defence and Personal Safety Site at ninjado.com.
In marketing association with TEAM (Malaysia), and VirtualBusiness (Australia)