Net movie piracy
Jillann Reeves, 34, of Aberdeen, Wash., could face five years in prison and $250,000 in fines if convicted.

FBI officials say Reeves offered pirated movies, including Star Wars: Episode 1 and Toy Story 2, and PlayStation, Nintendo and Gameboy video games through her Web site, Koolrcds.com, between March 18, 1999, and March 19, 2001. Reeves has been charged with criminal copyright violations in connection with selling and distributing pirated software.
Welcome to our Net Piracy website. The purpose of this website is to educate you about piracy of music, movies, games and software.
Woman loses appeal over CD piracy sentence
A woman who sold pirated CDs at a Sydney market has lost her bid to appeal the severity of an $8,000 fine and five-year good behaviour bond for infringing copyright.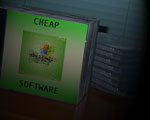 Jin Hua Chen pleaded guilty to eight counts of infringing copyright and was sentenced in Penrith Local Court in December last year.
She was given almost seven years to pay the fine.