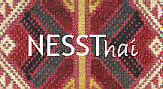 ON-LINE
Contents On-Line
About NESSThai
NESSThai Programmes
Focus on Thailand
About Thailand
NESSThai Highlights
NESSThai Archives
Please E-mail us at:
NESSThai Inc.
P.O. Box 48
Amphoe Muang
Krabi 81000
Thailand

NESSThai Archives
[ Previous ] [ NESSThai HomePage ]
To read some of our files (*.pdf) you will need the Adobe Acrobat Reader. If you don't already have it, you can easily download the software for free by clicking on the icon below:

NESSThai Newsletter (Volume 1, Issue 1, August 1999)

Higlights: Under the Habitats Programme, NESSThai ran a pilot project at the Chian Yai Secondary School in Nakhon Sri Thammarat province. This newsletter describes the day. Also featured are updates of our current programmes and a description of a newly-formed local tour initiative in Krabi (with pictures). A PDF document - 349 kb.

Habitats, example map from Chian Yai Secondary School, Nakhon Sri Thammarat province

View one of the group maps showing the school in the top right hand corner (with the flag), and symbols for emotions down the right hand side of the map. The symbols are as follows: apple = hunger; heart = love; sun = hot; teddy bear = fun; snake = fear; rain cloud = cold; sun and clouds = comfortable (or a feeling of well-being); sad balloon = boredom; fire  = warmth (in terms of emotional feelings rather than temperature); bowl of rotting food with flies = bad smells.

It is interesting that the students have used a fire for emotional warmth although fires are hardly if ever needed for warmth in southern Thailand. In contrast, the symbol of the sun on its own signifies the oppressive feeling of "hot". JPG file - 456kb.
Number of Visits to this Page