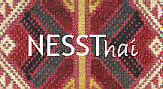 ON-LINE
Contents On-Line
About NESSThai
NESSThai Programmes
Focus on Thailand
About Thailand
NESSThai Highlights
NESSThai Archives
Please E-mail us at:
NESSThai Inc.
P.O. Box 48
Amphoe Muang
Krabi 81000
Thailand
Network for Environmentally- & Socially-Sustainable Tourism (Thailand)
NESSThai Highlights

[ Previous ] [ NESSThai HomePage ] [ Next ]
NESSThai Highlights brings you up-to-date with our new pages and features. Check back regularly to see changes.
Click on the links below to see our Highlights.
Web Feature

Topic

Description

Updated

NESSThai Archives
We've archived our FIRST newsletter, which gives details of NESSThai's activities in the Habitats programme, and one of the group maps created by the children of Chian Yai Secondary School, Bo Lo, Nakhon Sri Thammarat province. The newsletter is in PDF format, and the map in JPG, but be warned both are large files.

14/8/99

Photo Gallery
Finally, we've finished a thematic section on fisheries. This photo gallery theme deals with problems of over-fishing and destructive fishing, and draws attention to the recent protests by small-scale fishing communities in Thailand against night-time fishing of anchovy with powerful lights.
14/8/99
About Thailand
We've uploaded an information section on limestone karst - something very appropriate for Krabi, an area famous for its fantastic limestone formations.

Also in About Thailand, we've uploaded a feature on mangroves.

14/8/99
Number of Visits to this Page