*~ Tribute to Vanessa Nicole Yusi ~*
July 17, 1981 - April 8, 1999
It has been five years since we have lost Vanessa and we miss her dearly. Keep praying and know that she's watching over us.
Just some headlines from AV Press- look under April 8: AGUA DULCE, April 10: SANTA CLARITA, April 11-13: PALMDALE.
More headlines here- look under April 16-17: PALMDALE.
More to come soon.
We love you Ness! Prayers go out to the families of Jovanni Solano, Kenneth Chu, Shaun Perez and John Batas. Rest in peace.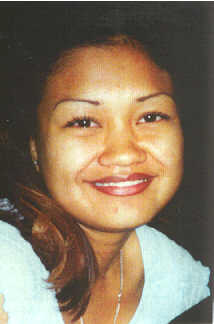 Sorry, this page is currenty under construction. Please come again.
Visit Vanessa at:
Eternal Valley Memorial Park
23287 N. Sierra Highway
Santa Clarita, CA

Read my Dreambook guestbook
Sign my Dreambook
Last updated: April 8, 2004