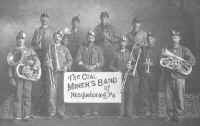 Each year the Nesquehoning Hose Co #1 publishes a calendar that contains historic pictures of Nesquehoning. The Calendars are 8 1/2 inches by 11 inches and started in 1994.
Each calendar has a picture on each month with a caption below the picture. Pictures also are on the front cover, back cover and inside back cover. Click on each year to view the contents.
Because of the many pictures on each calendar page the pictures were made smaller in order for the page to load more quickly. To enlarge the picture, click on it, to return to the page, click on your back button.
If you would like to purchase one of these calendar's (some back issues are available) send a check or money order made out to Nesquehoning Hose Co. #1 in the amount of $4.50. This includes postage in U.S.
Yes, we have complete sets.
If you want a complete set of calendars (12 calendars) from 1994 to and including the 2005, the price is $38.00. This includes postage in U.S.
If you have any questions you can e-mail them at [email protected]
Send to:
Nesquehoning Hose Co. #1
C/O Richard Creitz
1201 E. Catawissa St.
Nesquehoning, Pa. 18240