!!Myao!!____________________
Myao is from the PS1 MUSICAL RPG game Rhapsody. Rhapsody is tons of fun, and Myao is the kittygirl villian. Myao has a squad of little gray cats in overalls to help her battle Cornet, the hero of the game! Myao is under the rule of Marjoly, who wants to take the prince away from Cornet! EEE, I just love the game, and all of the costumes are just perfect for cosplaying. I undertook my biggest challange yet with this one and I think it came out quite well.
This costume was first worn at Otakon 2004.
Click on thumbnails for the enlarged versions.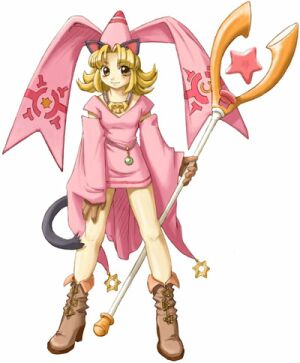 Fabric from: Joann Fabrics
Shoes from: Journeys
Wig & Buckram from: The Illusive Skull
Craft Supplies from: Michaels Arts & Crafts
Gloves from: The 1940s.
Staff supplies from: Lowe's
Dance Trunks By: Capezio
Please note: I cannot remember where picture #2 is from, if you took the photo, please let me know and I will give you proper credit.
Visiting here from somewhere else? Go back to The Homepage