The Land Hermit Crab Phenomeona:
Land Hermit crabs are the pets of the future!
All you need is to create a tropical terrarium habitat!They are not simple pets, they need the correct temperature and relative humidity.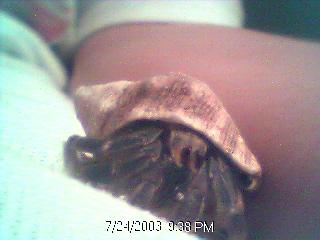 this is an edcuadorian land hermit crab
Ecuadorian vs Carribean
There are many types of Land Hermit Crabs, but most popular in the USA is either the Ecuadorian or Carribean. Ecuadoriands or E's are a brown sandy color. Carribean or purple pinchers a.k.a. PP's have.... you gessed it Purple pinchers, they are a redish color.Hermit Crabs are such a delight!
Links:
Hermit Crabs.com