Superman/Batman #6 page 22 pencils by Ed McGuinness inks by Dexter Vines © DC Comics 2004>

Welcome to the eighteeenth Father's Day issue of The Neon BoneYard, the comic art comedy club. I really don't have any comic art stories that related directly to my father, so for this issue, I will be going over some of the imaging tools I use to create my comic art masterpieces.I will finish with a little story about my Dad though.

First, the featured page for this issue. This is another great, last page, splash page from Superman/Batman #6. This series featured the return of many of the "silver age" icons from Supermans heyday, icluding Krypto, Supergirl, and Lex Luthor's purple and green battle suit (Lex seems to get a lot of billing on my website). The most intersting thing about this page is that it was the first to mention the upcoming "Infinite Crisis" mini-series, the sequel to "Crisis on Infinite Earth's" (although you really can't tell from the original comic art, since it has no word balloons attached, but once again, that's a story for another day). I didn't know this at the time, so it turned out to be a fortuitous (and hopefully fortunable) happenstance.

When I began generating the comic masterpieces for this site, the first item I searched for was a (FREE) way to add word ballons to the scanned art. I attempted using Microsoft Paint, but it was too clumsy. Next, I searched through a few of the free picture manipulation tools that allow you to add word ballons. The problem was, these were opaque when added to the art (ie the art showed through the word balloons), and were not usable. I finally stumbled across a little program called ALSee from Altools. While it is a little klunky (and tends to go into russian or some foreign language on tabs and messages), it gets the job done (did I mention FREE). The word balloons available are a little limited and cannot be resize, so I use a combination of ALsee, Microsoft Paint, and a little picture resizing and rotation for word balloon placement (not always perfect as sometimes the conversations don't really "jive" in the right order and heighth between two characters).

My next problem was fonts. I needed a "Bold Superman Title" type of font, which I finally located called SF Comic Scripted Shaded . It has a tendency to let the art underneath bleed through, but with a little captial letter/small letter usage and sizing, it is a (FREE) decent Superman type title font. For generic word balloon lettering, I use the standard Comic Sans MS that comes default with most Microsoft programs. And finally, I also use the Matisse ITC font for a nice little "artsy inker" effect. Using Micrsoft Paint as my final lettering tool and viola', free comic book masterpieces!!!

Before ending with my heart warming tale of pater, we are now in the height of the comic convention season. I attended another convention earlier this month, Adventure Con in Knoxville, Tn. In past years, this convention focused more on science fiction and fantasy, although it has rapildy been evolving towards the comics arena with a fairly good artists alley (and for some reason, every person from Star Wars who hobbled on a cane). Some of the artist in attendance were Ethan Van Scriver, Andy Smith, Tom Nguyen, legendary artists Joe Staton. Below is a sweet little cover I purchased from him (I actually bought it the week before Aventure Con, but I had to slip it in some way):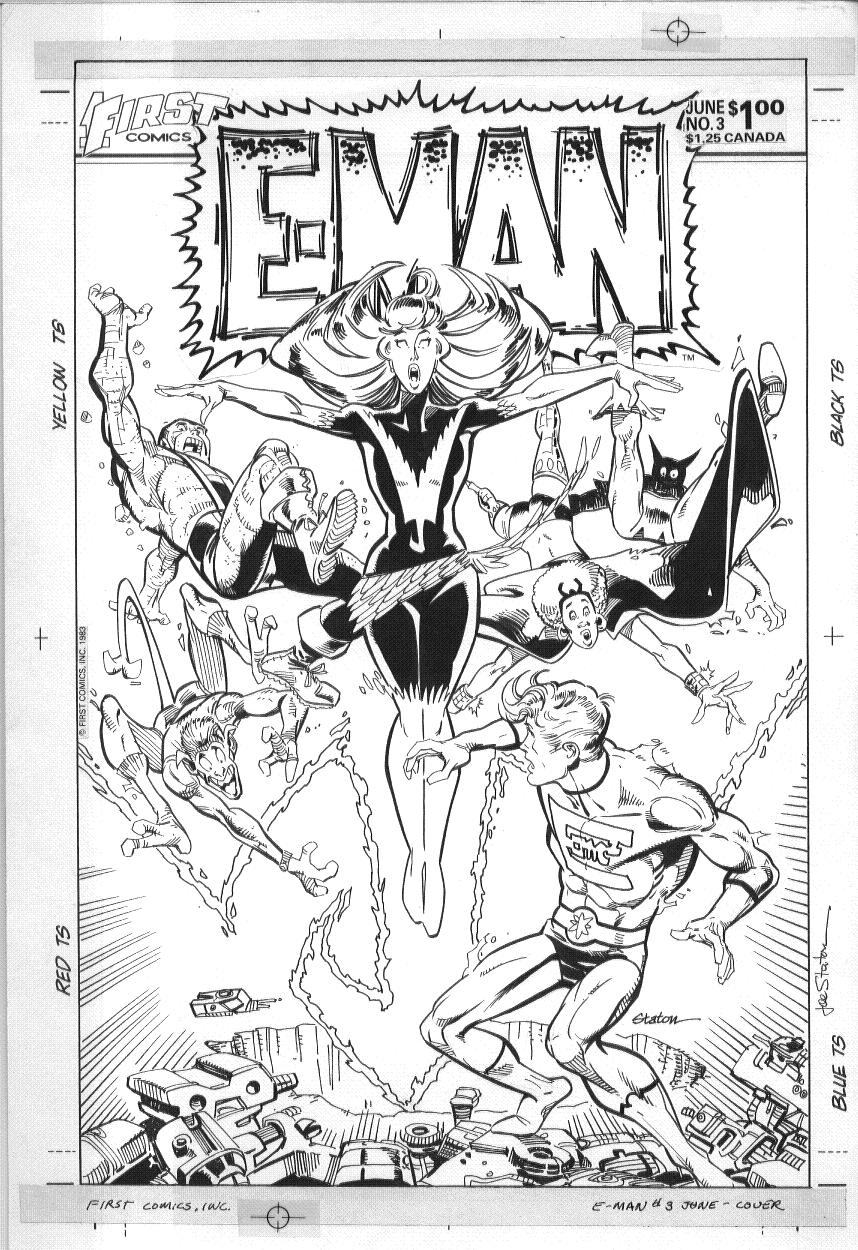 E-Man #3 Cover pencils by Joe Staton inks by Joe Staton © First Comics 1983>

I actually remember buying this comic back in 1983 when I was attending college in Knoxville (aahhh, care free college days under the watchful eye of the ol' Sun Sphere) so what comes around goes around. All in all, I'll be adding Adventure Con to my permanent convention circuit roster, although mainly as a day trip.

Back to fathers day. When my Dad went to work at his accounting firm in his blue suits, black glasses, and slicked back curly black hair, he looked almos exactly like Clark Kent, so here a picture of Dad...I mean Clark Kent: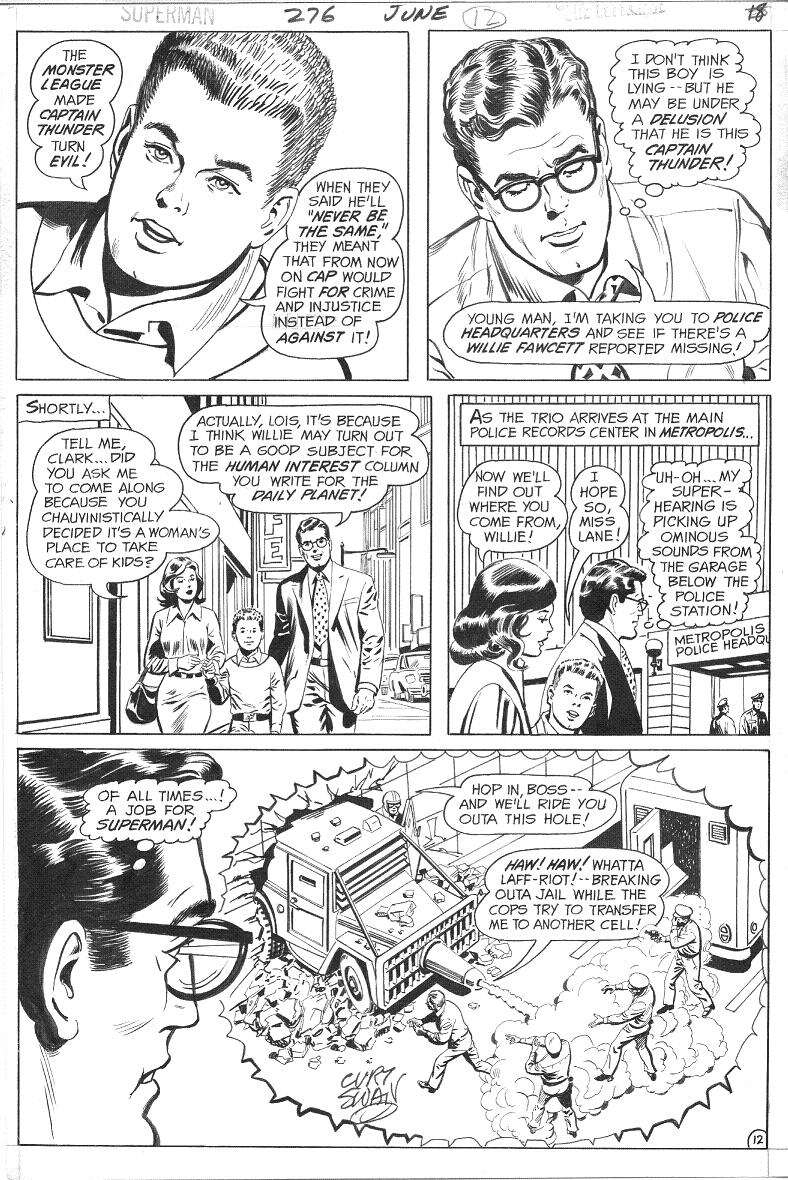 Superman #276 page 12 pencils by Curt Swan inks by Bob Oksner © DC Comics 1974>

I found out later that this particular page has a little "art of controversy" behind it from my new favorite website, Comic Book Urban Legends Revealed . In the 70's, DC leased the old Fawcett characters (aka Willie Fawcett) to start publishing them again and integrating them in the DC Universe. The first meeting of Superman and Captain Marvel was to take place in Superman #276, but DC decided it was too early to have them meet. So instead, Superman #276 featured Superman vs. Captain Thunder. This was a reference to the Golden Age origin of Captain Marvel, as the character was ORIGINALLY named Captain Thunder in the 1940s, but Fawcett discovered before publication that another hero was going by that name, leading to the name change. You can go to the above website if you wish to read more, and get into the Superman vs Captain Marvel vs Captain Thunder vs Fawcett Comics vs Marvel Comics mess.

Ill end this issue with a little advice my father once gave me back in the day. I had just garduated high school, and was getting ready to head out to all the graduation parties. This was back in the day when the legal drinking age was 19, so you weren't a total a-hole for having a beer at 18 (actually the legal drinking age was raised to 21 the first year I went to college. I was grandfathered in at 19, but my one year younger brother and his friends were all screwed...hahahahaha ...well, in theory). Anyway, my Mother pulled me aside, and asked by Dad to give me some advice before heading out. She said "Bill, what did you do on your high school graduation night?". His response was, "Went down to the creek, and got as drunk as a skunk!!!" Sage advice!!! (re-write already in progress).

Grail Page Original Comic Art Store