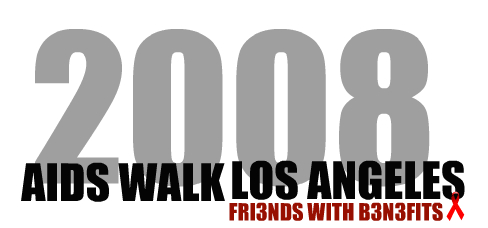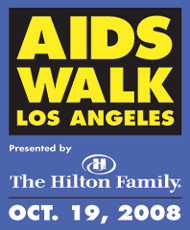 Every fall, thousands of people get together to take part in an event that raises money for AIDS service organizations in Los Angeles. That event is the AIDS Walk Los Angeles (AWLA). This fall, Sunday, October 19th, will mark the 24th annual AWLA. In 2006, approximately 30,000 walkers took part in the event, along with more than 3,000 volunteers and over 1,350 individual, corporate and community teams. In 2007, a record of $3.9 million had been raised. That number continued to grow even after the event.
"The money raised by AIDS Walk Los Angeles (AWLA) benefits AIDS Project Los Angeles and other AIDS service organizations across Los Angeles County. AIDS Project Los Angeles, one of the largest non-profit AIDS service organizations in the United States, provides bilingual direct services, prevention education and leadership on HIV/AIDS-related policy and legislation. Founded by four friends in 1982, APLA is a community-based, volunteer-supported organization with local, national and global reach."
To make a donation or join our team just click here or click on the image to the left. If you've got any questions, please feel free to contact me at the email below. We want to get together as big a group as possible...won't you join us? Just contact me at the email below for more info or any questions.
Thanks for your time and I really look forward to your support.
-Nel

[email protected]
---

All of the information you'll need for the AIDS Walk can be found at the official site, www.aidswalk.net/losangeles. But for quick reference here are some important details & links. If you'd like to download the official "Day Of Event" information sheet, it is available HERE and includes some of the information listed below.
LOCATION & SCHEDULES
DATE: Sunday, October 19, 2008
PLACE: West Hollywood Park @ 647 N. San Vicente Boulevard, West Hollywood, CA 90069 - Enter at San Vicente Ave. and Melrose.
TIME: I can't stress enough how important it is to arrive early! Fortunately, Sunday morning freeway commutes are usually light. But still, give yourself enough time so that you don't have to rush things when you arrive. Plus, if you're running late it makes it tougher to find parking. Personally, I like to arrive around 7:30 or so. But I've always been an early bird. lol
8:30 AM - Sign-In Begins. Tables will be arranged by last name. If you have any cash/check donations to turn in still, this is when you can do it. You'll also receive a ticket to pick up any incentive rewards you may have earned. Those get picked up at another area, usually just outside the park on San Vicente.
9:15 AM - Opening Ceremony. This is when the grand total raised (as of the day of the event) is announced. A few special guests also take the stage. If everyone gets there on time, we can hopefully work our way to see it as a group.
10:00 AM - The Walk begins! And yes, it's just a walk. So there's no rush to be the first one across the finish line! So do your best to be on time, otherwise you'll have to rush to catch up to us further down the route.
WHERE TO MEET
We will have our own meeting station table set up. All you've got to do is look for our team's sign, FRI3NDS WITH B3N3FITS. The AIDS Walk volunteers will set up rows of tables that have signs on them with some team names. They are all arranged in alphabetical order. So once you arrive at the park, just look for the table with our team name on it. If you can't find it, there will be volunteers positioned throughout the area that you can ask for help.
MAPS The walk starts and ends at the West Hollywood Park, located at 647 N. San Vicente Boulevard, between Melrose Avenue and Santa Monica Boulevard. It is 10 kilometers (6.2 miles) and takes roughly 2-3 hours to complete. Walkers can enter the venue near the intersection of San Vicente Boulevard and Santa Monica Boulevard to sign in and turn in their funds. You can use the Google map below if you need directions.
CLICK HERE FOR A MAP OF THE WALKING ROUTE
CLICK HERE FOR A MAP OF THE PARK VENUE AREA
PARKING You'll want to get there as early as possible, trust me! My first year, I was able to actually find a good parking spot on the street. (Keep in mind though, all "No Parking" and "Tow Away Zone" signs will be enforced!) Of course, you can always go Green and use the METRO or find someone to RIDESHARE with. But if you are driving, this is where you can park for free on a first come first serve basis:
Limited Early Bird Parking Limited early bird parking is available at the Center for Early Education Parking Garage: 563 N. Alfred St. (Enter off Clinton Ave) and also at the 8899 Beverly Blvd Building parking structure (enter off Beverly Blvd).
Cedar Medical Towers Parking Structures Located off of Gracie Allen Drive (between George Burns Rd and Sherbourne Dr) – Enter off San Vicente Blvd, south of Beverly Blvd. You can also enter from from 3rd St (Park, then walk north on San Vicente Blvd and proceed to the Sign-In Area).
Beverly Connection 8489 W 3rd Street, Los Angeles – Enter the Beverly Connection parking structure off of La Cienega (between 3rd Street & Beverly Blvd). **Last year, I accidentally parked inside the Beverly Center (rather than the Beverly Connection). hehe Still, I think I only paid like $8 or so for the whole time I was there. But just fair warning to be sure you know where you're parking.**
Pacific Design Center 8687 Melrose Avenue, West Hollywood – Enter from Melrose Avenue, just east of San Vicente Blvd.

YOUR PERSONAL DONATIONS PAGE Each team member has their own personal donations page, that can also be edited/customized with your own text and images. If you visit our team page at www.aidswalklosangeles2008.kintera.org/friendswithbenefits, you'll see all our team members listed on the right. Click on any name to visit his/her own donations page. You can direct people to our team page if you want to have them join our team, or to have them click on your name and sponsor you. But you can also direct them to your own page. It'll be in the following format: www.aidswalklosangeles2008.kintera.org/YourUsernameHere. If you need help with getting the direct link to your own page, let me know. To log into your account, just Click Here. You can then start editing your page. There are also a few tools there to email your friends with pre-written messages (for sponsorhips, recruitment, etc.), as well as some gadgets you can post on your websites, blogs and profiles to show your goal and donations collected. So give it a look, and let me know if you need help with anything.
FUNDRAISING TIPS & TOOLS Need some tools to help you raise funds? Check out the AIDS Walk's official section with several cool tips & tools, such as the Fundraising E-Card creator! You can also use some of their official "Sponsor Me" or "Join Our Team" images to link back to our team page or your personal donations page. Those images can be found here. (If you need help with linking those images to your own donation page, just let me know. I'll help you set up the code for that.)
Of course, not all donations have to be gathered online. You can always get donations in person, through coworkers, neighbors, etc. There are some tips and tools for doing that as well, such as posters you can print out or paste onto "donation cans" that you can display in the office. Just be creative, do whatever it takes to spread the word.
OFFLINE DONATIONS (CHECKS & CASH) Personally, I find it easier to get donations online. Less hassle and quicker to process. Unfortunately, there is a $25 minimum online. Due to credit card processing fees that they are charged by each credit card company, they are forced to have a minimum transaction amount for online credit card transactions. If you wish to use your credit card for less than $25, simply fill out your credit card information on the bottom of your sponsor form in the credit card section. If someone wants to donate less than $25 (or only has cash available), you can have a few people combine their donations, and have one person deposit those donations into their bank account, and use his or her credit card to donate online. That way, it will be possible to list everyone's name on the Web page. If that is not possible, checks and money orders in any amount are always greatly appreciated! You can mail those to the AWLA offices, and make sure that the AIDS Walker's name is on the check, so they know who gets the credit. Everything helps, so don't let the credit card minimum discourage you.
To mail in donation checks, send it to the following address: AIDS Walk Los Angeles. PO Box 933005. Los Angeles, CA 90093-3005 Include the name of the person being sponsored on the check or on a separate piece of paper, otherwise the donation could be credited as a general donation. You might also want to include our team number (#6162) in case someone should happen to have your same name. They can also just give you the check and you can turn it in on the day of the event.
While credit card donations made through the website will automatically appear on your personal Web page, AIDS Walk simply doesn't have the staff available to update each individual Web page with every check and cash contribution received. Walkers can update their own Fundraising Web pages by logging in and choosing the "Enter Offline Donations" option in the upper right-hand side of the screen (under "My To Do List"). Simply follow the prompts to enter the information for each cash or check donation you received.
FUNDRAISING AWARDS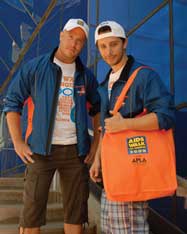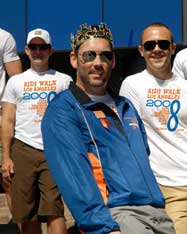 If you raise...
$150 or more - You will receive the Official 2008 AIDS Walk T-shirt.
$250 or more - You will receive the Official 2008 AIDS Walk Cap and T-shirt
$500 or more - You will receive the Official 2008 AIDS Walk Eco-friendly Tote Bag, Cap, and T-shirt.
$1,000 or more - Join the Star Walkers Club by calling (213) 201-WALK (9255). Then set a goal to raise over $1,000. You will earn all of the awards items listed above, including the special Star Walker Athletic Jacket and Pin. You will also be invited to the Hospitality Breakfast on the morning of the AIDS Walk, and you will receive your fundraising royalty crown to wear during AIDS Walk Los Angeles!
EXTRA/FUN STUFF This is just for our team... On the day of the walk wear a white t-shirt, or pretty much any t-shirt you don't mind getting permanent marker on, and bring along a Sharpie or two if you can. Yep, that's right...we're gonna tag all over you! lol Our team founder, Felipe, started this tradition for our team since the first year. It's a fun way to introduce yourselves to people you may not know, too. And if you qualify for the AWLA Rewards (official t-shirt, cap, etc.) you can also have those written on. I used the cap I got last year, made for a nice little souvenier with my teammates messages on it.
After the event, we are meeting up for some drinks at the Abbey. Of course, if you don't feel like having a drink you can still go and hang out with the team, relax and cool down from the walk. Plus, it let's the traffic die down a bit. So be sure to stick around! You never know who else you may run into there, too.
CELEBRITIES, GUESTS & ENTERTAINMENT If you get a chance to view the opening cermony, you might see a few celebrities or special guests. Or maybe you'll just see them walking along you on the walk, or having some drinks afterward. For a list of the people that are scheduled to appear, go to their Entertainment section.
MY #1 FREQUENTLY ASKED QUESTION I've noticed that the Question I get asked the most regarding the event has to do with the fundraising aspect of it all. "What is the minimum I need to raise in order to participate?" AWLA's official answer to that: "AIDS Walk Los Angeles does not require walkers to raise a minimum amount of money. However, we encourage everyone to set a fundraising goal and do their best to achieve it. Additionally, fundraising walkers for AIDS Walk Los Angeles are eligible for several Incentive Awards." So even if you had $0 in donations, you could actually still go show your support by walking. But you don't really want to show up to a fundraising event with no donations, do you? hehe Every little bit helps, from $25 to whatever you can get. People might find excuses for why they can't afford to donate, but you just gotta outsmart 'em. lol It's all for an imporant event, after all.
STILL NEED HELP? You can always email me directly and I'll see if I can help you with what you need: [email protected]
Or you can visit the official site at www.aidswalk.net/losangeles and take a look around. If you wish to contact them, you can call the AIDS Walk Los Angeles office at (213) 201-9255 or e-mail [email protected]. An AIDS Walk Los Angeles staff member should be available to assist you.
LEAVE A MESSAGE
ShoutMix chat widget
---