Boy Scout Camporee: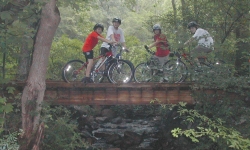 Registration Form - Due NLT 8/15/08
Reserve Merit Badge slots, Camporee T-Shirts & Cap Ordering form - Orders for Caps and T-Shirts is closed but you can still register.

Scoutmaster's Camporee Planning Guide

Announcement Flyer

Camporee Schedule

Contests and Awards:
Colonial/Dutch Oven Recipes
Plans Wooden Candle Lantern
Plans Tin Can Candle Lantern
Campsite - Colonial Encampment theme

Map Directions - Click here
We will be camping in the field behind the J J Henry House. See Site #4 on the Detailed Park Map.

Partial Merit Badge Opportunities - Badges that can be worked on during this Camporee - Merit Badge Counselors available:
Other Links:

Jacobsburg Environment Education Center


The Museum of the PA Longrifle


Jacobsburg History and Facts


Morning Call Article - Arming a Nation


Jacobsburg Recreation Guide


The Bushkill Creek Watershed


Biking at Jacobsburg and Trail Map


Minsi Trails Council
---

Contacts/Camporee Task Force



Pictures of Scouts Biking at Jacobsburg State Park
Jacobsburg Camporee Patch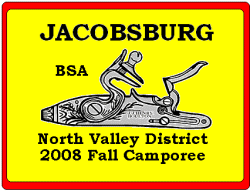 Jacobsburg Weather

Saturday's Sessions:

Troops will start either the Activity session or Historical session in the morning and then switch in the afternoon:
The Activity Session (Select from these activities):

Map Image with permission from Lynn Creative Inc.

Extreme Mountain Biking on scenic trails or take a ride on one of the easy trails- Bring your bike, helmet is REQUIRED
Hiking on several challenging trails. 18.5 miles of trails at Jacobsburg. Bring you hiking shoes.
Fishing in pristine mountain streams stocked with trout. Bring your fishing gear. Fishing license is required if 16 years or older. We are stocking the Bushkill Creek with trout.
Nature - Stream Study - Bring water shoes or old sneakers
The Historical Session - Sponsored by the Jacobsbury Historical Society:
Colonial/pre-Civil War encampment featuring colonial re-enactors sharing their knowledge of history and colonial skills such as blacksmithing, gun making, cooking, and colonial life. Experience colonial life with the Henry families contributions to Pennsylvania's proud heritage of early American rifle making.

Pennsylvania Long Rifle Museum

Shoot a black powdered rifle
Tomahawk and knife throwing
Flint and Steel fire-starting

Cannon Demo

Colonial Cooking Contest - 1st, 2nd, & 3rd place awards - See sample recipies in left column.
Campsite Competion - 1st, 2nd, & 3rd place awards - See plans for candel lanterns in left column (make them prior to camporee).
Jacobsburg - Once the site where the famous Henry Rifle was made, the Jacobsburg National Historic District lies almost entirely within the park that sits at the foot of the Blue Mountains in Northampton County just North of Nazareth, PA. Henrys Woods offers very scenic hikes and the rest of the grounds have multi-use trails within its 1,168 acres. Enjoy hiking and fishing the 2.5 miles of the beautiful Bushkill Creek and its tributary, Sobers Run, that winds through the park. Or take in the short 1.9 hike on the loop trail and experience the sights, sounds, and coolness of the Bushkill Creek as it meanders past dramatic slate outcroppings and old stands of hemlock and white oaks. See displays and demonstrations of early gunmaking at the Pennsylvania Longrifle Heritage Museum currently in the Henry Homestead built in 1812.

Saturday Night Campfire Program and Religious Services will be provided.
REGISTRATION IS NOW OPEN -
Registration is required

Select here for form -> Registration Form
( Includes Advance Order for T-Shirt, Caps, Reserve Merit Badge Slotes )
Complete and Submit to Minsi Trails Council by 8/15/08

We will still except registrations up to the last minute, but the
ordering of Caps and T-shirts is closed.
Additional Camping News
Bring camp chairs or blankets to sit on for the Camp Fire Program, Bring a flat spade shovel to remove sod if you plan to do a site camp fire (sod needs to be replaced), and Bring as many full water jugs as you can to easy the demand on the water buffalos