North Valley District Fall Camporee 2002
How to get there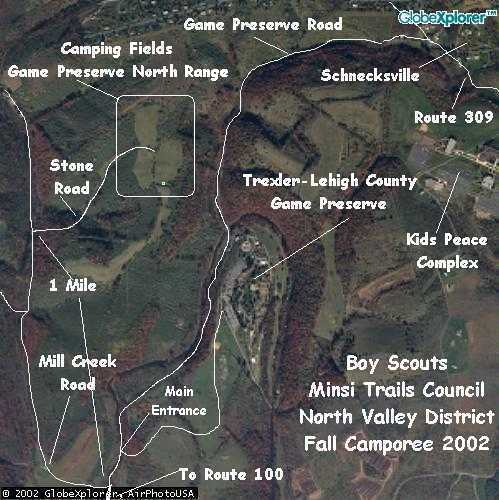 Directions to Trexler-Lehigh County Game Preserve:
From Route 22 or I-78, follow Route 309 North approximately 5.6 miles. Turn left at Game Preserve sign onto Game Preserve Road. Entrance is 2 miles on the left. The Preserve opens at 10:00 AM.
Select here for a site map of the main Game Preserve Complex.
Directions to North Valley District Fall Camporee Camping Fields:
From the Main Entrance Gate of the Game Preserve go south on Game Preserve Road for about 2 blocks. Turn right onto Mill Creek Road going over a bridge and creek. Proceed for 1 mile and turn right onto a stone road at the fenced gate. Continue on this road until you reach the camping fields.
The fields are on the North Range of the Game Preserve property and there are some very scenic view points overlooking the complex and Jordon Creek. On the North Range, Scouts will see plenty of deer, rabbits, turkeys, pheasants, etc. Bring your binoculars. On Saturday, transportation will be provided to and from the camping area to the Game Preserve Complex and Camporee Programs.

The Fall Camporee is sponsored by Neffs Troop 57