THE INFORMATION ON THIS SITE IS UNOFFICIAL AND NOT ASSOCIATED WITH LACOSTE
AS A RESULT ALL STATEMENTS MADE WHILE PROBABLY TRUE, HAVE A POSSIBILITY THAT IT MAY NOT BE
I HAVE GATHERED MY INFORMATION BY READING UP AND BY COMPARING VERIFIED AUTHENTIC SHIRTS AGAINST FAKE ONES
THIS IS NOT TO SAY THAT YOUR SHIRT MAY NOT BE REAL IF IT DIFFERS FROM MY DISCRETIONS
ANY PURCHASE OF A LACOSTE SHIRT BASED UPON MY INFORMATION IS NOT GUARANTEED
I AM HERE SIMPLY TO INFORM THE PUBLIC OF THE DIFFERENCES BETWEEN A FAKE LACOSTE AND A REAL LACOSTE
FINALLY I MADE THIS SITE BECAUSE THERE WAS NO SOURCE OF INFORMATION TO TELL ME IF A SHIRT WAS REAL OR FAKE
ALTHOUGH THIS SITE IS CURRENTLY DONE THROUGH A FREE SERVICE, IT WILL NOT BE ENOUGH TO MAINTAIN IT
ANY BODY THAT WISH TO DONATE BOTH MONEY AND/OR HOST THIS SITE WOULD BE APPRECIATED
PLEASE GIVE CREDIT WHERE CREDIT IS DUE AND NO DIRECT LINKING THE PICTURES
This Site will be broken in to subsections bellow each one focusing on a unique aspect of the Lacoste shirt they will be buttons, production location, sizing, tags, and embroidery (look here for the most definitive way to tell).
DISTRIBUTION
This is the newest section to this site, I am adding it because I'm sick and tired of ebayers saying because I buy in bulk I can sell cheap. This would be true if lacoste sold wholesale to individuals, but they don't. Lacoste only sells to its authorized dealers ie, its own stores and stores like Nordstroms, Bloomingdales, Urban Outfitters... etc. Then a common response to me has been well they are factory seconds. Lacoste dose not sell factory seconds they destroy them. Lacoste strives for the highest quality and would not want their name ruined by a factory second and I have been that this is why they stop producing with Izod. Now, to give you an idea of what the cheapest a Lacoste shirt can get, Lacoste at their factory outlet which is basically last seasons Lacoste, are discounted around 40% that is what I have been told by Lacoste employees.
THE BUTTONS

The Buttons are one of the signature aspects of the Lacoste shirt. All Genuine Lacoste shirts use Mother of Pearl Buttons. Since Mother of Pearl (MOP) is produced by good old mother nature, no two buttons are alike. Also on the darker Lacoste shirts the buttons will be a darker MOP. Also all Genuine Lactose shirts will only have two holes in their buttons sewn vertically. Now there is some debate out there if Lacoste shirts can have three buttons and the answer is yes, but the solid color shirts will only have two.
Now a fake Lacoste shirt will have the crocodile on the button its self and will also have Lacoste written on the button. Theses buttons will be made of plastic and will have two holes in them sewn horizontally. I have heard that some Lacoste shirts do have the crocodile on the button, but I think that they still have two hole in them. While this may sound disgusting one sure fire way to tell if the button is MOP is to bite it. You will be able to tell if it is MOP by doing that. Just because it has MOP buttons does not make it real I have seen fakes with MOP buttons

fake
PRODUCTION LOCATIONS
While I have heard many things about how Lacoste has factories all over the world, I personally have shirts from Peru, France and Morocco. Any other country and ether it is a fake or a lower quality production or I do not know about yet. In the United States multiple brads are sold the majority coming form France or Peru. The majority of the polo's (I do not know about the other products) come from Peru. Any Shirt that is made in any Asian country, Argentina and India should be avoided. Now some fakes have tags that say made in Peru design in France. So this is no longer a way to tell it is genuine, but this is how it should appear. Also i have been told that they were once written in Spanish, but are no longer written in Spanish along with the English so this may be another way to spot a fake.
Sizing
Now this is a very simple but important section on the tag of the Lacoste shirt the sizing must be done in numbers. While previously I had written that is must be in European sizing I came across some at Bloomingdales that used US sizing, while theses were the sport Lacoste, (three buttons) any solid color polo will be done in European sizing.
Tags
One of the easiest ways to tell if a Lacoste is real is by taking a look at the sizing tags on the collar. A real Lacoste will only have the size in numbers and will have two tags, one saying the size and that it is a Lacoste and another saying where it was made. Also there is a picture of a real price tag vs a fake one. A fake tag will have a 8558, 166, egge on the tag if any one of those are on the tag then it is a fake. Also on a real Lacoste there will be a care tag on the inside that has DEVANLAY written on it, but the good fake ones do have them, but they will have stars by the side of the writing.
real
A Fake Lacoste will have the sizing in M L XL and will only have one tag on it.

fake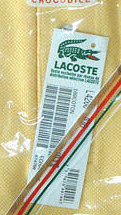 fake
EMBROIDERY
All fakes have the croc in line with the slit on the polo see bellow, while the placement does vary by a couple of centimeters, but not a couple of inches. Any fake will have writing on the arm, (vintage may be different) also the croc will have Lacoste embroidered on it. All Genuine Men's Lacoste will have the croc sewn on via a patch, the women's version is embroidered directly on.
ALSO IF YOU HAVE ANY INFORMATION AND OR PICTURES PLEASE SEND THEM TO ME
IF YOU WANT TO KNOW IF A SHIRT IS A FAKE I WILL TRY TO TELL YOU, BUT I MAINTAIN THIS SITE ABOUT ONCE A MONTH SO IT MAY TAKE SOME TIME
AND A SPECIAL THANKS TO nima14m FOR A GOOD MAJORITY OF THE PICTURES
If You want to Make Money Doing Surveys try this site they don't spam and are very legit