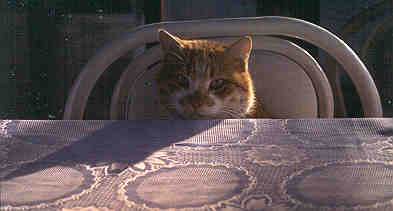 IN MEMORY OF BARIS'in anisina
Baris Esenboga yolunda trafik ihmaline kaybedildi. Onca yilin emegi, guzelligi , mertligi, sevecenligi bir anda yok oluverdi.
Biz Baris'i taniyanlari cok ama cok uzmesinin yaninda; bu olay ayni zamanda "bu kadar basitmi yani" sorusunu tekrar akillara getirdi.
Baris kedileri cok severdi. Wisconsin'de tanismistik. Bilkent'de ogretim gorevlisi idi.

Baris has been lost to traffic negligence on her way to the airport to catch her plane to Paris from Esenboga in Ankara. Her very beauty, boldness, love of life and years of work have been lost in an instant.
This incident not only made us who knew Baris sorry, but so sorry that it also brought the question to our minds one more time, " Is it this simple?"
Baris loved cats very much. We met in Wisconsin. She was a teacher at Bilkent.