FELT FROM THE HEART
NEDERLAND ELEMENTARY SCHOOL
NEDERLAND
COLORADO
Head Teacher : Nancy Vaughn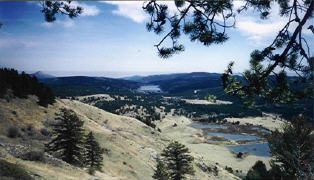 Looking down on Nederland from above Eldora
I arrived into Colorado on May 6th and was initially amazed by the flat plains of Denver stretching away in all directions. I could see the craggy mountains in the distance and was glad that I was heading for them! On the bus ride to Boulder I saw many strange cloud formations that gave me some idea of the varied weather patterns I would soon experience; from sun to snow and back to sun again! I also saw what I believe was a Coyote in a field by the road.
I was picked up in Boulder by Jessica Moon Bernstein, the art teacher who arranged for the school to take part in the project. It was hot and dry, which is weather I'm not accustomed to. We drove up the 'canyon' out of Boulder towards Nederland and I was fascinated by all the rock and the steep grade of the road, which was once used by horse drawn transport. The climb out of the canyon took us from 5000ft elevation of Boulder to over 8000ft elevation of Nederland. This took me some time to acclimatize to, especially after coming from sea level in Alaska.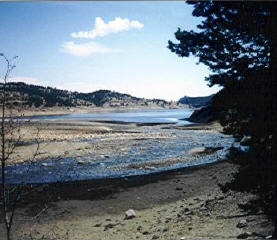 Nederland Reservoir
Brief History
Nederland has been a settlement and town for over 150 years. It was established in 1871 but has gone through many changes in population due to the rise and fall of different mining operations throughout history. Initially it was silver that was being mined in the area and milled in Nederland, later a rich supply of the rare Tungsten was discovered after the decline of the silver mines.
Today, however, there is only one small mine left running and most people live here for the natural beauty of the area. There is a great mix of people from all walks of life, all sharing in the peace offered by being that bit further away from main stream civilization!
"I like living in Nederland because it's so interesting. I like how people help each other out and are kind to strangers. It also has such amazing views of mountain ranges and all colours of the seasons." [Hanna]
"What I like about Nederland is all the nice people, the view and all the animals, it's just a lovely, nice place." [Kate]
"What I do like about living in Nederland is it's not crowded and there is a lot of forest space." [Ellie]

The Great Continental Divide

"I like all the trees to climb."

[Hank]

"It is such a small town! It is fun to know at least half the people here. Everything is soooo beautiful." [Heather]

"I like living in Nederland because I like the mountains and the altitude and I like living in a small town. And I like all the beautiful animals." [Rachel M]

The wildness of the mountains and forests offers homes to both climbers, mountain bikers and walkers as well as bear, coyote, elk, raccoon, mountain lion and many varieties of birds. There has been a constant buzz of humming birds ever since I arrived.

"When we were on computers, I looked out the window and saw a few big red foxes. They were such a deep red. It was beautiful." [Hanna]

"I have seen a lot of elk and a fair amount of deer and some birds, squirrels and chipmunks and foxes." [Emily]

"I was riding home on the bus and I saw a Peregrine Falcon sitting on a branch! [Logan]

"I saw a moose it was big, hairy and strange." [Hank]

"The first time I saw an elk I thought, 'Oh my gosh!' It was so big and gorgeous!" [Heather]

I got the chance to see several elk while I was here. The interesting thing for me was to find that what people call 'elk' here are very different to what I know as elk from Scandinavia. The elk there are more like moose whereas here they are big deer with a large patch of white fur covering their entire backside, quite unusual looking creatures!

The Project!

I was to work with the 27 children from Brenda Theodorakus' 5th Grade class.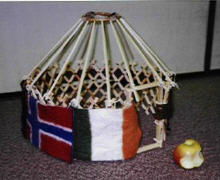 Model yurt
I began the project by telling the stories of where I'd been and what I had experienced up until now. We discussed what impressions people had of the countries I'd been to and I told them what I'd learnt about each place!
We spent some time talking about Nederland and what creatures lived here and what should be depicted on the panel. We also spent some time discussing felt, wool and other fibres, including playing a game to try and work out what certain fibres were and what they came from and what they could be used for!
What I have learned is that there are many animals that fur can come from to use when you make felt." [Danielle]
Most children decided to put wool in their shoes to try felting it the old fashioned way!!
Week One
" We have made these awesome felt balls with our own designs." [Hanna]
Making felt balls with 27 children proved interesting!! Luckily, the wool that had come from 'Fantasy Fibres' was excellent felting wool which made it easier for them. I decided that they could choose what colours and designs they wanted. Some of them felted the balls so well that they had a good bounce to them when they were dry!
"I have made a ball with green, orange and red." [Matt]
THE BIG PICTURE
Once again we began by drawing pictures.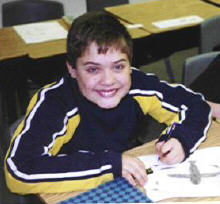 To make it easier to work with so many children, I split the group into six. This meant that each group of about 4 or 5 students had a particular section to focus on. They teamed together to decide on the images and colours that would be needed for their section and drew pictures on paper.
The groups were as follows:-
2 border groups, top and bottom
The Great Continental Divide, The Boulder Canyon
The reservoir and foothills, Cabin, mine and trees
Images of birds and animals were included within these guidelines.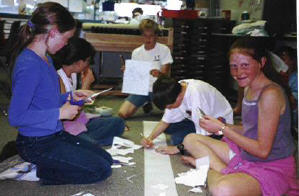 Border preparation
Once all the images had been gathered they were coloured in, cut out and laid onto the large paper sheet to get an idea of what it would look like!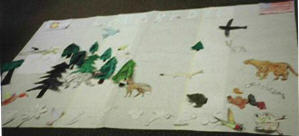 It was then time to start some felting again. I decided to get the children to make a round, flat piece of felt to make into a pouch. First they had to cut out a shape from semi felted wool which they would felt into the center of the piece. This gave them the understanding of what they would do with all their picture images later on!
Once again even with several children off sick it was difficult to compete with the high energy levels of so many children! It later dawned on me that this was there last 2 or 3 weeks at the school, forever. After summer break they would change schools! Still I have to say that it is better to work with children of such enthusiasm and energy as they did seem to enjoy it all so much!
"My favourite part so far has been putting soap everywhere." [Heather]
Unfortunately taking pictures during those busy classes was completely forgotten about. This picture below shows the process that is usually most enjoyed! The wool is in layers under the bubblewrap and soap and water are both on the wool and on the plastic surface so that they can rub over the wool easily and get it to felt!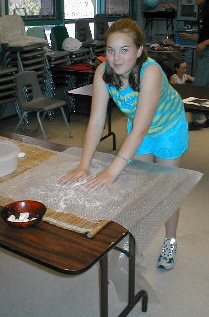 "You use soap and water and you rub whatever you are felting for a while." [Sean]
"What I learned about feltmaking is that not only can you use different materials but it takes time and patience." [Erik]
After the rubbing over the bubblewrap the children then had to roll the felt up and roll it back and forth for several minutes to really get the wool to shrink and tangle and felt together! Using hot water where possible and pressing down quite hard.
"I learned that felt has to have heat and pressure." [Matt]
The pouches were a big hit when finished off with leather-type strings! Some were used as hair wraps and others became the smallest backpacks in the world!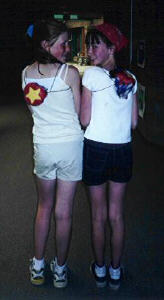 Week Two
As we were all nearing the end of the year for the school, time was short and I decided to do the semi-felts in preparation for their paper images. They had given me colour ideas so I tried to make them match!
It was then their job to pin the paper designs to the felt and carefully cut around them!
Some of these were trickier than others due to the spindly shapes drawn on the paper!!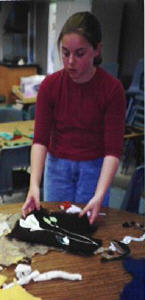 When we had all the semi-felted images cut out we split back into the six groups in order to put the whole picture together.
This was the difficult part as we were going to have to put everything upside down onto the rolling cloth. This meant words would be back to front and what we had imagined on the left of the picture must now be placed upside down on the right! When we had laid all the images in their places we covered it with layers of coloured wool.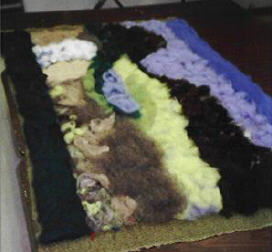 The next stage was to roll it all up and try and get it to felt together. When it was rolled up we had to pour in lots of hot and soapy water.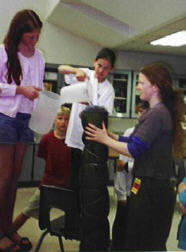 Then the process of rolling the felt begins! As the wool was so good it didn't take so long and the children had an easier time of it.
We rolled it from all sides and even managed to sing a few songs to keep us from noticing the work!
Then came the best and most exciting moment when it was time to peel off the tweed that we used to roll it up in and reveal what was underneath!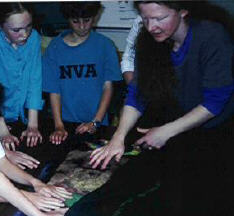 "I've learned that feltmaking is a lot easier than I thought it would be." [Jonathon]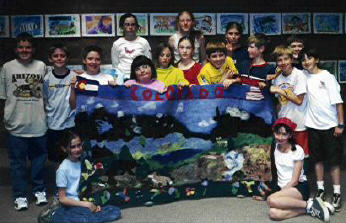 And can be beautiful as well!
(Thanks to Nederland Laundromat for helping rinse and spin the big panel without any charge!)
Week Three
The children had already given some thought to what they would like to make for the project they would leave with the school. Through a hidden vote they decided upon a 3D turtle. We chose the box turtle both for its striking colours and the fact that several students had either seen or heard of them being in the Nederland area, even though they are fairly rare!
Once again they were split into groups to make, the legs, head and shell. We also decided to make felt stones and water for a setting for the turtle to sit on!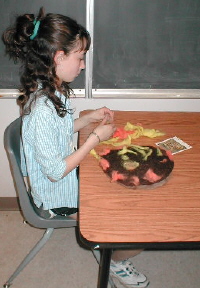 Working on the shell
At the same time a friend, Lisa McCoy, kindly offered to come and teach the children about carding and spinning wool so they could experience other forms of wool craft. One of the children even brought in her home grown lama wool of which Lisa spun some!
All the children got the chance to card raw wool straight from the sheep and spin some coloured wool into yarn!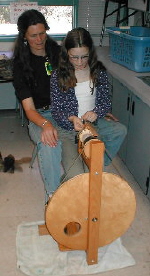 Meanwhile, others were just having fun!!!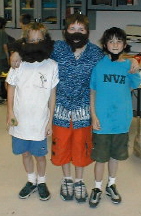 Still after the persistent work of most children and then a bit of lunchtime work from myself we were able to present the turtle to the school at the end of the day.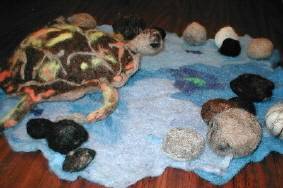 It was particularly special for the children to be able to present something to the school as they have only one more week left before leaving.
If you want to contact the school you can contact the head teacher:
Nancy Vaughn
You can contact me at
To return to the main website
http://www.geocities.com/alanafelt