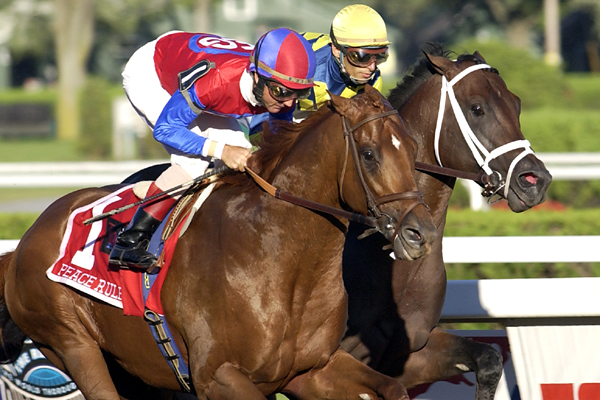 Now you have come to the best feature of Myrtlewood Thoroughbred Inc., the equines themselves! We are a fairly new stable to the inter sim world and to the Jockey's Room. With are fresh line up of well bred and classy thoroughbreds on the racetrack and in the breeding shed though, we are confident there will be many future champions.


Two Year Olds


Mr.Frodo Sir \\ Kingmambo x Charming Lassie by Seattle Slew
Vindicate \\ Seattle Slew x Strawberry Reason by Strawberry Road
Perfect Dance \\ Unbridled Nicom x Broadway by Theatrical
French Ambiance \\ French Deputy x My Baroque Dancer by Dancers Charm
Laguna Ransom \\ Red Ransom x Champagne by Zabeel
Conductor \\ Elusive Quality x Flute by Seattle Slew
Cast Er' White \\ Hennessey x Desert Secret by Sadler's Wells
Charming Prospect \\ Charismatic x Chimes of Freedom by Mr.Prospector
Fadami \\ Daylami x Flawlessly by Affirmed
Social Outcast \\ Danzig x Personal Ensign by Private Account
Me Myself and I \\ Capote x Mariah's Storm by Rahy
Dépêche Toi \\ Storm Cat x Beware of the Cat by Caveat
Silver Secrets \\ Silver Charm x Lady's Secret by Secretariat
Hellbent \\ Cat Thief x Silverbulletday by Silver Deputy
The Last Act \\ Cashcapade x Broadway by Theatrical
Inthecoldnight \\ Forestry x Raging Apalachee by Apalachee
Monte Carlo \\ Red Ransom x Diablo's Music by Diablo
Storm Beauty \\ Storm Cat x Sky Beauty by Blushing Groom
Phirst Kiss \\ With Approval x Winning Colors by Caro
KC My Line \\ Linear x Ajina by Strawberry Road
Held Hostage \\ Smoke Glacken x Perfect Sting by Red Ransom
Munirah \\ Dubai Millenium x Selection Board by Welsh Pageant
Sailor Exaltation \\ Selkirk x Kalinka by Soviet Star
Corona Flame GI
Miss Dixie G3 P
Unbridled Zip G1
Loch Ness Monster Maiden
RTW Spotspector Maiden
Lunatic Maiden
Nitetime Maiden
Former Senor \\ El Gran Senor x Wife For Life by Dynaformer

Three Year Olds


Rampaging Memories G3
Royal Renegade G2
Excalibur GI P,G2
Hurricane Sleet GI
Unmade G2
Starstruck GI
Shipmate GI
KC Persephone Maiden
Seattle Dreamer Maiden
Graceful Singer GI P,G2
Bold Pixie GI
Myrtle Royal GI
El Perfecto GI
Illustration G2
Miss America GI
Dream Of Fyre G3
Magpie Brew G3 P
Flying for Cash Maiden
Pure Intentions G2
Threesacharm GI P,G2
London Muse GI P,G3
Dynamism Maiden
RS Christmas Bells Ringing Maiden

Older Racers


Prospect of Gold Allowence
Pulchritude G2 P
Terrapin Magpie GI
Sea Hunt GI
Seattle Locomotive GI P,G2
Healing Ambrosia GI
Hazel GI P
Slew's Gurl GI
Divination G2
A.P Timemachine GI
Light Man Maiden
Admiral's Image allowence
Fly Away GI
Snake Danzer Maiden
Kaya GI P
Trebot Allowence
Mr.Sacashu Maiden
Conquest of Dance Maiden
Astrid Maiden
Prized Gold Indy Maiden
PK Slew Sox Maiden

Steeplechasers


McDominate 2yo C
Appropriate 3yo C
Leap of Faith 4yo M
RW Four Way Crossing 2yo C
All For Laughs 3yo C
Luck of the Irish 5yo M
Double Wild 5yo S
Bellypha Magpie 2yo C
Crowned Trojan 4yo M

» Disclaimer

Everything on this website is fake for the horseracing SIM called The Jockey's Room. The slogan/web content is 2004 copyright Ashleigh Rollins. The main image graphics are styled by Lydia A. Williams and used with permission. I also use photographs from the following photographers and have emailied permission from:Lauren Pomeroy,Alex Evers,Loree Ethell,Nikki Sherman,Alibhai,Ashley Gibson,Derek Damman,Lydia A. Williams,Susie Raisher,Genna Cui and the Carrot Lunch team.If I have mistaken a photo and you'd like credit or the photo removed, please let me know and it will be done ASAP. If this is the case I am extremely sorry and it was most likely not on purpose, rather someone gave me the photo to use. Another thanks goes to Juclecia, who kindly helped me with the image mapping on this site.