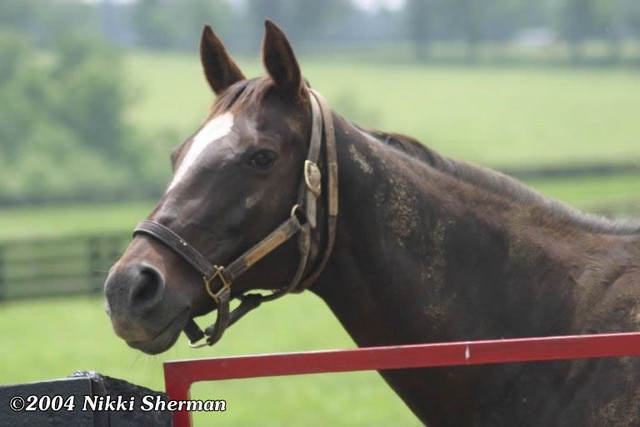 Myrtlewood has plenty of promising broodmares. Many of them are well bred,have fabulous progeny or showed greatness on the racetrack. Our top producers include Zip I De Do Da,Catchmeifyoucan, Awaken and Solitude.

* denotes mare was bred

Broodmares


Crystal \\Skip Trial x Messina by Sadler's Wells
Heavenly Choir\\ Storm Cat x Heavenly Breeze by Seeking the Gold
Perfection\\ Holy Bull x Laughter by Bold Ruler
Ever After\\ Pleasent Colony x Desert Vixen by In Reality
Sasora\\ Sadler's Wells x Kasora by Darshaan
Quiet Lady\\ Quiet American x Gourmet Girl by Cee's Tizzy
Athea's Secret\\ Tinner's Way x Athea by Alydar
Zip I de do da\\ Shy From Life x Regal Road by Taylors Falls
Catchmeifyoucan\\ Seattle Slew x No Class by Nodouble
Shez Crafty \\ Crafty Prospector X Padlin Madlin by Search for Gold
Silver Chick\\ Silver Buck x Bali Babe by Drone
Myrtle Angelic\\ Halo x Terlingua by Secretariat
Saintful\\ Mr.Prospector x Crimson Saint by Crimson Satan
Winning Lady \\ Tony Bin x Powerful Lady by Maruzensky
Celebre Hatoof \\ Peintre Celebre x Hatoof by Irish River
Arise\\ Arazi x Before Dawn by Raise A Cup
Strapless\\ Deputy Minister x Passing Mood by Buckpasser
Chase the Ghost\\ Silver Ghost x Baby Zip by Relaunch
In a Daze\\ Desert Wine x Weekend Suprise by Secretariat
Sweet Romance\\ Easy Goer x Blitey by Riva Ridge
Rare Lohnro\\ Zabeel x Shadea by Straight Strike
English Order\\ Ordway x Dahlia's Dreamer by Theatrical
Amazon\\ Gone West x Long Legend by Reviewer
SI Wild Dancer\\ Dixieland Band x Glowing Tribute by Graustark
SI Sugar Slew\\ Seattle Slew x Sugar And Spice by Key To The Mint
Raise the Roof\\ Strike the Gold x Partygoer by Secretariat
Salsa Dancer\\ Tabasco Cat x Inside Information by Private Account
Aliyyah\\ Sheikh Albadou x Pebbles by Sharpen Up
Simon Says Mangos \\ Lord At War x Songline by Western Sympathy
Northern Promise\\ Thunder Gulch x Bint Pasha by Affirmed
Gold Rush \\ Saint Bollado x Gold Digger by Nashua
Awaken\\ Mr. Prospector x Alluvial by Buckpasser
Banja Drone \\ Drone x Banja Luka by Double Jay
\\ Cox's Ridge x Brave Raj by Rajab

» Disclaimer

Everything on this website is fake for the horseracing SIM called The Jockey's Room. The slogan/web content is 2004 copyright Ashleigh Rollins. The main image graphics are styled by Lydia A. Williams and used with permission. I also use photographs from the following photographers and have emailied permission from:Lauren Pomeroy,Alex Evers,Loree Ethell,Nikki Sherman,Alibhai,Ashley Gibson,Derek Damman,Lydia A. Williams,Susie Raisher,Genna Cui and the Carrot Lunch team.If I have mistaken a photo and you'd like credit or the photo removed, please let me know and it will be done ASAP. If this is the case I am extremely sorry and it was most likely not on purpose, rather someone gave me the photo to use. Another thanks goes to Juclecia, who kindly helped me with the image mapping on this site.