News Files
---
December 1999
20/12/99
V!
Well...what else did you really want for Christmas?
Cheers everyone.....S!
17/12/99
Well, here we are again -Friday night and this time the final weekend of our war with NJG 88. Its been a long 3 months or so, but lets get the job done and make those last few points. As stated previously, we are flying 5 missions this weekend due to the cancellation last Saturday.
I heard from Martin Shaw again a little while ago, and he sent a photo to warm the heart of any 609er -the line up of ex-pilots at their annual reunion at Duxford. Elvington is the site of the Yorkshire Air Museum and 609 Museum and I plan to visit the museum next year and hope to meet with Martin and possibly others from the association. Oz has made plans too, and perhaps we can meet up? Here's Martin's letter and photos;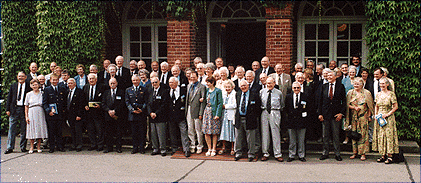 No 609 Veterans and families. 1999.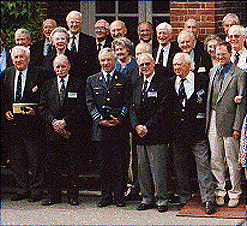 Detail.
"As far as your visit to UK next year, let me know when, and we shall see if something can be arranged. Apparently Brian Zeiglaar (one of your pilots I gather) is also planning to come over next year, but he suggests it may well be in the spring. Another probable visitor in the new year is a nephew of Novi Novierski, so it looks like being a busy start to new millennium!
We are having an annual reunion again next year, this time at Elvington, but it won't be until June or July, I can let you know nearer the time, but that is usually attended by around 40 old boys, although last year at RAF Duxford, almost the entire living Belgian contingent flew in for the weekend - what a time that was! I've enclosed a photo of most of the group posing in front of the Officers Mess at Duxford (July 4th actually)."
I mentioned to Martin our idea for interviewing ex-609 pilots and he replied;
"As far as contacting them, our Secretary has the names and addresses of all surviving members of the squadron who wish to be associated with it- some 200 people altogether!
Keep in touch".
Sounds very promising, but I've still not heard from anyone willing to do these interviews. I'm sure many of you would be keen, and I've replied to Martin asking for a list of the surviving members.
Anyway chaps, good luck tonight and this weekend and of course...
TALLY HO!...609...TALLY HO!
12/12/99
S! all,
We did well this weekend, holding off the expected K4 assault and keeping a nice lead of 400 points. In two of the three missions we had pilots fighting back against 2-1 odds and very skillfully downing an enemy plane to make each a draw. R/T transmissions have never been more exciting. In both encounters the remaining bandit was seen fleeing for home. Unfortunately our last mission was postponed last night as connection gremlins were about. So this mission will now take place next Saturday at 10.00pm EST. The Skipper will be posting information on who will be flying in our last weekend so watch Ops Room/News/Skipper's Corner for updates. We need to be ready for these missions chaps and any pilots who don't show for training before the missions will not get to fly.
As you may have seen I have posted a new history page covering 609 history up until 1942. This was a big one so...get yourself a beverage and read at your leisure. I recently bought 'Spitfire Pilot' by David Crook which has some great photos and some of these may be used to update the history site. Take a look at The Battle of Britain page to see a fine shot from Crook's guncam of one of his two Me 109 victories of Sept 30th 1940. This book is a fine account of the squadron's day to day fighting throughout 1940 and has been out of print since the war. My copy was printed in 1942, with all pilot names shortened to 'Mick' or 'Johnny' due to secrecy. Interesting stuff.
I have updated all tables re-kills etc but will wait to update combat stats page until after the war. As of writing, Dave's debreif is the only one from this weekend I've recieved and can be viewed in HQ. Very informative stuff on new K4 tactics. Could all other pilots who flew this weekend please send theirs in.
I recieved this post from M.Raptor last week. Nice to know folks still care;
"A youthful salute to our veterans
A World War II veteran, who is a long-time reader of this column, told me he was stopped recently on the walkway of the Carlsbad Seawall by a young surfer, who inquired if the old man was a veteran. The reader, who is a bit hard of hearing, didn't think he heard the young man's question quite right and was a bit wary. Young people today usually don't have much to say to folks of his age. When the old veteran replied that, indeed, he was a World War II veteran of the U.S. Navy, the young surfer, who had just gotten out of the water, asked if the old vet would accept a letter he had written to all veterans.
Without any further explanation, the young man handed the old sailor a neatly type-written missive and walked away.
"Dear Grandpa (veteran, hero), I was born long after the many people who died giving their lives to protect the place we call home. I have never known what it might take to go and give your life to protect the Red, White & Blue of America.
I feel fortunate that I have not had to fill those shoes. Yet, at times, I feel that myself, as well as many others, take for granted what thousands of Americans did to make America what it is today.
Only people who have been there, know what it is like to reach down and fight for each and every breath of life, then reach a little more. You were trained to give it 1,000 percent every time. The word 'respect' was used hand-in-hand with honor and America.
The older I get, the more experience and wisdom I earn. The more mature I get, the more I realize what thousands have done for me, so that I, along with millions of others, can feel safe and smile every day because we live in America.
"You are the reason I am here. The part of my heart that you fill is larger than you could ever dream. This letter is to tell you how much I love you. Only the words of thanks, respect, honor, and love can describe what you have done for me and many others. You mean the world to me, but what you and thousands of other veterans have done for all us Americans, I say 'Thank you!' Sincerely, Brock Halter."
The grateful veteran was deeply moved by Brock's gesture and thought it should be shared by all of us."
S! and catch you all next week. Tally Ho!
Comp.
7/12/99
Rel has sent me a new very important 'Skipper's Corner' brief regarding the war which should be read by all pilots. Also, Kos' debrief from Saturday is now up along with the rest from the weekend.
I recently wrote to Martin Shaw at the 609 Sqn Association. Here are a couple of extracts from his letter, which are very encouraging regards fostering good relations between us and the real pilots.
"Hi Sam,
Thanks for the info - glad to hear you managed to get hold of the White Rose book - 50 bucks is a bit steep, and we Brits complain we keep getting ripped off! Anyway, it's now out of print, officially it has been so since a year after the re-write with Chris Goss - Is that your version?
The copyright is owned by Sonia Zeigler, Frank's widow, who is happy for extracts to be used from the book. In fact when I spoke to her about it, I mentioned that I had seen a copy in our local library, and apparently she had been unaware of the library circuit for the book. It seems that she will be in line for a substantial payment of royalties again from them!
Another book that we are hoping will get published is the memoirs of Doc Bell, who was the wartime MO, revealing a lot of squadron secrets during the period 1943 to 1945, including the chase across Europe made by the squadron. He has titled it "To walk among Heroes", but has not had any success from prospective publishers this side of the pond. Would you happen to know of any publishers across there?"
Can anyone help out here? If you have any contacts within the Military Publishing community write to Martin at the 609 Assciation site. It'd be great to help get this important stuff published. I mentioned our idea for interviewing ex 609 pilots, to which Martin replied;
"I have heard from many relatives of former squadron members, including Jan Zurakowski and Novi Novierski, the former from Canada and the latter from Poland. We also had a Remembrance day programme on the telly on Sept 15th, who featured a German pilot who had flown in the RAF during the war - no less than our own Flying Officer Klaus Hugo Adam, known to the squadron as Keith Howard Adam or simply "Heinie"!"
Thanks to all those who wrote to 609 Sqn Associaton regarding the death of H.S. Darley. Martin Shaw will be passing your letters along to his family. Brian recently kindly sent me the reply he got, which seems like a good way to end this post -words of encouragement to us regarding our war from the real RAF!
See you soon chaps and good hunting.
"Dear Brian,
Thank you for your kind words, they will be forwarded through the Association. As you, I am also a youngster, born well after the squadron was disbanded, but through my father, who was the last Commanding Officer, I have experienced the life and breath of the squadron. Indeed, I am a member of the RAF now, and our family tradition continues.
As far as your virtual 609 squadron is concerned, we are very much with you on this as it serves not only as a platform with which you can identify with the men and women of the squadron, but also provides a basis for passing on the life of a destructive chapter in our history to the next generation. "Lest we forget" is the key! You may be interested to know that the Royal Air Force recently resurrected 609 Sqn again as an Auxiliary Squadron based at RAF Leeming in North Yorkshire, where they provide Airfield defence capability, using a core of permanent airmen and officers, supplemented by uniformed civilians when required.
The Association is busy fostering relations with the "New" 609 Sqn.
You may also be interested to know that I have been in correspondance for some time with Sam morrow - who I believe is one of your pilots on the virtual squadron, and also more recently with Brian Ziegelaar, an Australian, currently studying in Munich, Germany.
Keep in touch from the "Virtual" to the "Real", and I hope you all have an enjoyable and "victorious" Christmas and New Year.
Martin Shaw"
5/12/99
We wrapped up '44 with another outstanding weekend for 609 and scoring 7/2 for the weekend, increasing our lead to 6 points. Seems our hard training and excellent team flying is paying off. Congats to Beef who sent a 190 into the ground last night making him an ace. Great work Beef. Friday night the Anzacs gave a fine account of themselves downing three of the enemy. Last night saw the return of Icepick (aka 'M. Raptor') who came back with a bang, downing a Gustav in truly professional style. Overall we equalled our kill score for '42 (no mean feat) with 13 Hun shot down.
Next weekend we start the 1945 year with Fritz getting their beloved K-4 and no doubt after revenge. Brown Section will be going in on Friday and Blue Section on Saturday. Could Section Leaders please write to confirm this.
Training was good on Saturday with a decent turnout. We had a meeting afterwards with the following revisions to Sqn policy decided. Please take note;
Item 1. Trainee pilots will now change their tag to 'No609_T_(Handle)' adding the 'T'. Upon passing evaluation the 'T' will be removed.
Item 2. As Shap is busy with work at present, Blacksky will become Green Section Leader. Congrats Blacksky!
Item 3. We will be adopting a more 'fluid' system within Sections, leaving Section Leaders open to use pilots from the 'Reserve'. Elements will fly together as indicated on Roster wherever possible, but as we've all found out -this isn't always possible. From reading 'Under the White Rose' its clear the real Sqn's pilots were fairly interchangable with a Sqn Operation numbering 12 or 13 aircraft and an ideal Sqn pilot strength of around 20 pilots.
Rel has requested that Section Leaders write to him once a month outlining the Active/Inactive status of his pilots and we'll go from there. It is recommended that if a pilot doesn't show for 2 weeks he should be put on 'Inactive'.
Lastly we discussed the possibility of conducting interviews with 609 veterans around the world. As we have unintentionally mirrored their international pilot policy, it'd be a great opportunity to record the words of these brave men for posterity. Quite a few are still living but sadly, each year sees more passing away. If you would be interested in doing this let me know, or have a look at the ex-pilot (and groundstaff) roster at the 609 Association site and see if you can locate these people. Just an idea but everyone seemed keen when I mentioned it yesterday. Let me know.
S! all Comp.
---
BACK TO TOP OF PAGE