SQUADRON NEWS
---
7/7/02
S! Comrades,
I updated the training page to reflect our current training schedule and tactics - check it out! I also took a first stab at section assignments based on time zones and perceived availability. It's important that we start flying with our assigned element partners to establish flying patterns, etc. If your wingman is not available, at least try to fly with others in your section if at all possible. Let me know if these arrangements can use some adjustments.
S! Rel
============================================================================================
6/16/02
S! Comrades,
I updated the roster to include a new recruit in training:: Vodka - welcome to 609IAP!
S! Rel
============================================================================================
6/9/02
S! Comrades,
I updated the roster to include our old mate Bull(ov) who is returning to active duty - welcome back comrade!
S! Rel
============================================================================================
4/28/02
S! Comrades,
I've made some cosmetic changes to the site, including a new set of navigation buttons, and changing the top banner and home page to better represent the current status of our squad. I also updated the roster to include our old mates IcePick and Viper who are returning to active duty - welcome back comrades! Still more to come...
S! Rel
============================================================================================
4/6/02
S! Comrades,
I updated the roster showing Thumper as passing his evaluation - congrats Thumper! I also added Flip to the roster as a trainee - welcome to 609IAP Flip!
S! Rel
============================================================================================
4/6/02
S! Comrades,
I updated the roster showing Thumper as passing his evaluation - congrats Thumper! I also added Flip to the roster as a trainee - welcome to 609IAP Flip!
S! Rel
============================================================================================
3/24/02
S! Comrades,
I finally got around to updating the roster, taking out all of the old No609-based roster info. I still need to add a few to the honor roll, as it appears some of the non-active blokes may have hung up their jackets for a bit. Thumper, I've added you to the training area for now. Once Artyenko gives you your official training flight and evaluation, and you've finished your training period we'll put you on the regular roster.
Hopefully more updates to other pages yet to come...
S! Rel
============================================================================================
10/24/01
S!
Here are your aircraft Gents,
Lined up on the tarmac and awaiting Section practice tomorrow night. It'd be nice to get some group shots...on ground and (with any luck) in the air. My stick is now even more buggered but I'll do my best. Hope you like these results...Sure you don't want something written on the plane Art? How about 'Unlucky for Some'? Sorry about the bunny Bugs but I couldn't resist it! Rel...I made number '11' as I figured lack of number would be even more obvious than '1'!
S! Comp.
============================================================================================
10/23/01
S! again Tovarishii ,
Here are latest pics of 609IAP P39. As you can see I moved the Blackcat (can we call him 'Murray'...my black cat's name?) down to mid section and the spinner ans tailflash are now red to denote this as a red section aircraft. I'll start work on a blue section one and also one with grey and white camo as per Bug's suggestion. Also note the White Rose of Yorkshire with hunting horns...just to remind us of our roots. This particular bird has my 'City of London' on the port side. If you'd like any personal touches like this let me know. Bugs just posted about red stars on upper wings. I'm not sure about these. Art, I tried out the black arrow along the fuselage as per that Yak illustration. It looks very cool but there was just too much going on with all the insignia and it'd be best left for another skin. Or another plane. The P39 is quite a difficult aircraft to put stuff like this on due to the car doors, exhausts behind the cockpit etc...Wish I had the Beta so I could skin some more fighters.
I've been looking at my taxiing procedure in outside views and realized for the first time that the plane is steered on the ground by the nosewheel - which turns. This is unusual as most planes steer from the rudder...so effectively this steers like a car as opposed to a boat. No wonder its so bloody touchy!
Ah well...If you like these results I'll send em out today. Bugs...any criticisms or otherwise are fine. I'm working in the dark here and I need all the advice on Russian skins I can get!
[Pics removed for updates...see above]
S! Comp
============================================================================================
10/22/01
S! Chapskov,
Here are the first views of our new skins, courtesy of yours truly. Please note; these are still in the formative stage and are very rough. The finished skin will be much more polished but I thought you'd like to see the progress. I will try and get them done by Thursday training. A couple of questions;
1. Do you want the 609 white rose emblem on the nose too?
2. It'd be very simple for me to add personal emblems. If you'd like to send a high rez image or tell me some lettering you'd like I'll personalize as you wish. Alternatively you can do this when you get the skin.
3. Wouldn't it be a good idea to put section colors somewhere on the skins? This'd be handy in multi section actions for spotting your section if you get seperated. We could use the rudder, the nose or the spinner. Suggestions please!
This skin is not accurate as we're all still a bit vague as to sqn markings etc...but I've taken elements from all the images that Arty kindly posted in forum. The black cat look cool and I think we should adopt this as our squadron emblem. Try going to outside view and turning rudder! Please note that the overall color is from a skin originally by Avirex. I've modified it a lot but it saved me doing all the rivets etc...I have yet to ask his permission so please don't post these anywhere else yet!
Anyway...here they are and I hope you like the results thus far.
[Pics Removed to replace with new skins...see above]
S! Comp
============================================================================================
10/21/01
S! all.
Firstly, and most importantly I'd like to apologize to Blacksky who is still a member of No609 and was overlooked by me when announcing the formation of a N.American 609thIAP. I guess I was a bit hasty in posting that and should have passed all info with Rel first. But as I said in forum I wanted to get the ball rolling. All agreed at thursday training that you are still on 609's books and this needs to be sorted out. Could you please contact Relent to tell him your wishes? Once again my apologies mate.
Another good turnout at training on thursday with myself, Art, Bugs and Rel showing up for the fun. We decided to follow No457's example and practice our takeoff routine, get into formation and go and bomb a neighbouring airfield. Easier said than done for yours truly who nosed over first time, got off the ground the second time but hit terra firma when looking for Relent. This elicited the classic remark from the Skipper; "Don't worry about looking for us Comp, we'll find you". Unfortunately I had my graphic settings on 'low' and what I took to be low hanging clouds turned out to be woods. No wonder I kept exploding! With my stick out I'm having problems but the info that you can practice takeoffs in multiplay without being online is great, and I'm getting this down now.
Apparently No457 can takeoff now in formation, do a circuit or two and land. This sort of thing is going to be vital in a combat mission situation and should not be underemphasized. First side off the ground and in formation is the one who'll start climbing first. Correct sqn takeoff proceedure'll mean less messing about and searching for friends in the air. Also, any prangs will probably be counted and that side will go into the fight short-handed. Which is realistic and kind of cool but it'd be nice if it wasn't us! I'll keep practicing....
The Kenly Wing Forum has taken off and there's lots of information being posted there. Great to see. I'm trying to get together with Dest regarding setting up a Kenly Wing site where we can post stuff about individual aircraft, tactics etc...This will be available for all Kenly Wing sqns to have access to, and they'll be able to upload stuff as they wish. It'd be nice to standardize certain formations and procedures so as we'll all be on the same page. Hopefully T/O's can get together and sort this out.
As I said in last week's post, I heard from Cas and Davehaze who seem interested but unsure at this point if they'll return to the sqn full time. Let's hope so. I heard from another old fogey Kosmik this week. He seems very keen on IL2 and has overhauled his old system to bring it up to snuff. Can't wait to see you again Kosmo...
Oz is currently hard at work forming a new Sqn based in Europe. I truly hope they opt to join up with us and No457 as part of the Kenly Wing. Things are looking exciting chaps. Lets keep the ball a rolling!
S! Comp.
============================================================================================
10/15/01
Well...we all thought Bri hasn't been around due to work commitments but the truth has been revealed. We all knew he was a 'Party Animal' but this gives new meaning to the saying. I recieved the following communique this morning;
"S! Comrades and fellow workers,
I have just returned from the latest meeting of the party faithful in Moscow. I am proud to announce that I have been voted Commissar for the newly formed 609IAP. My work with the squadron will entail keeping certain decadent elements in line through physical labour and summary executions. Make no mistake comrade...if your flying becomes decadent you will be shot in the neck. Part of my new role will be to weed out the inneffective and the weak. I intend to start by punishing or eradicating all over the age of 31. These old bastards have been doing their arthritic manouvres over our airfields long enough! Last I saw of Compans he was hobbling up his wing root at a snail's pace with the aid of a walking frame. Icepick regularly involuntarily 'damps down' in his flying overalls and Relent, has trouble hearing messages in flight and often goes flying happily along whilst all others break for cloud. Is this the way we want it comrades?
Another thing I feel it my duty to change is our habit of trying to 'out-manouvre' the enemy. These 'dogfights' are both time-consuming and counter-revolutionary! From now on we will do things my way - namely the squadron will practice massed assaults in line with the aim of ramming our opponants out of the sky. Thus ends my first communique.
609IAP Briski"
============================================================================================
10/14/01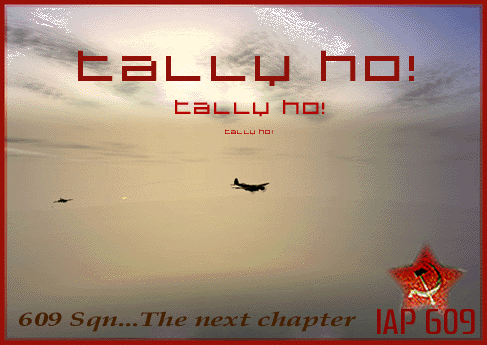 S! Chaps,
Its been a while I know but here it is...a News update!
Since I left the Sqn a year ago, I'm really doing this page and other updates informally at the moment as I know my way around the site, but I have no official rank (I'm fine if this and other ranks go to other people...if you want me back that's cool too) and the structure of the Sqn needs to be sorted out. We are roughly 7 or eight members strong at present, though I've taken it upon myself to write to all N.American veterans who've faded away over the last year or so, to see if they'd be interested in returning for the advent of IL-2. We had an informal discussion at training (Rel, Arty, Bugs and myself) regarding which way we wanted the sqn to go. As I remember all agreed on keeping the numbers down (16 max?) and keeping 609 N.American. If any of our veteran Europeans wished to reenlist I guess we'd have to rethink, but this is all unnoficial at the moment and I've not heard anything official from Rel.
Excitement is very, very high at the moment. Personally I've not seen this much adrenaline since the EAW demo. The difference is we know we're going to get a great product and we know Maddox Games, Oleg and co will be on the ball as regards updates, mods and fixes. At last....a company on the side of the Simgeek!
Something I've realized from checking out IL-2 Forum at SimHQ on a regular basis, is that IL-2 will attract the cream of hardcore pilots from EAW, CFS, WWII Fighters and SDOE. Our previous status is far from guarunteed and we're all in the position of absolute rookies with this thing (except for Rel who shot all our tails off last Thursday). 609's been fairly quiet from what I've heard, but regular training makes for a good modest start.
I've set up a link to the new Kenly Wing forum where we can meet with our sister sqn No457 to discuss anything you like. There's a link from main Forum page. Please get in the habit of using this if you're interested as it'd be great to share our findings with this exciting new sim. No457 Druid posted something to the effect that Dest has set up a new training regimen, involving his chaps flying bumps and circuits only. Take offs, landings, pitch control (I think), formation flying etc...are all being covered as tight coordination will be paramount in this sim. We will no longer have our EAW 'radar' to find friend or foe and, much like the real thing there'll always be a chance of the Hun in the sun taking you unawares. Dest's policy seeems sound to me. Start with learning to fly these birds and get into scrapping later. I posted those Element Formation notes in the Training Section of the site last year (you can access from HQ). Would these be a good way to start? If 12 man sqn formations will actually be flyable, Section tactics will really come into their own.
Anyway, I'll try and keep these updates coming. If you've got anything you want aired here, send to me and I'll post. Hope me doing this is cool with you guys but, as Bugsy said the other night, we need to get the ball rollling and find that passion again, and regular site updates tend to keep the momentum going.
Can't wait for next Thursday!
S! Companovitch.
============================================================================================
11/1/00
S! Chaps,
Just a couple of things;
The open war has begun and as you may have seen, stats are up for missions flown so far. If you fly a mission please designate only one pilot to post debrief to me from HQ. When we go into our war with 8th/56th I will need a report from both pilots involved in the mission. Beware! I shall be nagging you incessantly until you send it in so you may as well get it done immediately after the mission.
Once the latter conflict begins, updates for this will take precedance over those for the open war. However these will be updated as soon as possible too.
I have recieved reports from B Flight and only Black Section from A Flight. I shall send in a Red Section Report as Rel is away on business this weekend. Grey Section are awaiting confirmation of members so we can wait for that report. But where are Kos and Shredd these days? Has anyone heard from or seen them of late?
We must get ourselves sorted out by the end of this week. Could Element Leaders from Blue and Orange Sections please send in a report if they can't contact their superior Section Officer.
Lastly, congrats to Oz and Blacksky who appear to be winning the open war on their own. Go to HQ to read debriefs of the many missions flown.
By the way, if you haven't done so yet, click on the RAF roundal on the banner at top for my Michael Caine in B of B impression.
S! 609...you Princes of West Riding, you Kings of England.
============================================================================================
10/30/00
S! 609
EAW Is Dead!
I thought that might get your attention!
Well is it? Personally I'm not so sure. Lets not confuse 'dead' with dated here. Sure the graphics on EAW are not nearly as good as other flight simulations that are being released today - or ones that have been released say, 6-12 months ago. Falcon 4 or MS CFS2 are good examples of that. For those of you that haven't had the opportunity to test fly either sim go check 'em out! The graphics and terrain in F4 have to be seen to be believed. Real life T&L with ground battles going on in the distance and weather effects! WOW! Immersive stuff with eye candy at it's very best. However, while you may be aware that some of us enjoy a few on-line games of F4 of an evening which certainly makes a nice (I won't say 'relaxing') change away from EAW, this squadron was built around EAW and indeed our Site has an inherent WW2 feel about it. Thus, I feel that while F4 is an often welcome diversion away from EAW, it will never be THE Sim the Squadron will adopt as a direct replacement.
CFS2 is hitting both our and various other forum's around the web, and as yet I haven't read a bad review. Nicely modelled planes, eye candy in abundance, campaigns in off-line mode and a really nice flight model. I suggest you go read the several posts about it from DaveHaze in our forum if you want more in-depth details. On-line is a slightly different story; while it does offer full multiplayer support, you can only fly FFA's (though I haven't tried flying on-line with it yet, anybody want to take me up?). And this is where it starts to fall down. Ok we all love the odd 'mad mayhem' from time to time, but as a squadron Sim? I'm not sure. Once again this is where EAW scores, considering the various mission types and aircraft match-ups that can be flown.
To a certain degree EAW's graphics can be improved with a decent 4th generation video card - either Geforce 2 or a Voodoo 5, both of which support FSAA (Full Screen Anti-Aliasing) which removes the 'jaggies' from the edges of polygons. But is eye candy everything? I think not; firstly there are quite a few Flight Sims that have come out that look absolutely gorgeous only to find themselves in the bargain bin in your local store within a very short space of time because the developers have concentrated on getting the graphics right at the expense of how the thing actually flies and plays. This may be ok for the casual or arcade flyer out there, but for us, the 'serious' Flight Sim addicts it just don't cut it. Secondly, when was the last time you thought 'Umm that terrain looks really lovely' whilst trying to avoid getting your ass shot off at 400 yards and trying to scan every square inch of sky for his mate that you just know is lurking and waiting to cut you into little bits? I know I don't!
Ok, I think we've fairly well established here that graphics aren't a key issue. EAW in terms of multiplayer is adequate for what we need, flight models are constantly being developed (much to OZ's disgust) and even new terrain/skins are available to keep us interested. What else could we want? So next time your about to say 'Oh I'm bored with this sim' or 'Jeez, this is out of date now' think on! Is it really the game that's come to the end of its life or is it perhaps you? 52 players on the zone last night (and similar amounts on most nights) suggest to me that the EAW community and EAW itself is far from dead.
Rumours of other Flight Sims coming out are rife; there's Stormbirds, IL2 and Rowan's BOB that are supposedly on their way...but when? And more to the point will they suit us as a squadron? As individuals we need to consider what holds us together as a squadron. Is it the game or is it the friendships that have sprung up because of the game? For me it has to be the latter.
Changing tack, it was nice to see so many faces at the meeting on Saturday. Some well deserved and long overdue promotions and awards were handed out by Relent. So a big S! to all of you that received one or both of these. I won't dwell on the meeting too much as Comp covered much of it in his news item. Suffice to say there were some good suggestions that came out in a very constructive 4 hour meeting. If you didn't attend then you missed an ideal opportunity to put forward your 2 penneth into what is effectively your squadron.
Well, the open war is upon us and the war with the 8th is just around the corner. On the former; Blacksky and I flew 3 missions together last night, the general feeling was that the JZG group have learnt by their mistakes in their first war with us, and provided worthwhile and competent adversaries. So lets be careful out there! I think we all know that the event with the 8th will be a tough one, so we need to train and train hard on the axis aircraft. Oz and I expect to see everyone present at B Flight euro section training on Wednesday night's at 19.30 GMT. We try to put a lot of effort into organising these training sessions. It is your duty both to yourself and the squadron to attend these sessions if at all possible. PLEASE also read the articles on tactics that have been posted in HQ. These are a valuable insight into defeating the American aircraft. People have put a lot of effort and research into these articles so read them and then come and test them out on training night. Your input is valuable!
I would also like to take this opportunity to welcome Slapphead and Lapa to yellow section, we look forward to flying with you guys soon S!
I confess I had every intention of updating the Duty Roster yesterday. Unfortunately family affairs intervened and I had to forget the idea. However, I shall do this as soon as possible.
Last but not least I STILL need war stats from some of you guys for the first JZG war. This is the last time I'm gonna ask, so please, if you've not yet sent me your data please do so ASAP.
If I've made any typo's or grammatical errors here then I appologise.
Over and out!
Rich
============================================================================================
10/28/00
S! all,
Just finished our meeting which ran from 10.00am (my time) to 14.00pm. Quite a marathon but much was discussed;
Proceedings opened with Rel awarding several promotions and medals for conduct in our 2 wars. As these were numerous (and I arrived late) I'll get the official list from Rel and post here later. Suffice to say for now...S! and congrats to you all.
The rest of the meeting was mainly taken up with discussing the state of the sqn. As we all know morale has suffered of late and this was a good chance for us all to air our views. Major points were;
a. Breakdown in training schedule and focus.
b. Posting internal sqn stuff on public forum.
c. Lack of overall cohesion in the sqn.
d. Staff feeling overwhelmed by commitment to sqn and real life.
(If I've missed anything please post in Ops Room).
Breakdown in Training Schedule and Focus
Agreed chaps. We're getting slack. Bish brought up the point that since joining, Saturdays are rarely spent in actual 'Training'. To MY (note caps) mind this drop off happened for two reasons;
Firstly, many people going on Reserve. We have only recently brought in this option due to people saying they couldn't find enough time for the sqn. As we don't want to lose valued pilots this puts us in a bit of a pickle. The problem is that its hard to know who's in or out. It also gives pilots the option of belonging to the sqn at their convenience. Now, let me be the first to say that my attendance has been poor this year due to outside commitments. But I am still open to criticism for this. This is my opinion and wasn't raised in the meeting, but is it wise to keep Reserve status an option? It may be leading to some morale problems.
Secondly drop off in weekly Section training. From the forum I know that Oz regularly implements training for B Flight. But how many section leaders are still doing this? As I brought up in the meeting, the most useful training happens with your section during the week. This is where camaraderie is born and fostered. We need to get back to doing this on a regular basis. To this end I would like a report from ALL section and flight leaders by the end of next week. Please send to me. These should include attendance report of all pilots in section, morale level, training times and anything else you think needs addressing. I would also like T/Os to get together and work out a schedule. This should address our upcoming war with the 8th. I would like a plane type/mission type posted by T/O in Ops Room every week as of now.
Posting Internal Sqn Business on Forum
Its been said again and again, but please do not post anything in public that is best kept amongst ourselves. We've all done it, but it lets the whole sqn down. Even in Ops room we are bound by a brotherly code. As Bish said in the meeting...type can be very deceptive. Its easy to misjudge someone's tone from reading a post. If you get angry about something, try to take 5 and then come back to it later. A reasonable response helps to keep things from getting out of hand. Flame wars are not something we should be indulging in.
Lack of Overall Cohesion in the Sqn.
Most of this is covered above but a couple more things should be mentioned. The highs and lows of morale in this sqn are a cyclical thing. After a war there always seems to be a drop in morale. This is due to the normal rest period of a few weeks and a sense of anti climax. Its a peculiar phenomenon but it does seem to happen. And we've not lost one yet! Cohesion, like morale happens at ground level. If you are a rank and file pilot you still have the weight of responsibility on your shoulders. Your conduct is a direct reflection of this squadron. Your input to your section affects the whole character of the sqn. Your enthusiasm and suggestions directly affect morale and give the sqn a purpose and sense of momentum. Your attendance counts. This goes for all of us at staff level too.
Staff Feeling Overwhelmed by Commitment to Sqn and Real life.
Which leads me to discuss the next point. Running this sqn may look fairly simple but believe me, I could easily spend all day, every day trying to keep up with this site and trying to get everything in shape. When I was out of work I did, and it paid off for the sqn but my home life suffered. (My wife has just told me off for spending a beautiful day indoors in front of a computer). If you are fairly new to the sqn, its worth reading our news files from 2 years ago until the present day. It makes for an interesting history of our outfit. At first we tried to run this by a fairly hard code. This had to stop for 2 reasons. Firstly this is for fun (remember?) and noone is part of a military organization here. Secondly, posting angry news items (go read em) doesn't change a thing except my/others stress levels. We are ONLINE friends and I can't make someone do something if they don't want to do it.
I know that Rel is busy and somewhat stressed at present with various outside issues. I'm overwhelmed with work and I need to spend a lot of time with Susan, and Ice needs to spend more time with his loved ones too. Oz said at the meeting that running B Flight effectively and working for his Phd etc..(read into 'etc...' what you will!) is becoming a big strain. Rich heads a very large company. It is not fair to expect us to be more than human. Chaps, we need to find a happy medium whereby we can be organized without being totalitarian and can enjoy this for what it is without getting sloppy. This is for fun. Serious fun, but fun nonetheless.
If we can't come up with a solution we must resign ourselves to a situation whereby someone does a fantastic job for a while and then burns out and probably leaves the sqn to be replaced by another who reaches the same point. In this way we just lose good pilots and friends. The current situation is obviously not ideal. So post your suggestions in Ops room.
My breaking point came with the multi sqn war that never happened. I spent a whole day furious about some dumb post on combatsim forum and realized it was all getting ridiculous. Rather than resign I decided to back off and see what happened. Well, here we are. I'm sorry if this is concentrating on myself, but substitute any staff member's name in here and you'll get the picture. It could be that an online sqn needs to be run with a rod of iron. Nobody knows...this is all new stuff. If thats so I should certainly step down as I don't have the time.
The bottom line is this. Rather than getting angry, please offer suggestions as to how we can improve our sqn. If we all take an equal share of responsibility from top to bottom, we only have ourselves to blame if things are not to our liking.
Ok 609. The future is yours if you want it. We can start by having Section Ldrs send in their Section Reports. A staff meeting will follow and we'll do our upmost to figure this out.
Tally Ho!
Comp.
============================================================================================
10/12/00
S! all,
Well its been 3 months I know since the last report, but better late than never. Lots has happened since my last entry as you well know. We won the war against JZG 23 by a large margin. Some of you flew dozens of missions and I believe Rich came away as top scorer with over 20 kills! Quite a feat Rich. As my free time is scarce these days, Rich has agreed to take over the task of updating stats for the war. As these are proving hard to determine, please send all your personal stats to him. This should include number of missions flown, fighter/bomber/ground kills, personal losses etc. Its a mammoth task and its much needed for our sqn stats.
We have another war on the not so distant horizon with the 8th USAAF. This will most likely start in early to mid November. We'll be flying German planes throughout (makes you want to weep) so get training! We'll also be using ECAO 1.4. If you don't already have this you need to get it now as the flight models are very, very different for both German and US aircraft.
As you have probably seen, we now have a new look to the site with new and improved HQ area. Less pics (I like em but they take time to download) and new areas coming up. We have a new 'Reports' section in HQ which all pilots MUST use in future wars for mission debriefs. This should be your first stop after flying a mission. I found that if you leave it for a few days, the details of the fight tend to get a little blurry so get these done immediately!
On a sadder note we recently lost two of our pilots. Wolfman has left to join the 8th USAAF and Bilko recently handed in his notice too. We wish them both well and a big 609 "Tally Ho!" goes out to you.
Having said that, losing pilots to other sqns is a new phenomenon for us and a big shake up/down is in order for us. We all needed a break after the war but, as has been seen in the past, these lulls often prove anticlimactic and can lead to a drop in morale. We need you all in top form for our coming war. Flying German tactics will be a new challenge for us all and the 8th are a fine outfit and will be no pushover. If you are a Flight/Section leader, start making plans to train your mob now! We don't have too long. Lets not go into this cold chaps. Staff will be reorganizing the roster soon and there should be several promotions coming up. Many of you who have joined in the last 8 or 9 months are well overdue for this.
So...keep up the good work. If you've not been flying much....get your leathers on and pull your fingers out!
Tally Ho 609!
Comp.
============================================================================================
7/9/00
S! all,
As promised I've written up a synopsis of my trip to Hendon RAF Museum complete with pics (big download - be patient!). Click on the link below to view this page. I'll write up a review of Duxford soon. Rich tells me he's off to the 609 Sqn museum in a few weeks. If you'd like to write something similar Rich, let me know.
Compy's trip to Hendon.
S! Comp.
============================================================================================
6/22/00
Howdy 609,
As you may have seen from my posts in forum I'm the proud owner of a new video card (see above pic) ("And about time Comp" - Kos). Sorry to go on about it but EAW is really like a new game now. The shell casings! The pretty clouds! The insignia refections! My game runs much better online too.
Poor old Bugsy is about as much as always but continues to suffer due to his Windows 98 upgrade. Most people now seem to think its the sound card drivers as his RW is out too. I have suffered the same things since my upgrade and I'm seriously considering going back to Win 95. We've had a number of customers complain about this at work too. Seems Win 98 is still buggy. If any of you have suggestions, please post in forum.
I've recieved a few kill scores etc... from Shap, Pick and SSGF and the results are now up in Publicstats. If you've flown any missions please send in your scores. As far as I know the war is on hold until the database gets debugged. My knowledge of the finer points and statistics are still vague so send in your stats!
Rel has posted a new Skipper's corner, some of which deals with the war so far. This is essential reading for you all. Please go to HQ/Staff Reports/Skipper's Corner/ Read Skipper's Report. I still need reports from Kos and Ice and all section leaders. We need to get this Sqn firing on all cylinders. At a ground zero level you can all help by showing up at Kali or the Zone as often as possible. The last couple of nights at Kali have been packed with new faces, old faces and lots of flying going on. Show up for the fun!
Our Roster has been updated to reflect recent changes;
- Blacksky -promoted to Flt Lt (S!).
- Zog, Methats, Slapphead and Bull on reserve.
- Soju and Beef have retired (S!).
- Grimm joins the all-Canadian Blue Section.
- Scores updated.
There is a new password as of today. Please ask your Section Leader for details.
S! Comp.
============================================================================================
6/13/00
S! all,
Thanks for your efforts on forum in response to the post below. Please keep your ideas coming.
I've still not recieved any debriefs from the war. I have recieved some personal scores and these will go up soon. Please send yours in as my knowledge of what exactly is going on is very sketchy. It'd be nice to have some sort of a 'state of play' from staff members or anyone who has been fighting on a regular basis. As you know I've been away a lot the last month and I'm as keen as the rest of you to hear about it.
Regarding debriefs, Rel suggested a form in hq that could be posted directly onto a page. As I dont have the knowledge yet on how to do this could someone fill me in or send a ready made form with instructions on how to link it all up.
I've just been going over the HQ pages and notice most of the area is unused. I feel its high time to get an overall sense of whats happening in the sqn. As this is a hard time for EAW in general, we need to really work at keeping this thing alive until the next big game arrives on the scene. To this end I would like;
A Skipper's report.
An Adjutant's report.
T/Os reports.
Flight Leaders reports (this'll be just Oz as Rel'll be writing Skipper's report).
Section Leader reports for posting in 'Section Reports' area in HQ. (The last of these was I think August last year).
After all these come in myself or Rel can summarize with a kind of 'State of the Nation' kind of thing and perhaps we can have a meeting (remember those?) and go from there.
If you have time, go to 'Staff Offices' in HQ and take a look at the posts from the past. I recently heard from Shredd who summised that the general malaise set in after our victory over NJG 88. After the intensity and excitement it did seem like an anticlimax to just go to training and fight ffa's again.
As we now have a war on again, lets get the excitement back and pull together. Perhaps this last is a letter to myself in a way as I've been away too long. Brian is off reserve, Shreddy flew a blinder with me and 'The Bish' at Kali tonight and it was almost lag free.
On a sadder note, Beef recently posted his retirement from the sqn due to weekend commitments. A big S! from us all Beef and come back whenever you can. As one of our war vets we'll all miss you.
S! Comp.
============================================================================================
6/11/00
Re..."Where is everyone?"
S! Chaps,
Well...it never rains but it pours. You hear nothing from me for a month then...I'm writing here every day.
Anyway, I got home this evening and went to Kali (about 1am). Just me and old Wayno there. It was only two months ago that server 181 was packed every night and especially on the weekends. As Bugsy has lamented so often..."where is everyone?"
To my mind, the drop off started happening with the FM bickering leading up to the non-starter multi-sqn war and, it seems this was the water shed. Not only were folks fed up with having to change FMs every game, I think we all started to realize that EAW had become an old game and limited in its online capabilities. The moment was and is ripe for a new game to add life to No609 and other squadrons but we have at least another four months to wait until B.17 arrives on the shelves. At this point I need to point out that my attendance has also been very low over the last couple of months and I have to say - outside commitments aside - my enthusiasm for flying has waned somewhat. I should also say at this point that thanks to the fresh blood coming into the sqn and the excellent quality of our new pilots, No609 has stayed on the ball and survived, against the odds (just take a look at our still very active forums).
However, I feel we need to find a solution to the problem of how we can survive over the coming months. We need to discuss how B17 will effect our traditions. Correct me if I'm wrong but I don't think RAF planes are modelled in the game. I'm fine with flying Mustangs and P47s but will we still be No609...ie an RAF sqn if this becomes the premier game? Looking at our sqn 18 months on, I realize that we came into being on the wings of a brand new game -European Air War. This may seem like an obvious point, but for many, many months we were all new to this and tactics and manoevres were being developed every evening. The game was an unfolding book and you really had to be about to keep up with developments. I vividly remember when the use of flaps came into common usage. How we all marvelled! Many other sqns were formed around EAW - and have consequently died with it.
EAW is now a delisted game, and we need official developments and add ons to keep our interest up. As Microprose will not be forthcoming with these we seriously need to get together and think this one out. More valuable pilots will go by the wayside unless we try to find a solution. I believe we've been luckier than most in that we continue to recieve a steady influx of new recruits. But many EAW sqns have folded or are running out of steam along with the game. Do we broaden our horizons as regards our identity to allow us to fly in a USAAF capacity? What will we do when everyone wants to fly as a ball turret gunner in a B17? Will we lose pilots to bomber crews already forming up in anticipation of this? The excitement around the release of B17 is very similar to that of EAW 2 years ago. Personally I'm proud of our RAF identity but this could well be the death of our sqn if we can't adapt. For example, many took to flying the Pacific Air War add on as a solution to the multiple FM problem. I obviously have no qualms with others flying this if they wish but Hellcats and Zeros just aren't in character with our traditions as a sqn. We all fly German and USAAF planes on a regular basis within EAW but our meat and potatoes are Hurris, Spits and Tempests. Expertise in these birds in part makes us what we are. Likewise the Axis pilots mastery in 190s etc...
NJG 88 pilots have the German pilot image even though I've never actually met any of them and likewise I think of all of you in maewests and sheepskin flying jackets. Sqn identity is not to be underestimated in keeping a sqn together. It is in part the glue that unites our little band.
Please do not take all this as gloom and doom. I think its time we thought about these issues and acted accordingly. We certainly have the manpower and brains to keep on going. All ideas are welcome from old hands and newbies alike. It may be a good idea to post these in our public forum as its visited by outsiders and we can all use the input.
S! and thanks for bearing with me.
Comp.
============================================================================================
6/10/00
S!
As you can see from this page I've been updating the site today. News files have now been organized and you can view previous news items back to the year dot (well March '99 anyhow) by clicking on the link at the foot of this page.
I wanted to get the stats from our current war up on the Public Stats and War Room pages but as the JZG 23 database is currently still down I'll have to wait. You can help by sending in your personal scores/losses for the war as well as your total kills/losses for the roster (this should include ladder and previous war kills).
Congrats to all pilots who've flown thus far in the war. Looks like we're doing exceptionally well but I'm sure JZG have one or two tricks up their sleeves. Rumour has it that Rich is now the new undisputed 'Ram King' with 5 body blows to his credit. They all count though, and an ace is an ace. Congrats my friend!
Congratulations also go out to 'Grimm' who passed eval some days ago. I'm still awaiting Section placement from those in the know. I also need info on your whereabouts in the world etc...Grimm. Please go to trainee section in the roster and send missing data.
As some may have seen, the password to HQ has changed. I have sent this gen to all Flight leaders and they should be sending this info out. It seems we had an ex-609er in the enemy camp and our security has been compromised for a while. If any of you see Melvis (not sure of his JZG handle) give him a few rounds in the rear as a lesson (but at least he told us he was spying).
The Roster has been updated to reflect current changes. Congrats to Kos who has been made our Chief Training Officer and Recruiting Officer and to Icepick who takes on Kos's old job as adjutant. Ice will be in large part supervising war claims and liason with JZG 23. Good luck in your new posts chaps!
Welcome aboard to new trainees 'Artyguy', 'Bishop' and 'Jaeger'. 'Bishop' is actually an historical 609 nickname as John 'Bish' Bisdee carried the handle during the Battle of Britain.
See you soon chaps.
Comp.
---
BACK TO TOP OF PAGE