---
Wishes for the Horses
---
Hay (alfalfa or grass)
Stock Trailer --
Donated!
Thank you,
Parker Trailer!
12% grain mix
Rakes
Shovels
New or used Pickup truck in good running condition
Tractor
T-posts
Fencing Materials
Water Tanks
Wheelbarrows
Complete Feed
Rolled Barley
Whole Corn
Manure Spreader
Harrow
Cash Donations
Paste Wormers
Corral panels
---
To donate money or goods to Mountain States Horse Rescue and Rehabilitation, simply print and then fill out this form and mail it with your donation. We are trying to raise enough money to buy our own land. Your monetary donations can also be used to purchase feed and other necessities - there is space on the form which allows you to choose where you want your donation to go. All donations are 501(c)(3) tax deductible!
---
SHOP TO HELP THE HORSES!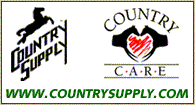 Every time you shop on-line at Country Supply (countrysupply.com) be sure to enter the Country Care Code MSHR and they will donate up to 5% of your purchase to Mountain States Horse Rescue & Rehab! (Applies to all web purchases where MSHR is entered except for dewormers and shipping and handling.)
Thanks!
---
About Us * Project Theraponies * Molly's Meadows * Adoption Information * Events and Announcements * Horse Care Guide * Our Sponsors * Wish List * Forms * Links * Awards * HOME