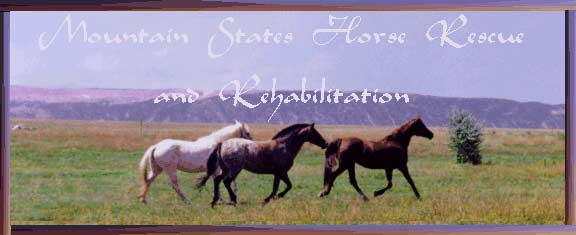 Our Mission:
To offer, through a diversity of services and programs, assistance to animals in crisis and people with special physical needs.
Our Pledge:
We will intervene on behalf of animals in distress and at-risk animals. We will provide emergency assistance, including shelter, food, and medical care to animals that need our help.
We will try to find new homes for horses and other animals that have been abandonded or abused by their previous owners.
We will assist disabled children and adults by matching their needs to the abilities of the horses that are available for therapeutic purposes.
We will reach out, support, and help educate our community through programs we conduct.
To Contact Us:
Email Director, Kate Sinke
8154 County Road 3
Joes, Colorado 80822
phone/fax: (970)358-4548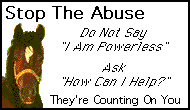 Our Mission:
---
About Us * Project Theraponies * Molly's Meadows * Adoption Information * Events and Announcements * Horse Care Guide * Our Sponsors
Wish List * Forms * Links * Awards * HOME