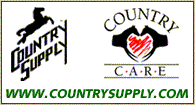 Every time you shop on-line at Country Supply (countrysupply.com) be sure to enter the Country Care Code MSHR and they will donate up to 5% of your purchase to Mountain States Horse Rescue & Rehab! (Applies to all web purchases where MSHR is entered except for dewormers and shipping and handling.)
Thanks!
---
VOLUNTEERS NEEDED!
Mountain States Horse Rescue and Rehab is always in need of volunteers to help out! Volunteers are needed in all areas of horse care and management. Kate Sinke, Director, could also use help in the office and at booths for fundraising. If you are interested in helping out, please fill out a Volunteer Application and mail it in to the rescue:
Mountain States Horse Rescue and Rehab
8154 County Road 3
Joes, Colorado 80822
phone/fax: (970)358-4548

Thanks!
---