---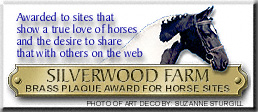 Both awards given December 1998. Thank you Silverwood Farm!!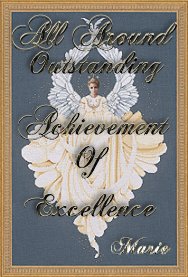 Awarded January 1999. Thank you, Marie, for this beautiful award!


"...I would like to extend my congratulations on producing a very informative and resourceful site about horse rescue and rehab. An excellent addition to the web, one that you should be very proud of. It really is impressive work and a definite bookmark for horse lovers and those that care...." --Ben Ciolczynski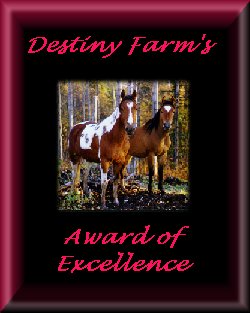 Awarded 3/28/99 -- Thank you to Destiny Farm Arabians, National Show Horses and Pintos.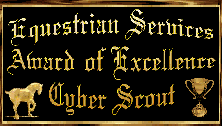 "There were more sincere "voter comments" for Mountain State Horse Rescue than for the other site that received more votes. Cyber Scout would be honored if you would received its Equestrian Services Award of Excellence...." -- Ginger Vosberg Awarded April 1, 1999.
We are very pleased to accept this award! The sites were all very good and it was a surprise to us to receive such an honor!
---
About Us
*
Project Theraponies
*
Molly's Meadows
*
Adoption Information
*
Events and Announcements
*
Horse Care Guide
*
Our Sponsors
*
Wish List
*
Forms
*
Links
*
Awards
*
HOME