Albert Drexel





Faith Is Greater Than Obedience

- - See also Albert Drexel (Wayback Machine)

. . Español . .
Words of the Savior to Professor Albert Drexel
. . • Español . Portugues . . Filipino
The book by Fr. Albert Drexel, Faith is Greater than Obedience, is a collection of words of Our Lord spoken to him a few years before he died, on March 9, 1977. These locutions have every mark of credibility, for Fr. Drexel was an experienced priest, a professor of linguistics, certainly not one given to flights of imagination, nor one easily deceived by the devil. Fr. Drexel said only the Latin Tridentine Mass. The book is available at JMJ Books and Religious Goods, 1-608-565-2516, and at their website. You may also read the entire book here, downloadable on two files, in PDF format.

Faith Is Greater Than Obedience. Pt 1. Download PDF

Faith Is Greater Than Obedience. Pt 2. Download PDF

To download, right click on the link. Then select "Save Target As..."

Faith Is Greater Than Obedience. Part 1. 1922--1973. On Gloria.tv--- Translated by Elizabeth Cattana and Charles Reed -


Faith Is Greater Than Obedience. Part 2. 1974--1977. On Gloria.tv --- Translated by Elizabeth Cattana and Charles Reed -

---

• Reparación • Almas (español)

Catholic Bible 101 . . Greatest Book of All the Ages Introduction to the Holy Bible

---

Below are some quotations taken from "Faith Is Greater Than Obedience."

Our Lord said, "The great disaster in My one and true Church is the desecration of the Blessed Sacrament, because it has gained ground in the whole world since the council of the popes John and Paul, and it provokes the anger of God."


New! • Albert Drexel's Book about Teilhard de Chardin -

---

Albert Drexel and Victimhood
The world lies in a severe situation. But My great grief and the greatest disaster is that My holy church is demolished by unfaithful servants and shepherds! Oh! Would that those called to serve souls might under-stand the teachings of My Virgin Mother Mary, as My servant Mary of Jesus of Agreda wrote them down by heavenly enlightenment, then My sick Church would recover. Oh, would that such souls might multiply, who would offer themselves as victim souls to Me; then My Kingdom would newly blossom in this world. -- Our Lord to Albert Drexel; Sept. 6, 1974.

I look with great compassion upon the praying people and the victim souls. Their suffering is great in their heart, but magnificent and beautiful shall be the love that is awaiting them at the threshold of eternity. Their number is yet small, but is growing each day. -- Our Lord to Albert Drexel; Nov. 6, 1970

The World Ends Every Day

• 80,000 persons die every day. They need your help!



Will victimhood help save the souls of your
relatives? Is victimhood necessary for salvation?

---

A prayer card of Maria Concepción Zúñiga will be sent free, to anyone who requests it. Write to: [email protected]

Trump Does the Unthinkable

By: Liz Conklin July 16, 2016

As an entertainment journalist, I've had the opportunity to cover Trump for over a decade and in all my years covering him I've never heard anything negative about the man until he announced he was running for president. Keep in mind, I got paid a lot of money to dig up dirt on celebrities like Trump for a living so a scandalous story on the famous billionaire could've potentially sold a lot of magazines and would've been a huge feather in my cap.

Instead, I found that he doesn't drink alcohol or do drugs, he's a hardworking businessman. On top of that, he's one of the most generous celebrities in the world with a heart filled with more gold than his $100 million New York penthouse. [Read More Here]

= = = = = = = = = =

. . • Pray and Fast for America

Disclaimer. Atonement Booklets does not necessarily agree with opinions expressed in other websites or videos.

• The Coming Chastisement. 1 hr. 3 min.

---

= = = = = = = = = = = = =

Octavio Michelini (1906--1979) of Mirandola, Italy was an Italian Roman Catholic Priest, considered to be a mystic. In 1975 he began to publish books pertaining to his visions of Jesus and Mary. Attached are the six volumes. He wrote many things about the Priesthood, evils within the church, the world, and Vatican II.

Click the link below, to access:
Confidences of Jesus to a Priest, by Octavio Michelini

---

---
Communion in the Hand
---

On Sept. 1, 1972, Our Lord said to Albert Drexel: "Know: The measure of the love of God is gauged by the measure of reverence to the mystery of My Eucharistic Presence, and the manner and degree of love of the holy sacrifice, which is the mysterious but truly unbloody renewal and sacramental remembrance of the one and only bloody sacrifice on the cross. Hear My cry: Sacrileges multiply among the faithful, who take the sacrament like ordinary bread in the hand, and with it, they are not aware that this bread is no longer bread, but My Body, Flesh and Blood; it is My unbloody presence! Woe also to this sin! My great Apostle Paul said: He who does not distinguish the body of the Lord from ordinary food, eats and drinks judgment to himself. [1 Corinthians 11:29] Why have so many people, in receiving My body in the hand, lost respect toward the Blessed Sacrament?"
On June 4, 1976, Our Lord said: "But alas, love of My presence in the miraculous Sacrament has died in so many priestly hearts. Therefore, the number of daily profanations does not mean anything to them, since the introduction of Communion in the hand. My woe to those who turn away from the Blessed Sacrament!"
On Dec. 3, 1976, Our Lord said: "Do not thousands and millions of God's people go to the table of the Lord like an ordinary table of daily bread, because their priests have not given to these people the example of reverence. Shocking is the word of My Apostle Paul, who said: He who does not distinguish between the body of the Lord and ordinary food, eats and drinks judgment to himself. This word is irrevocably true, and the judgment will be terrible."
On Dec. 3, 1976, Our Lord said: "The great disaster in My one and true Church is the desecration of the Blessed Sacrament, because it has gained ground in the whole world since the council of the popes John and Paul, and it provokes the anger of God. My blessing be with those who have preserved, and still do preserve, faith and reverence before the Blessed Sacrament. This blessing is eternal, and cannot be expressed by words nor comprehended with the senses."

• Cardinal Canizares calls for Communion on tongue, kneeling (CNA)

The prefect of the Congregation for Divine Worship has strongly endorsed the practice of receiving Communion on the tongue, while kneeling. Cardinal Antonio Canizares Llovera told the Catholic News Agency that the traditional posture is a "sign of adoration that needs to be recovered." When Catholics receive Communion while standing, they should show their reverence with a bow, the Spanish cardinal said; but in practice few people do that. He said: "I think the entire Church needs to receive Communion while kneeling."
Professor Albert Drexel: 1889--1977

Two books on this website are in PDF format. If you are experiencing problems viewing the booklets, please ensure you have the latest version of Adobe Reader installed on your computer.
Words of the Savior
in the Early Morning of January 7, 1972
Tremendously great is their sin. They make the temple of God into a desert of stones. They ban My Eucharistic presence from the eyes of the people and away from the center of the sanctuary. For them, the lamp forgotten before My tabernacle is no longer the symbol of love of My mystical living with men. They no longer genuflect before the Almighty and before the Blessed Sacrament; they run to the holy meal as to the tables of earthly pleasures.
They no longer know the time of prayer, but they run, full of lust and nonsense, after the amusements of a godless world.
They have thrown away the images of saints and friends of God, and they want the spirit of the saints to be forgotten in the hearts of the people. They no longer mention and honor the most holy creature of the Father, Mary, and they therefore become motherless Christians.
The meaning of sacrifice became foreign to them, and they do not wish to know about expiation and repentance. They live as if sin did not exist, and thus sink deeper and deeper into their vices-- far away from God. They distort and falsify the word of God as it is written and transmitted in Holy Scripture, under the inspiration of the Holy Ghost. With this they make themselves guilty of terrible lies, and thereby become the murderers of immortal souls. This is My lamentation; it is also a shocking accusation.
But the good people should not be fainthearted and should never despair. They will grow in My love with the grace of interior peace. Therefore, you do not implore Me in vain in the hour of My grace!

---

• The Five Wounds of the Liturgical Mystical Body of Christ, according to Bishop Athanasius Schneider, with quotation from Albert Drexel.

• Drexel, Albert. Works: 129 works in 242 publications in 3 languages and 639 library holdings. [Most of these works are available in the original German only.]

"There is something ineffable about the saints of My one and true Church. Those saints are My friends, because in their lifetime, they followed Me and led many people to Me. Their souls have entered Heaven, and I have said: In My father's house there are many mansions. (Jn. 14:2). Their lessons and the examples of their lives are the guide for real Christian living." -- Words of Our Lord to Albert Drexel. Nov. 2, 1973

• Rosary Meditations from the Mystical City of God by Mary of Agreda. A thought for each Hail Mary of the Rosary. -- Download PDF

Short Biography of Mary of Agreda
The Assumption from City of God by Agreda

Rosary Meditations 12 page booklet, on Gloria TV.

Rosary Meditations * * [all formats: HTM, PDF, printed booklet, + "Descent of Christ into Hell"]

---
---
Sentimental Theology, by Brother Francis Maluf.
What Jesus Really Wants
In 1938, Our Lord spoke to a Capuchin nun, Sister Consolata, in Italy and told her: "Do you know why I do not allow you many vocal prayers? Because an act of love is more fruitful.... Do not waste time, because every act of love represents a soul saved.... The greatest gift of all that you can offer to me is a day full of love.... I have rights over you. You told me that you love me! For this reason I desire an endless 'Jesus, Mary, I love you. Save souls!'
"If a creature of good will loves me and will make of his life a single act of love, from waking up to falling asleep (of course, with his heart), I will do incredible things for that soul. I thirst for love.... I thirst for being loved by my creatures!
"Souls believe that an austere and penitent life is needed to come to me. Can you see how they misrepresent me? They picture me as fearsome, while I am just kind! How easily do they forget the precept that I have given to you: 'You will love the Lord your God with all your heart, with all your soul, etc.' Today, as yesterday, as tomorrow, I will ask My creatures for love--always and forever." -- (taken from "Jesus Appeals to the World," by Lorenzo Sales.)
See Unceasing Act of Love by Sister Consolata
Revelations of Saint Gertrude written by herself
The Future of America
The future of America, as revealed by Our Lady of Salette and various seers. ♦ America in Prophecy. 14 minutes.
Long-ago Prophecy Materializes Today
Prophecies made in Ecuador three centuries ago are now being fulfilled completely.
♦ Long-ago prophecy materializes today
The Imminent Chastisement
for Not Fulfilling Our Lady's Request
By Father Paul Kramer, B.Ph., S.T.B., M.Div., S.T.L. (Cand.)
The following is an edited transcript of a speech given at the Ambassadors of Jesus and Mary Seminar in Glendale, California, September 24, 2004.
How often we hear the questions, in the context of all the confusion in the Church, the troubles in the world, "What is it leading to? Where will it end?" We know exactly where it's going to end, because Our Lady of Fatima said, "In the end, My Immaculate Heart will triumph ..." What is going to bring about that triumph were the words that followed, "In the end, My Immaculate Heart will triumph, the Holy Father will consecrate Russia to Me, Russia will be converted, and a period of peace will be given to the world."
Unanimously, those who have spoken prophetically, and the apparitions of the Blessed Virgin Mary, tell us that there will be a great chastisement of the world. All of the most certain prophecies and apparitions tell us that it will be at the time when wickedness, when evil, seem to be triumphant, when all appears to be lost; as Our Lady said in Quito, Ecuador in 1634.
"My Time Will Come"
She says "Then My time will come." The Miracle of Grace will break out upon the world. Evil will be destroyed, wickedness will be conquered. And it is all set forth in the Message of Fatima, in the Secret of Fatima, and most importantly in the third part of the Secret that is commonly called the Third Secret of Fatima. Our Lady said if people are going to continue to sin against God, then the world is going to be chastised. The very first request Our Lady made, was that people stop sinning against God, because God is already too much offended.
The Authentic Third Secret of Fatima?
There will be a wicked council planned and prepared that will change the countenance of the Church. Many will lose the Faith; confusion will reign everywhere. The sheep will search for their shepherds in vain.
A schism will tear apart the holy tunic of My Son. This will be the end of times, foretold in the Holy Scriptures and recalled to memory by Me in many places. The abomination of abominations will reach its peak, and it will bring the chastisement announced at La Salette. My Son's arm, which I will not be able to hold back anymore, will punish this poor world, which must expiate its crimes.
One will only speak about wars and revolutions. The elements of nature will be unchained and will cause anguish even among the best (the most courageous). The Church will bleed from all Her wounds. Happy are they who will persevere and search for refuge in My Heart, because in the end My Immaculate Heart will triumph.
For details, Read More Here - ♦ The 3rd Secret of Fatima is Still Silenced. 1 hr. 16 min. - - The Real Third Secret of Fatima. 7 minutes
ESPAÑOL ♦ Tercera Parte del Secreto de Fatima. 5 min. ♦ El Tercer Secreto de Fatima revelado. 1 hora 1 minuto.
Disclaimer: Atonement Booklets does not necessarily endorse or support opinions expressed on other websites.
On the Crisis, Chastisement and Triumph
One hundred years before the apparitions of Our Lady of Fatima, Blessed Elizabeth Canori Mora received prophetic revelations that spoke of the current crisis in the Church, the Great Chastisement and the Triumph of the Immaculate Heart. Blessed Elizabeth Canori Mora was born in 1774 and lived in Italy until her saintly death in 1825. On instructions from her confessor, she wrote down her revelations which fill hundreds of notebook pages. Today, the manuscripts are safely kept in the archives of the Trinitarian Fathers at San Carlino, Rome. ♦ Read More Here.
---
♦ Catholic End Times Prophecy. 1 hour.
• - - Defeat Modernism
• Weeping Madonnas. 10 min.
May the Virgin of Perpetual Help be loved, praised, invoked and eternally blessed!
May She be my hope, my love, my Mother, my refuge and my life. Amen.
• Novena to Our Lady of Perpetual Help:
1 - 2 - 3 --- 4 - 5 - 6 --- 7 - 8 - 9 - Our Lady of Perpetual Help (Wikipedia)
The Glories of Mary, by St. Alphonsus de Liguori
Glories of Mary by St. Alphonsus Liguori (audiobook)
---
Collection of Prophecies and warnings about the latter times
---
St. Raphael Oil -- A Blessed Sacramental
---
Be Prepared for the Future
• The disciples will drink the cup that Christ drank. -- Matthew 20:23
• "One must expect to drink the chalice of God's wrath." -- Words of Mary at La Salette
God will strike in an unheard-of-way. Woe to the inhabitants of the earth. God will pour out his wrath, and no one will be able to flee so many accumulated evils.
The chiefs and leaders of the people of God have neglected prayer and penance. And the devil has obscured their minds. They have been turned into errant stars which the devil will drag with his tail to perdition.
God will allow the old serpent to foment divisions among those who reign, in all societies and in all families. They will suffer physical and moral torments. Society is on the verge of most terrible scourges and paramount events. One must expect to be governed with an iron lash and to drink the chalice of God's wrath.
(She continued to describe the sufferings and punishment of Italy and of the Church in Europe and in the world.) ... One will see nothing but homicides, hatred, envy, lies and discord, without love of country or family. -- The Blessed Virgin Mary, to Melanie and Mathieu, La Salette, France, Sept. 19, 1846
Be Prepared for the Future
"A prudent person foresees the danger ahead and takes precautions. The simpleton goes blindly on and suffers the consequences." -- Proverbs 27:12
• America 2015 10 min. The chalice of God's justice
• How the USA became the most powerful nation because of the petrodollar
---
Quotes
"A prudent person foresees the danger ahead and takes precautions; the simpleton goes blindly on and suffers the consequences." – Proverbs 27:12
"By failing to prepare you are preparing to fail." – Ben Franklin
"Be prepared for if times get tough, or even if they don't" - Jack Spirko of The Survival Podcast
"Make preparations in advance… You never have trouble if you are prepared for it." – Theodore Roosevelt
"A ready person never needs to get ready." – Oswald Chambers
"Watch and pray, that ye enter not into temptation." -- Scripture
Story of the Unprepared Virgins: "And the unprepared virgins said to the wise, give us some of your oil, for our lamps are going out. But the wise answered, saying, No, lest there should not be enough for us and you, but go rather to those who sell, and buy for yourselves. And while they went to buy, the bridegroom came, and those who were ready went in with him to the wedding: and the door was shut. Afterward the foolish, unprepared virgins came also, saying, Lord, Lord, open to us! But he answered and said, assuredly, I say to you, I do not know you. (Mt. 25:12) Depart, ye cursed, into the everlasting fire. (Mt. 25:41) -- "And these will go away into everlasing puishment, but the righteous into eternal life." (Matthew 25:46).
Note that these two parables (wise and foolish virgins, separation of sheep and goats) are both in the 25th chapter of Matthew; all the parables in ch. 25 are about the judgment, at the end of time and end of the world. (The end of time for each soul is the hour of its death and judgment. The world comes to an end for each soul, at the moment it dies and is judged.)

Why Should I Prepare, and Is It Biblical? - - A free 41-page book with practical advice about how to prepare for a crisis or emergency. -- Download PDF --To download, right-click on the link and then select "Save Target As..." or "Save Link As..."

Do Not Be Afraid of Sudden Terror
Do not be afraid of sudden terror, of the ruin of the wicked when it comes; For the LORD will be your confidence, and will keep your foot from the snare. Proverbs 3:25-26
"I wish it need not have happened in my time,' said Frodo. 'So do I,' said Gandalf, 'and so do all who live to see such times. But that is not for them to decide. All we have to decide is what to do with the time that is given us." ~Lord of the Rings
You can feel it in the air, something big is coming. The whole world is groaning in distress. The forces of evil are everywhere, Black Masses, ISIS, Terror Threats, Disasters, suicides, should you be cringing in terror! Never! Your mission is to always stay with Jesus, stay close to Him no matter what happens. If you are far away now is the time to return before it is too late.
Behold, now is a very acceptable time; behold, now is the day of salvation. 2 Corinthians 6:2
Start with a short daily prayer that will give you the grace to convert, repent, return to the Lord with all your heart.
That powerful prayer is a Decade a Day, Only One Our Father and Ten Hail Mary's will begin to open your heart to God's Grace again and give you the strength to confess your sins. To learn how to Pray a Decade a Day go here: Decade a Day
With prayer you will be able to know your sins and come back to Confession, especially if it has been a long time. Cleanse thy soul and you will have the courage to face the dangers that are coming soon. Here is a wonderful story that displays that:
The Capture of a Slave Ship
Some years ago a British warship had orders to watch for slavers, which were said to be plying their barbarous trade on the African coast. One of these was sighted but, disregarding the signals to come to, managed to round a promontory and get into shallow water.
A launch was ordered to follow and, if possible, capture her. The command was given to a young lieutenant, who boarded the enemy ship under a hail of bullets. A desperate fight ensued with the crew, which were composed of fierce desperadoes. The young commander behaved with conspicuous bravery and succeeded against heavy odds in securing the prize.
On his return to England he was rewarded with a captaincy. Replying to a speech at his old school, he said : Gentleman, I scarcely merit the praise you bestow me. Though aware of my danger , I can't say I felt any fear. I was at confession a few days before and knew that I was aright. Extracted from Fr. Paul O'Sullivan, O.P., THE SECRET OF CONFESSION, Tan Books
To learn more about Confession read this wonderful article: 36th Day of 4 Men Boot Camp After confession, you should return to the Holy Eucharist. It is Beyond Powerful!
Making really good Communions often is the best way to make sure you will die happy and save your soul.~Saint John Bosco
---
• Blessed Maria Serafina Had a Vision of Luther in Hell -- (page in Spanish)
To see this page in English, click at the top of the page to activate the Google translator tool.
---
• How Dark Were the Dark Ages? -
Three reasons Catholics leave the Church
1. "I used to think of God as an old man with a big white beard who sits up in the sky. Obviously, now I realize this is ridiculous. Christianity is just plain fantasy."
I can't tell you how many times I've heard fallen-away Catholics make comments like these. Cartoon images of a bearded God or angels with wings have embedded themselves into our subconscious. Even Michelangelo painted God this way in his famous Creation. ♦ Read More Here.
St. Padre Pio's 5 Point Rule of Life
When we think of great mystics and wonder-working saints, we often think of those who lived centuries ago. Yet, St. Pio of Pietrelcina was both a mystic and a performer of many miracles—and he died in 1968, only 46 years ago.
In many ways, this saint was and is a contradiction to our scientific, rational age, and despite their eagerness to prove him a fraud, skeptics remain consistently unable to explain the many miracles that accompanied St. Pio's life.
But while St. Pio is remembered as a miracle worker, he was perhaps best known in his day as a spiritual father to countless souls. He gave wise and holy counsel to those dealing with the struggles of living a holy life in the world, and through his advice, he guided many souls to heaven.
Here are five habits St. Padre Pio believed all Catholics should practice, based on advice he gave to his spiritual children.
I. Weekly Confession
"Confession is the soul's bath. You must go at least once a week. I do not want souls to stay away from confession more than a week. Even a clean and unoccupied room gathers dust; return after a week and you will see that it needs dusting again!"
II. Daily Communion
"It is quite true, we are not worthy of such a gift. However, to approach the Blessed Sacrament in a state of mortal sin is one thing, and to be unworthy is quite another. All of us are unworthy, but it is He who invites us. It is He who desires it. Let us humble ourselves and receive Him with a heart contrite and full of love."
III. Examination of Conscience Every Evening
Someone once told Padre Pio that he thought a nightly examination of conscience was pointless because he knew what was sin as it was committed. To this, Padre Pio replied, "That is true enough. But every experienced merchant in this world not only keeps track throughout the day of whether he has lost or gained on each sale. In the evening, he does the bookkeeping for the day to determine what he should do on the morrow. It follows that it is indispensable to make a rigorous examination of conscience, brief but lucid, every night."
IV. Daily Spiritual Reading
"The harm that comes to souls from the lack of reading holy books makes me shudder…. What power spiritual reading has to lead to a change of course, and to make even worldly people enter into the way of perfection."
V. Mental Prayer Twice Daily
"If you do not succeed in meditating well, do not give up doing your duty. If the distractions are numerous, do not be discouraged; do the meditation of patience, and you will still profit. Decide upon the length of your meditation, and do not leave your place before finishing, even if you have to be crucified. Why do you worry so much because you do not know how to meditate as you would like? Meditation is a means to attaining God, but it is not a goal in itself. Meditation aims at the love of God and neighbor. Love God with all your soul without reserve, and love your neighbor as yourself, and you will have accomplished half of your meditation."
The following 5 point rule was taken from the article, Saint Padre Pio, by Rev. Father Jean, OFM., Cap.
10 Quotes from Padre Pio on the Blessed Virgin Mary
For us who face many trials these days in our world, St. Pio of Pietrelcina is one of the saints we must turn to for prayers and guidance. He faced his trials and sufferings head on through prayer, the Holy Eucharist, and the devotion to the Blessed Virgin Mary. Always remember these words from him – "Pray, Hope, and Don't Worry."
1. "Let us bind ourselves tightly to the Sorrowful Heart of our Heavenly Mother and reflect on its boundless grief and how precious is our soul."
2. "May the Mother of Jesus and our Mother, always smile on your spirit, obtaining for it, from her Most Holy Son, every heavenly blessing."
3. "Go and keep company with Jesus in His Passion, and with His Sorrowful Mother."
4. "…It is enough for you to know that Mary is the Mother of Jesus…She loves us so much that she offered to God the Father His only natural Son to save His adopted sons…She is a great and inestimable treasure who encloses in herself an infinite treasure, the Son of God."
5. "…If we do what we have always done, what our fathers did before us, we cannot go wrong. Satan wants to destroy this prayer, but in this he will never succeed. The Rosary is the prayer of those who triumph over everything and everyone. It was Our Lady who taught us this prayer, just as it was Jesus who taught us the Our Father."
6. "Some people are so foolish that they think they can go through life? without the help of the Blessed Mother."
7. [When asked if the Blessed Virgin is present during the Holy Mass], "Yes, she places herself at a side, but I can see her, what a joy. She is always present. How can it be that the Mother of Jesus, present in Calvary at the foot of the Cross, who offered her Son as a victim for the salvation of our souls, not be present in the mystical Calvary of the altar?"
8. "Let us endeavor, like so many elect souls, to follow this blessed Mother, to walk always close to Her, not following any other path that leads to life, except the one trod by our Mother."
9. "Always stay close to this Heavenly Mother, because she is the sea to be crossed to reach the shores of Eternal Splendor."
10. "Love the Madonna and pray the Rosary, for her Rosary is the weapon against the evils of the world today. All graces given by God pass through the Blessed Mother."
St. Pio of Pietrelcina…Pray for us.
Significance of Unveiling of Catholic Women
Ten days ago, I posted a partial transcript of the sermon on The Theological Significance of the Veil. If you didn't listen through the end, please scroll to the bottom of this post and forward to about 13:18.
Below is a transcript of the "thought experiment" Father poses for consideration. It is, to say the least, chilling.
Veils mean something. Now that we have an idea of what they mean, let's close with something worth pondering.
As everyone knows, what we do here before the altar means something - it really means something. So let's do a thought experiment. -- Read More Here --
---
See also: Theological Significance of the Veil --
---
---
---
---
---
Evidence of Satan in the Modern World
by Leon Cristiani
The evildoer is not happy. If one is full of oneself, one is full of a devilish spirit. We destroy men's souls through their senses. God makes use of men to test them. If you suffer affliction, receive it as an act of Grace. The Cross is preferable to all things. God carried the Cross for the salvation of men, and he makes those whom he loves carry it too.
The world believes that humility is weakness and incapacity: and I say that humility is power and grandeur. If you knew the misery of the reprobate, you would all be saints!
There is no language to describe the torments of the damned; there is no human mind able to comprehend them.
He who loves men more than God will not be loved by God. God allows misfortunes for the spiritual betterment of men; in order to bring them to himself and make them return to him. Never forget that crosses are better than honours.
We must understand that life is short and that we must endure our troubles in a spirit of penitence, as they came from God.
One cannot love God without loving one's neighbour. Happy are they who can leave all for God.
Ah, if only men could see how beautiful is a soul in a state of grace.
Happiness is not here below: he who possesses God possesses everything.
The rich should be the banker of the poor. God has put these riches into his hand to help his fellow men: he is God's business-man.
The rich man should despise himself and follow the teaching of our Saviour, who said: 'It is easier for a camel to pass through a needle's eye, than for a man to enter the Kingdom of God when he is rich' (Mark X, 25).
But, strange to relate, Isacaron had no sooner pronounced these edifying remarks than he fell into a rage and began to blaspheme God, insult God's creatures, even insult himself. 'Woe to the proud,' he cried, 'Woe to me, Isacaron. It was pride, ingratitude, and disobedience that led to my rebellion and damnation.'
Isacaron's reflections
Here are some further reflections by Isacaron on various subjects:
On Pilate: 'Pilate, as a judge, knew that he was condemning an innocent man, and yet the Devil drove him to condemn the sovereign Judge, the Judge of judges. Pilate, by washing his hands, soiled them.'
On Mary Magdalene (from whom, according to the Gospels, Our Lord drove out seven devils): 'Mary Magdalene is a very great saint, in whom one can put one's utmost trust. As soon as she had the good fortune to know God, her contrition was so great, her tears so abundant, that no devil could make her sin again. She is a model for all true penitents, who should make her their special advocate with God, for God grants great favour to those who invoke her aid.'
On meditation: 'If you meditate truly on the life of our Saviour and of his Blessed Mother, I defy you to commit the slightest sin against God.
'Hunger, thirst, death, are nothing: only sin is to be feared.' On Christian perfection, replying to a lady who asked Isacaron to tell her the nature of Christian perfection, and the way to attain it, he said:
'To hold mortal sin in horror; not to commit even venial sins voluntarily; not to lose sight of the presence of God; to know how to humble oneself all the days of one's life, for pride is the worst of all vices; to set a good example and give good advice; to do penance, as the Forerunner demanded. And let him who is holy become still more holy.'
Prayer to Mary To conclude these aphorisms from so strange a source, here is a prayer to Mary, composed and dictated by the devil Isacaron.
Prayer
O divine Mary, I turn towards you In total trust, For you abandon no one. You who have at heart the salvation of man, to whom God refuses nothing that you ask him, take me under your powerful wing. If you deign to grant my humble prayers, all hell is harmless against me. You who are, in some way, the mistress of my fate, my fate is in your hands. If you abandon me I am lost without help! No, you are too good to neglect those who hope in you. Pray to the Holy Trinity for me and I am sure of my salvation! Ah, if I could make you known to all dwellers on earth, if I could proclaim your power everywhere! That which I cannot do myself I beg the Heavenly Hosts to do. Let even devils be obliged to proclaim that you are the masterpiece of God's works, that the power of God lies in your hands, that you are terrible to devils, and that all is subject to you. You are the incomparable, you alone are Virgin and Mother, you gave the world its Redeemer. You stand apart with St. Joseph. Thus you are more to be revered than all the angels and all the saints: You are truly divine. I trust in you, in the firm belief that the infernal powers cannot triumph over me. So be it! All the angels, all the saints bless you for ever! So be it!
Having made this prayer, we are told that the devil suddenly became jovial and, alluding to the fact that Antoine Gay had been shut up for three months as a madman at the Antiquaille in Lyons, remarked: 'They can go and look in all the asylums before they find a madman who can dictate a prayer like that!'
Taken from Evidence of Satan in the Modern World, by Leon Cristiani. Ch. 4
5 chapters available at EWTN library: -- Evidence of Satan in Modern World --
---
• The Hidden Rebellion The Untold Story Behind the French Revolution
• The French Revolution and Vatican II 26 min.
• "Vatican II is the French Revolution in the Church." -- Cardinal Suenens.
"Gaudium et Spes [a document of the council] represents on the part of the Church, an attempt to effect an official reconciliation with the new era, inaugurated by 1789." -- Cardinal Ratzinger
"The Church has peacefully had its October Revolution." -- Fr. Yves Congar.
• What was the Second Vatican Council?
The End of This Satanic Age
Why Is This Time Satanic?
For the world, our century is the most fantastic time in all the history of mankind. There is no end to the scientific miracles. Hearts and other organs are routinely changed, man sets foot on the moon and countless technical marvels make life easier than ever. Barriers, society's moral laws, are disappearing at a fast pace. What was considerd morally taboo a few decades ago is now completely normal, making life more "fun" than ever before. For the world, this is a good time, and the best is yet to come. - - - Read More Here
---
Ranjith:
Communion on the Tongue Only and While Kneeling
The Archbishop of Colombo in Sri Lanka, Malcolm Cardinal Ranjith, has restored in his archdiocese the practice of communion on the tongue only and while kneeling. Last month, on the Feast of St. Joseph, he reiterated in an address to his clergy that this manner of receiving communion is mandatory for all of the faithful in his territory, even during outdoor Masses (emphasis mine):
May I also remind you once again that in all Churches and Chapels in the Archdiocese Holy Communion is to be administered only on the tongue and kneeling. This should be implemented as normal use even at Holy Mass celebrated with the participation of a big crowd outdoors.
On such occasions at least the youth and the children as well as the "youthful" should be called upon to kneel and receive the Lord. This is the most appropriate way of expressing our profoundest belief in the continuous and personal presence of the Lord in the most Sacred Host as we acclaim "down in adoration falling, lo! the Sacred Host we hail". And in all our Churches, as an expression of that faith our people should be called upon to receive the Holy Communion, kneeling. And so kindly take steps to fix the altar rails and a cushion line fixed to the ground before the railing so that all could kneel and receive easily. It is also good for us to explain to our people about the teaching of the Church on the Most Holy Eucharist as found in the Catechism of the Catholic Church Nos. 1373-1381.
The Archbishop also announced that he will personally take charge of the effort to correct liturgical abuses regarding Mass vestments in the Archdiocese of Colombo:
CONTINUE READING. Cardinal Ranjith to His Clergy --
---
---
Love of the Sacred Heart. Revelations of St. Gertrude the Great. 5 min.
-- Jesus would once more tell his ungrateful creatures how much He loves them, would press them to His Heart, remind them of all he has done for them, and again try to touch their hearts and to save them. Love must penetrate still more deeply, and enkindle its flames in the very depths of our hearts. The love of Jesus must transform us into Himself, even as the fire transforms iron into its own nature, that so He may offer to His heavenly Father souls -- victims in one holocaust with Himself.
---
---
---
Albert Drexel: Victim Souls
"And be not drunk with wine, wherein is excess; but be filled with the Spirit; speaking to yourselves in psalms and hymns and spiritual songs, singing and making melody in your heart to the Lord; giving thanks always for all things unto God and the Father in the name of our Lord Jesus Christ." -- Ephesians 5:18
• Quo Vadis Film (1951)
---
---
The French version of Professor Drexel's book, La foi est plus importante que l'obéissance, is available, and can be obtained at the address mentioned in the CATALOGUE LEPAREX. It can also be purchased as an e-book on Amazon.com
Éditions LEPAREX
405-195, Côte Ste-Catherine
Outremont (Québec) - Canada H2V 2B1
Tél./Fax : (514) 270-7441
Contact person: Jean-Claude Lemyze
[email protected]

Disclaimer. Addresses of external websites are given in order to provide information about ordering traditional Catholic books. Atonement Booklets does not necessarily agree with or support opinions expressed on other websites.
"Who is going to save our Church? Do not look to the priests. Do not look to the Bishops. It's up to you, the laity, to remind our priests to be priests and our Bishops to be Bishops."
~ Venerable Archbishop Fulton Sheen
---
New • Life Offering. A call to become a quiet modern apostle
Eternal Life, Where the Narrow Road Leads by Stephen Foglein
Hell, Where the Broad Way Leads by Stephen Foglein
• The Victory of Our Lady. Chapter 9: The Time of One Fold and One Pastor,by Stephen Foglein, M.S.
The 3 Days of Darkness, Heaven Warns us
Novena to Our Lady of Perpetual Help: 1 - 2 - 3 --- 4 - 5 - 6 --- 7 - 8 - 9 ---

---
Electronic Books from EWTN
God is Your Father: How to be Happy by Jeronimo Dominguez, M.D.
Man's Freedom: The Ideal by J. Dominguez, M.D.
---
• 50 Years After Vatican Council II. 30 min.
• The Effects of Vatican II. 25 min.
• Why the New Mass and New Rite? 38 min.
Father Gregory Hesse
A Summary of Fr. Hesse's Talk on the documents of Vatican II
Fr. Hesse qualifications: Fr. Hesse was appointed theologian by the Holy Father, John Paul II. He has his Doctorate from the Pontifical University in Rome in theology and canon law. Fr. Hesse spent 15 years in Rome and was the secretary for Cardinal Stickler for 2 years.
"Vatican II, as a Whole, Is Unacceptable to a Catholic." -- Fr. Gregory Hesse
Fr. Hesse. A Third Conversation on Tradition vs. Modernism. Video.
Fr. Hesse: The New Mass is the Foundation of a New Faith and a New Church. (Youtube Video)
---
The Scapular of Benediction and Protection
This powerful scapular is a privilege offered by Our Lord and Our Lady to lead us throught the terrible times, when the world will face the Holy Wrath of God. Not only is the wearing of this scapular strongly recommended, but its exposition in our chapels and houses will give special protection.
---
♦ Miraculous conversion of militant atheist. 6 min. video.
The story of how an atheist was converted, after his wife offered herself as a victim soul, and gave her life for him.
---

Battle Beads Blog - Way of Divine Love, by Josefa M. (selections)
How To Create False Hope by Carol Robinson
My Life with Thomas Aquinas by Carol Robinson
The Science of Love by Dr. John C. H. Wu
Christian Mystics - * - Marian Links
---
Visit our other sites:
Four Last Things
Death, Judgment, Heaven, Hell (Heb. 9:27)
The First Christian Revival -- "Early African Christianity produced a revival movement, the first Christian revival movement we know about. Large numbers of men and women, seeking radical discipleship, came to the desert. The desert became a city." [from talk given by Dr. Andrew Walls, 2003, Dallas Theological Seminary]
A prayer card of Maria Concepción Zúñiga will be sent free, to anyone who requests it. Write to: [email protected]

Our Lady. Sept. 20, 1986
"My children! Make sure that the great grace of the life offering will reach the souls who suffer greatly in body or in soul. It must reach the incurably sick, the physically handicapped, and the bedridden, so that their suffering will not be in vain! This suffering can become a fund of gold for all humanity, as well as for yourselves, because in your hearts and souls you will receive peace, strength, relief, and satisfaction, if you realize that patient acceptance of your sufferings will bring you great happiness in heaven!"
The seer: I obeyed this request of Our Lady, and I communicated this request to suffering souls. I can say from my own experience that their suffering was greatly lessened, when they accepted the graces that accompanied their life offering.- - Read More Here
---
List of Catholic Books at Gloria TV
• Rosary Meditations
• Faith Is Greater Than Obedience, Parts 1 and 2
• Un Llamamiento al Amor (Josefa Menendez), etc.
---
Triregnum: Prof. Albert Drexel
Treasury of Latin Prayers

Traditional Catholic Prayers & Devotions in Latin and English
---
Every year, fifty million people die. That comes to about one million per week or about 150,000 every day. Every day, 150,000 people die. Many, if not most, of the people who die or will die have not prepared themselves for death. Many will go to hell. Many will go to purgatory. If we prepare ourselves well now by prayer, by receiving the sacraments, by living a holy life, and by having a strong devotion to the Holy Souls in purgatory, we will not only dramatically increase our chances for avoiding purgatory altogether, but we will also relieve the sufferings of the Holy Souls and help them to enter into the joys of heaven."
---
---
Perpetual Adoration
of the Blessed Sacrament --- (live image)
Imitation of Christ,
by Thomas a Kempis * * * "With respect to the life of perfection, it is just as you have grasped it this morning. Let people be guided by the book written by my very beloved son, Thomas a Kempis. He entitled his writings 'The Imitation of Christ,' by an order that I gave him, because he wrote these marvelous pages by the light of my spirit." -- Our Lord to Madre Concepcion: Nov. 14, 1973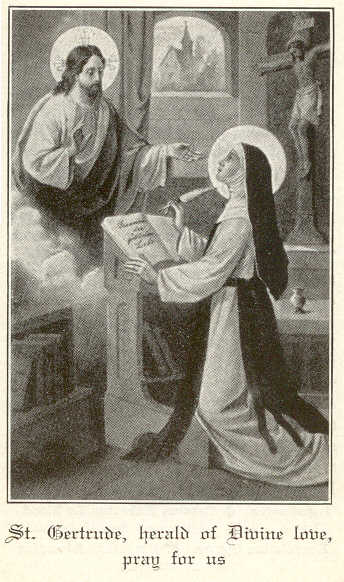 Revelations of St. Gertrude
Purgatory Page
Imitation of Christ, by Thomas a Kempis
Lives of the Holy Desert Fathers
St. Gertrude the Great. Feast Day: November 16
Thanksgiving for Graces Bestowed upon St. Gertrude
White Lily of the Blessed Trinity
New Book: Life and Revelations of St. Gertrude the Great. Download PDF --
How Our Actions Can Be Acceptable
On one occasion during Lent, St. Gertrude asked our Lord how our actions may be acceptable. He replied:
"They would be so, if your fasts, vigils, and regular discipline were performed in memory of My Passion, and were offered to Me in union with the mortification of My senses which I have practiced during My Passion."
"Ah!" exclaimed Gertrude, "teach me, O best of teachers, how to perform even one action perfectly in memory of Thy passion." Our Lord replied: "When you are praying, extend your arms to represent the manner in which I extended Mine to God My Father in My Passion; and do this for the salvation of every member of the Church, in union with the love with which I stretched out My arms upon the cross." "If I do this," she replied, "I must hide myself in a corner, for it is far from being customary." Our Lord replied: "If any one prays thus with his hands extended, without fear of contradiction, he pays Me the same honour as one would do, who solemnly enthroned a king." --- Revelations of St. Gertrude, Book 4. Ch. 13.
UNIVERSAL LIVING ROSARY ASSOCIATION OF ST PHILOMENA
JOIN OUR LADY'S WORLDWIDE ROSARY ARMY TODAY! St Philomena, pray for us!


What is most pleasing to Jesus?
--- One thing is particularly remarkable in the life of St. Gertrude, the like of which cannot be found in the life of any other saint: it is the extraordinary promises made to her by our Savior in favor of those who venerate her.
The Hail Mary. 5 min.
-- St. Jerome tells us that "the truths contained in the Hail Mary are so sublime, so wonderful, that no man or angel could fully understand them."
Are Only A Few Saved? -- 8 minutes.
---
• Four Last Things: death Judgment hell heaven. 2 minutes.
• Four Last Things: death. 43 minutes.
- - One Community in Heaven. 11 min.
- - Victories of the Saints. 7 min.
---
---
---
Links
Latin Mass Society
Douay-Rheims Bible Online
Regina Magazine
Crisis Magazine
Gloria TV

Blogs: The Guild of Blessed Titus Brandsma
St. Corbinian's Bear •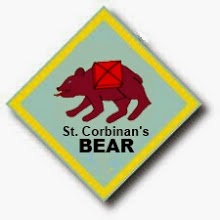 Prophecies of Our Lady of Good Success. 1634
Victim of Love
Ch. 4: Merciful Love of God, from "Spiritual Childhood," by Vernon Johnson
Mother Mary: From Nazareth to Akita.
---
---
The Holy Sacrifice of the Mass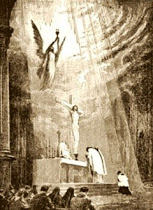 "We most humbly beseech Thee Almighty God, to command that these offerings be borne by the hands of Thy holy Angel to Thine altar on high in the sight of Thy Divine Majesty, that as many of us as at this altar shall partake of and receive the most holy Body and Blood of Thy Son, may be filled with every heavenly blessing and grace. Through the same Christ our Lord. Amen." -Supplices te Rogamus, from the Canon of the Mass (1962) --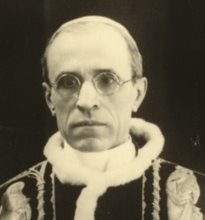 Pope Pius XII: "I hear all around me innovators who want to dismantle the Holy Chapel, destroy the universal flame of the Church, throw away her ornaments, give her a remorse of her historical past. Well my dear friend, I have the conviction that the Church of Peter must assume her past or she will dig her own grave."
---
Disclaimer. This website may include links to other websites. These links are provided for your convenience to provide further information. They do not signify that we endorse the website(s) unless otherwise stated or implied. Even if we support a given website, we have no responsibility for the content of the linked website(s).

---
---