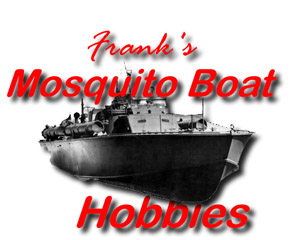 www.mosquitoboathobbies.com
---
Mosquito Boat Hobbies is the acknowledged leader in providing true scale model PT Boat Hulls, Kits and accessories. Since 1990 we have been designing, fabricating and building the highest quality fiberglass model PT Boats and cast fittings to meet the most demanding needs of the enthusiastic hobbyist. To accomplish this, we only use official sources for our research to build our boats. Our thanks and appreciation go out to AL Ross of Coastal Forces for supplying the necessary drawing and research material to construct our master patterns from which all of our hulls are molded and crafted by hand.
When Tim Howard started Howard Enterprise ,and Bob Sattler started Mosquito Boat hobbies back in the mid 1980's, I started showing increasing interest in PT Boats and built my first larger scale PT 596 before coming onboard; first, to do the castings for the fittings that went on their boats, and then as time went by I became more involved with both of these operations. I purchased Mosquito Boat Hobbies from Bob and became part owner of Howard Enterprises. Several years ago I became sole owner of Howard Enterprise, although Tim Howard is still involved with the building of new patterns and also helps out as a constant for new projects from time to time.
To assist our customers in accurately building their models, all of our boats come with detailed arrangement plans that were drafted from or in some cases, they are copies of the official drawings used in the construction of the real boats. This enables the modeler to complete the building and fitting out process of their boat to match the accuracy of our molded fiberglass hull. To assist the modeler even further, we offer an extensive line of cast polymer plastic and white metal fittings and weapons kits.
We hope you enjoy our catalog. As you look though the following pages you will see the many types of boats we make. Mosquito Boat Hobbies continues to lead the industry by offering the PT type boat kit, hulls, weapons and fittings you want, while never compromising on the authenticity or the quality or our products. Currently we have 16 types of boats to choose from, with a few new and interesting project in the planning stages or being developed.
With our selection of boats, coupled with our extensive line of accessories, we are a major source for the R/C model PT Boat building enthusiast. We are committed to meeting the needs of you, the dedicated scale model boat builder, who demands quality and authenticity while refusing to settle for second best.
FRANK DiMEGLIO
866 WEST 19th STREET
SAN PEDRO, CA. 90731-5314
TELEPHONE: (310)547-3464
Phone Hours Noon to 6 PM, Monday through Saturday, Pacific Coast Time. Please no early morning, late night or Sunday calls.

FAX: (310)514-0818

If you have questions, you can email me here.
---
Version 1.0 April 25, 2001 All contents copyright Mosquito Boat Hobbies 2001
Web design by SeaGraphics, a SeaPhoto company.