"Wonderful first class artist", "...unforgettable minutes of romantic music given by this extraordinary musician"

Suddeutche Zeitung (Germany)

 "Transcendent, free with individual technique"

Liberta (Florence)

Watch and listen:

S. Moroz (violin), Y. Bashmet (viola), N. Gutman (cello), V. Lobanov (piano)  perform Piano Quartet in C-Minor (op. 60) by Johannes Brahms

Video #3  

Concerto Grosso #2  by Alfred Schnittke (solo violin – Sviatoslav Moroz; solo cello – Natalia Gutman)

(Macromedia Flash Player is required to view these videos – Download FREE player)
Sviatoslav Moroz was born in Moscow to a family of musicians. Members of the family enjoyed a wide reputation for musical talent. Sviatoslav's grand-grandfather Anisim Berlin was a pupil of Leopold Auer. Sviatoslav's grand-grandmother, L. Burakinskaya, also played violin. She studied in Germany with Joseph Joachim, a pupil of the German composer Felix Mendelssohn and a friend of famous composers Johannes Brahms and Giuseppi Verdi. Mr. Moroz's mother Prof. Natalia Gutman is a world renowned celloist.
Sviatoslav Moroz started to play violin at the age of five. He graduated from the Moscow Conservatory, where he studied with legendary violinist Oleg Kagan, a pupil of Boris Kuznetsov and David Oistrakh. Oleg Kagan helped Sviatoslav to become extraordinarily proficient with the violin. Latter, Sviatoslav also studied at the Paris Conservatory under the tutelage of Gerard Poulet. Sviatoslav Moroz plays a rare Gagliano violin. Originally, this violin belonged to Anisim Berlin. It was Leopold Auer who helped Anisim Berlin to acquire the violin.
                           Sviatoslav Moroz  and  Yuri Bashmet                                               Sviatoslav Moroz, Elisso Wirssaladze, and Natalia Gutman
after the 2005 Carnegie Hall Recital
Mr. Moroz has performed with such world-renowned artists as: Oleg Kagan (violin), Natalia Gutman (cello). He has also collaborated with such famous musicians as: Yuri Bashmet, Eduard Brunner, Kim Kashkashian, Victor Tretiakov, and Elisso Wirssaladze.
Sviatoslav Moroz has appeared at world most prestigious concert halls including Carnegie Hall (New York), Espace Pierre Cardin (Paris), Grand Teatro La Fenice (Venice), and Kremlin Palace (Moscow). He has also presented a concert at New York's Merkin Concert Hall at Lincoln Center.
Mr. Moroz has appeared as soloist with the Berner Symphony Orchestra, Constance Symphony Orchestra, Orquestra Sinfonica do Estado de Sao Paulo (under the direction of conductor Isaac Karabtchevsky), the Berlin Philharmonic, Warsaw Radio Symphony, and Bucharest Philharmonic Orchestra. He has collaborated with Maestros Y. Aranovich and G. Hertnagel.
                Oleg Kagan Music Festival (Germany)                                                   Sviatoslav Moroz, Olga Dyachkovskaya, Mstislav Rostropovich,
and Natalia Gutman                                             
Mr. Moroz has participated in numerous festivals, including yearly appearances at Oleg Kagan Musikfest (Germany) at which he performed with Natalia Gutman and Yuri Bashmet, Sintra Music Festival (Portugal), Kuhmon Kamarimusikki (Finland), Mallorca Chamber Music Festival (Spain), Portogruaro Music Festival (Italy) and Sakharov Festival (Russia), the Beethoven Festival (Long Island) and at the Shandelee Music Festival (New York).
As a full-time member, Mr. Moroz has performed for a number of years with such internationally renowned ensembles as: Moscow Soloists (under the direction of Yuri Bashmet), the Moscow Piano Quartet, and the Tchaikovski Piano Trio.
Mr. Moroz has been prized numerous times for his excellent technique while performing chamber music.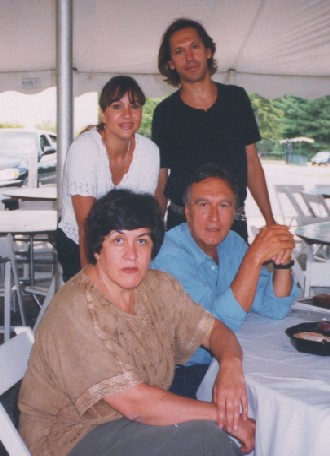 Olga Dyachkovskaya, Sviatoslav Moroz, Natalia Gutman, Claudio Abbado
Mr. Moroz has recorded several CDs on "LiveClassics", "Parnassus Records", etc. The last Mr. Moroz's recording is a live performance of Shostakovich's Seven Romances & Piano Trio No.2, Op. 67 (with Olga Dyachkovskaya (soprano), Natalia Gutman (cello), Mykola Suk (piano)) which is due to be released shortly on Parnassus Records.
Mr. Moroz has been teaching for over fifteen years. He taught in Russia, Germany and, since moving to the United States in 2000, has enjoyed teaching in New York and New Jersey. Mr. Moroz also gives master classes, during which he opens his secrets of intonation, phrasing and vibrato.
Mr. Moroz is the Artistic Director of the International Mohonk Music Festival "Classic on the Mountains" (Mohonk Mountain House, NY).
Selected CD recordings: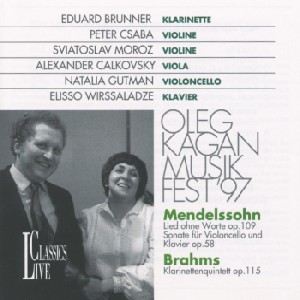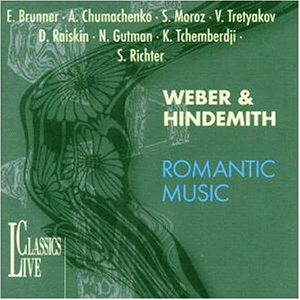 LINKS:
Claire Givens Violins - (fine violins, violas, cellos)
The World Violinist Links - (Violinist Sites)
WQXR 96.3 - (The best classical station of the world)