MAUSOLEUM
- The story behind the legendary heavy metal label.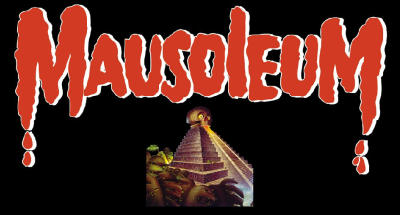 A Letter From Mr.Alfie FALCKENBACH
Founder of Mausoleum Records
March 2002.
Part I [1982 - 1986]
I founded MAUSOLEUM RECORDS in the Winter of 1982, a few weeks after I had been fired from my job as marketing manager at INELCO, a record company later acquired by ARCADE and recently purchased by ROADRUNNER RECORDS. Never mind I had chalked up a record breaking 13 gold discs for them during the 19 months I held the post - thatfs another story for another day. In the early 80s INELCO in fact distributed ROADRUNNER. In those days the label was predominantly successful with punk as in the DEAD KENNEDYS, and electronic avant-garde music as in KLAUS SCHULZE. One day I actually gently nudged owner CEES WESSELS to release the first TWISTED SISTER album, so I perhaps unknowingly created a future competitor for my then yet-to-be-born MAUSOLEUM heavy metal label. But Ifve always like WESSELS, so I never lost any sleep over it.
Besides working at INELCO I also ran a music production company, in loose partnership with STONNE HOLMGREN and LEO gROCKSTONEh FELSENSTEIN, two friends who owned a wholesale business and also had an interest in a studio located in back of a farmhouse out in the middle of nowhere. In 1979 LEO had already produced the first KILLER album: gREADY FOR HELLh and thanks to my friend JEAN-MARIE SOHIE, the marketing manager at WARNER MUSIC, we got a deal with WEA, as it was known in those days. Besides JEAN-MARIE and HERMAN SCHUEREMANS (who later went on to fame and fortune as head honcho behind the TORHOUT-WERCHTER rock festivals) nobody really gave a ratfs ass about hard rock at WARNERfS in those days, but JEAN-MARIE had been very successful with VAN HALEN and AC/DC, so I suppose they let him have his way - and we got the deal. Through EMI we had already released DANGER, a band from the south of Belgium. MARC YSAYE, drummer with prog-rock outfit MACHIAVEL - one of Belgiumfs more successful rock annd roll stories - had produced their eponymous album. In 1981 we released the second KILLER record: gWALL OF SOUNDh and also a WHITE HEAT album, both on LARK RECORDS, one of the INELCO Imprints. By then I worked there so it was convenient to have everything under one roof.
One day in the Summer of 1982 PAUL MARIO DAY walked through my door - everybody was always turning up unannounced because I had an office with a street level window, so you could immediately see if I was in or not. PAUL had been the lead vocalist with heavy rock act MORE, who were signed to ATLANTIC In the UK, one of the WARNER labels. Visiting friends and fans in Belgium - where MORE had been doing well - PAUL called on the local WEA offices searching for a deal for his new band; WILDFIRE. HERMAN gSHERMANh SCHUEREMANS immediately told PAUL gif itfs loud and heavy your best bet is to go see ALFIEh, and directed him to my office on the other side of the canal. That same building is now the home of RADIO CONTACT, one of the more influential top-forty stations in the country, so very different sounds reverberate off those walls today. PAUL and I immediately hit it off in a grand way, and by the end of the afternoon we had hammered out a deal. A couple of weeks later - I always suspected he was still in the process of putting his band together, and having a record-deal helped him do just that - WILDFIRE arrived in Brussels. Five musicians and JOHN McGOWAN, the producer, all stuffed in the most minuscule museum-quality Honda van youfd ever seen. I put them up in a bed-and-breakfast dive, and the next day they started recording their first album, BRUTE FORCE AND IGNORANCE, at SHIVA, a studio in a crumbling building near the main railway station in Brussels, owned by my close friend JACK MAUER. I still love that album! It was the beginning of a splendid relationship with a band of exceptionally talented musicians and very good people.
So with the WILDFIRE album in the can, and yours truly out of a job, one winter night STONNE, LEO and myself are sitting in CHEZ VINCENT, a pricey Brusselsf restaurant where they serve steaks the size of small, but well fed cows (eating red meat was still fashionable in the early 80fs), and LEO is rambling on about how GAMMA (their import-export wholesale company) is doing so well, selling lots of hard rock records, because the major companies and most other labels loathe the music and there are great opportunities and blah blah blah and blah blah blah. So to cut a long story short, by the end of the evening, and several bottles of fine red wine later, LEO had convinced me to set up a heavy metal label. The next day, not yet fully recovered from an awful hangover (cause otherwise I probably would have decided to call it something else) I came up with the name MAUSOLEUM. My art school background finally paying off - I personally designed the red blood-dripping logo, while sitting at a table in the bar of the LAMBERMONT Hotel where I used to live in those days after my marriage to MARIE-LOUISE went down the toilet and my girlfriend MYRIAM ran back to her mommy and daddy - but that again is another soap opera altogether. And so dear reader, MAUSOLEUM was born.
In January 1983 I went to MIDEM, the annual music convention for professionals in Cannes, in the south of France, and signed UNDERDOG, a band from the Cologne area in Germany, produced by the eccentric ALEX GIETZ (his dress code was more Sherlock Holmes than leather and studs). A couple of years later ALEX also produced OSTROGOTHfS sadly underrated third album: gTOO HOTh. That week I also inked a deal with Italian band VANDIUM. Returning from France I moved into a back room at STONNE and LEOfS wholesale operation in Antwerp, and prepared the initial releases as well as the formation of a proper limited company. Finally, in April, we released WILDFIRE, UNDERDOG and VANADIUM, and, I believe almost simultaneously, re-released the first two KILLER albums, the WHITE HEAT record and the DANGER long player. MAUSOLEUM was an instant success. WILDFIRE became a critically acclaimed album, and sold well, and the two KILLER albums - which had previously not been generally available outside the Benelux - also sold like the proverbial hotcakes.
MAUOSLEUM not only quickly gained recognition because we released electrifying hard-rocking records produced by eminent bands, but our output was also goutstandingh from a visual point of view. We not only employed BLUEPRINT, a graphic design company where especially PATRICK MEEZE and JOHAN STUYCK created stunning illustrations, but also had our own in-house art department where ERIC PHILIPPE, and later MICHEL BOUCHAT, worked nearly around the clock designing the eye-catching artwork which had equally become a MAUSOLEUM trademark.
From the small one-room back office we moved upstairs and took over the whole first floor of the same building. Our roster of quality metal acts made it possible to rapidly build up a network of distributors all over Europe and North America. I was working day and night (well - some things never change) and desperately needed help so I lured away JAQUELINE VANDENBORRE, my trusted ex-secretary at INELCO, from the security of her well paying job to the hand-to-mouth life of working for an Indie heavy metal label. For the next three years we were virtually inseparable, and became more than just good friends. I will be eternally grateful to her for her dedication and hard work. After the demise of MAUSOLEUM she landed a job at CBS (now SONY), and she still works there today.
On a roll, we acquired the rights to gFIRE RAISERh, a dynamite record by Finish act TORCH, and licensed VANADIUMfS second album: gA RACE WITH THE DEVILh. In the meantime LEO had produced another classic MAUSOLEUM album: gSEE YOU IN HELLh by CROSSFIRE, and OSTROGOTH delivered their self-produced gECSTASY AND DANGERh, their tour de force follow-up to gFULL MOONfS EYESh the mini-album which, half a year earlier, had already catapulted them into the cult-status zone of the heavy-metal-world.
My buddy JACK MAUER, the SHIVA studio owner, was married to ANNA, a Spanish lady, and had so learned to speak the language quite well. (He probably picked up a lot when ANNA yelled at him in her native tongue when she caught him chasing other womenc). Thanks to JACK being able to negotiate in Spanish we were able to sign the awesome BARON ROJO to the roster. Performing two years in a row at the HEAVY SOUND festival - and although they sung in Spanish (except for BRUTAL VOLUME, the English language version of their album VOLUMEN BRUTAL) we sold all four of their records very well. We were also successful with OBUS and PANZER, two other bands from the Iberian Peninsula.
JOS KLOEK also turned out an invaluable member of the team. After a while LEO became less involved with MAUSOLEUM as it became necessary for him to be more attentive of the import-export and wholesale operation. KLOEK started By taking over the production tasks on KILLER and CROSSFIRE albums, and later on also recorded SPEEDWAY and THE DAY AFTER, the two enormously successful albums by speed metal band WARHEAD. He became the de facto MAUSOLEUM house producer and went on to work with FN GUNS in Belgium, DARK WIZARD in Holland, FISC in France, and the E.F BAND in Sweden. The latter he will particularly remember because he recorded the Anglo Swedish E.F. BAND during an exceptionally cold winter in a studio somewhere in the deep forests of Sweden at mind numbing, limb-laming, freezing temperatures.
I made it up to JOS by next assigning him to produce LIONSPRIDE in the luxurious and comfortable surroundings of the Brusselsf ICP studio. LIOSNPRIDE featured one of my favorite vocalists, WILLY BECKERS, the Joe-Cocker-of-heavy-metal, as well as the outstanding guitarist BENITO BOCCASILE. The ensuing album, BREAKING OUT, was in my opinion another grossly underrated effort.
JOS KLOEK not only produced numerous records for MAUSOLEUM, but also managed KILLER, and accompanied most bands on tour, engineering their sound during concerts and festivals. The WARHEAD boys called him SPEED RAT, and thatfs exactly what he had to be in order to get everything done.
Early 1983, through reviews in the British press, I became interested in LIMELGHT, a band from the North of England that had recorded an album for FUTURE EARTH, a local Northern label. I contacted the label-owner, DAVID MOFFITT, and effectively negotiated for the album gASHES TO ASHESh to be re-released on MAUSOLEUM for worldwide distribution.
I had been thinking of opening a UK office for a while and DAVID MOFFITT seemed very much the natural candidate to head the operation. Soon DAVID and I not only became the best of friends but he also rewarded my confidence in him by signing some absolutely great acts to the MAUSOLEUM roster; WOLF, ACE LANE, CHINAWHITE, SYAR, SNOWBLIND, HAWKWIND, the impressive McCOY, and last but not least BLACKLACE, the American outfit fronted by the lovely, extremely talented and very sexy vocalist; MARYANN SCANDIFFIO.
Every red-blooded male in rock & roll wanted to get closer to MARYANN - me included. I however limited our rapport to a gstrictly businessh relationship, knowing that ANTHONY FRAGNITO, the bass player, was very much in love with MARYANN. Some serious friction did occur while BLACKLACE were recording their second album gGET IT WHILE ITfS HOTh in London, and GARY BARDEN, who at that time was the lead-vocalist with the MICHAEL SCHENKER GROUP, did get somewhat closer to MARYANN than ANTHONY habitually tolerated. For a while I had my mind set on recording a duet with MARYANN and GARY BARDEN. I wanted to record a heavy-metal-ballad version of a song called gJUNKMANh which I had discovered on a GENYA RAVAN album, on which she duets with IAN HUNTER. For some reason we never got around to it though.
DAVID MOFFITT also was, and still is, a talented photographer. MOFFITT, and local lens-man RUDY DE DONCKER, shot most of the pictures for record sleeves and promotional photographs for MAUSOLEUM. Moreover DAVID was also responsible for signing a number of important acts to KONEXION RECORDS, our subsidiary label on which we released non-metal music, mainly punk rock, by such significant acts as the EXPLOITED, the U.K. SUBS, SID VICIOUS, and JAYNE COUNTY, but also gfolksh like BERT JANSCH and MICHAEL CHAPMAN. One day I confided in DAVID that I really liked the PRETTY THINGS. I had been a fan of the wild men of British Blues from their beginnings in the early 60s and admired them even more later, when they came up with albums like gS.F. SORROWh the very first rock opera - quite a bit before PETE TOWNSEND got gTOMMYh out of his system - and gPARACHUTEh one of my all-time favorite albums. Well, no more than a month later DAVID called me to tell me that he had signed a PRETTY THINGS album called gLIVE AT THE HEARTBREAK HOTELh for release on our KONEXION label.
DAVID MOFFITT is also one of the funniest men Ifve ever had the pleasure of meeting, specializing in a deadpan delivery of outrageously witty jokes. In those days we also shared a passion for gMOONLIGHTINGh, an 80fs television series which was the vehicle that transported BRUCE WILLIS to the gates of stardom, and also featured CYBILL SHEPERD. We both enjoyed the program so much that we used to call each other every Monday night, after the show had aired on BBC Television, reliving some of the more hilarious moments. Only once in twenty years did DAVID and I briefly fall out. This ensued when STONNE HOLMGREN lured DAVID away from MAUSOLEUM, convincing him to work together at the appropriately titled AMBUSH RECORDS - but more about that later.
For a couple of years AXEL THUBEAUVILLE was another essential player in the A&R activities of MAUSOLEUM. Donft be fooled by the name - the guy is as German as they come, and if he would be any less flexible he would break. AXEL not only possessed a great pair of ears but also an ego-driven stubborn streak, which after a while caused him to clash with most people - including me. When we first got acquainted he was still publishing a financially struggling rock magazine in Germany, an offshoot of AARDSCHOK, the Dutch heavy metal bible. The good news was that thanks to the rag he also knew every talented band in the country, and so in 1984 we signed WARLOCK, an exciting young band from the Dusseldorf area, fronted by the blonde and beautiful DORO. AXEL produced their exhilarating debut album BURNING THE WITCHES; a record that would go down in history as one of MAUSOLEUMfS all time biggest sellers, and would also kick start their notable international career, and ultimately land them a contract with PolyGram, one of the major record companies (now known as UNIVERSAL). Before the recording was finished though artist and producer had already locked horns and the band insisted on the album being remixed by engineer RALF HUBERT, as well as AXELfS name to be taken of the credits. I donft think they ever spoke again. In spite of his thorny personality AXEL signed and produced STEELER and LIVING DEATH for MAUSOLEUM, two more bands with whom we were very successful, so at the end of the day we forgave him for also bringing us not-so-hot acts such as ATLAIN, BRAIN FEVER and FACT. Later THUBEAUVILLE formed his own SHARK RECORDS label and proved that his earlier successes were no accidents by regularly signing truly great bands such as VIRGIN STEELE, CHANNEL ZERO, MASSACRA, SEPULTURA, STRATOVARIUS, and more recently AT VANCE. We stayed friends, mainly because in recent years I managed to avoid doing business with him.
Germany was an important market for MAUSOLEUM, so STONNE HOLMGREN and I spend a lot of time there, which led to meeting more people, and inking more deals with German bands such as CUTTY SARK, AXE VICTIMS, BAD STEVE, and those ersatz Teutonic Vikings: FAITHFUL BREATH. If six months earlier anybody had told me I was going to sign FAITHFULL BREATH, then somewhat of an aging prog-rock hippy band for geriatrics, I would have declared him or her insane and had another drink. But, their manager, BOGI KOPEC, and I developed a strong friendship and all the while he deviously led me to discover the capable musicianship and songwriting aptitude of the band, until I really wanted to cut an album with them. The addition of the handsome and gifted guitarist ANDY HONIG to the line-up was definitely another step in the right direction, but we still needed another strong selling point to break those dinosaurs to the media because we unfortunately werenft going to make it just on the merits of talent and quality. Enter MICHAEL WAGNER, producer extraordinaire, the PHIL SPECTOR of heavy metal, and his sidekick UDO DIRKSCHNEIDER, then still fronting ACCEPT. Together MICHAEL and UDO had formed a production company called DOUBLE TROUBLE. I had been extremely impressed by the remix job MICHAEL had done on an early DOKKEN album, and I thought The ACCEPT album BALLS TO THE WALLS - which hefd also produced and mixed - was one of the most powerful sounding albums Ifd ever heard. MICHAEL and UDO visited us in Antwerp, and after dinner an a few bottles of champagne, we struck a deal for them to produce the next FAITHFUL BREATH album. Their fee was the equivalent of the gross national product of a small country, but ended up being justified. The resulting GOLD eNf GLORY not only possessed an overwhelming and massive sound, but also became a hugely lucrative seller, and went on to become one of the classic albums of the decade. Even today, nearly 20 years later, when I listen to albums recently produced by MICHAEL WAGNER, like HAMMERFALL on the NUCLEAR BLAST label, I hear traces of GOLD eNf GLORY. Mind you thatfs a compliment. WAGNER just refined his gbigh sound to an art over the years, and I just love listening to the records he produces.
So far 1984 had been stacked with significant releases, SHOCK WAVES, the third KILLER album had surpassed sales of both their previous albums combined, and CROSSFIRE were preparing for the release of their sophomore set: SECOND ATTACK, and there was more to come from WILDFIRE also. WILDFIRE was always more refined than most other NWOBHM bands of that era and they certainly proved it with the release of their second album SUMMER LIGHTNING, once again recorded at SHIVA in Brussels, but with overdubs done at WEST THREE, and the final mix at EZEE, both in London. This time around veteran producer GUY BIDMEAD was enlisted to ensure the best possible result. GUY had previously worked with artists as diverse as MOTORHEAD, EXCITER, COZY POWELL, keyboard wizard DON AIREY and even YES. SUMMER LIGHTNING was without doubt one of the best records we ever released on the MAUSOLEUM label. Dare I say it was another classic album of the 80s? It contained eleven imposing songs and highlighted the technically sophisticated and mature musicianship WILDFIRE was by now capable off. I had more than a fair share of success with WILDFIRE, but if I would have had superior assistance from the management side, like was the case with the driven PETER ZIMMERMAN, who managed WARLOCK, I believe we could have attained even greater heights together.
So business was booming and we were all millionaires just rolling in the money right- A lot of people certainly thought so, but in reality nothing was further from the truth. The company hardly had any working capital, since neither STONNE nor LEO had put a nickel into the operation. The only other person - besides myself - having invested some money in the label was ETIENNE GEERTS, once indisputably one of Belgiumfs greatest international basketball players and also a sales representative at ARIOLA (now BMG), where I met him in the late 70s, became friends with him, and subsequently convinced him to work with me at INELCO in the early 80s. Yes, we were shifting considerable quantities of records, but we had needed to borrow heavily from the bank in order to bridge the gap between the time suppliersf invoices became due and the moment our distributors paid us for records sold. The more successful we were the more the bank and their offshoot factoring firm got their greedy hooks into us, leaving us with only a minimal gross profit, owing to the fact that the interest rates in the mid-eighties were so cripplingly high. Also over the years several distributors had gone bankrupt, or were going through financial hardship of their own. Wefd already written of $ 30,000 when the original PINNACLE collapsed. BOOTS, a German distributor headed by MANFRED SCHUTZ, before he founded SPV, and who distributed our KONEXION label also crashed owing us some money, and the same fate befell our Norwegian partner, whofs name now temporarily escapes me. We also made some serious mistakes of our own. In England we later left the reincarnated version of PINNACLE, headed by STEVE MASON, and moved our distribution to PRT, and in the Benelux we switched from INDISC to CNR. In both cases our sales plummeted, at CNR in spite of the gallant support from RIK BLOMME and MICHIEL WOLF, two key-CNR players


And if high interest rates, and the losses sustained from bankruptcies and diminishing sales in a few territories werenft enough, the times they-were-also-a-changing; the MTV-era and BON JOVI-like acts had arrived and costly videos were needed to promote rock bands now. Heavy rock music now also required polished productions, which in turn meant gigantic recording budgets. For a short while we valiantly tried to compete by signing acts like HAZZARD, a band formed by ex-ACCEPT guitarist HERMANN FRANK, and the imposing McCOY, previously on bass with the IAN GILLAN BAND. These were superior albums, which Ifm still proud of today; McCOY was voted one of the 10 best rock albums of the year in the UK, and also HERMANNfS record was of exceptionally high standards - itfs just that with a price tag of nearly $ 50,000 attached to it, we couldnft afford it. After paying for the recording we no longer had any money to promote the record properly - shit, we no longer had any money to feed ourselves! Itfs like buying an expensive sport scar but not being able to come up with the money for the petrol.
The continuous financial hardships we endured during the second half of 1985 started to erode my friendship with STONNE HOLMGREN. He also had a young new girlfriend demanding a lot of attention - and that kind of consideration also requires money! STONNE secretly found some financial backers and left me as well as his monetary woes behind, but not before he stole a company car and sold it to a secondhand car dealer. For the sake of five fantastic years I decided not to have his ass put in jail.
STONNE then formed his own label and appropriately named it AMBUSH, since he not only stole FAITHFULL BREATH from the MAUSOLEUM roster, but also enticed DAVID MOFFIT to leave MAUSOLEUM and work with him. DAVID also took POWERHOUSE with him, a dynamite British outfit that had roots in GEORDIE, the band BRIAN JOHNSON left to join AC/DC, and which I hoped to sign since this was a time MAUSOLEUM was in critical need of a credible album. So it hurt twice. In the end it only took STONNE a few months to run his company into the ground, and we havenft spoken since, whereas with DAVID MOFFITT and BOGI KOPEC things were soon after patched up. FAITFUL BREATH manager: BOGI of course went on to form the highly successful G.U.N label and the DRAKKAR management and publishing company.
So by the end of 1985 MAUSOLEUM was in desperate need of cash. We needed money to pay ICP studios up front, or otherwise they wouldnft allow JOS KLOEK to finish mixing the KILLER double live album STILL ALIVE IN EIGHTY-FIVE, which we had recorded with the high-priced DIERCKX MOBILE studio. And this was a release that could have solved quite a few - if not all of our problems - since we hadd a realistic sales expectancy of around 30.000 units. So with only four tracks of the KILLER album mixed, and the remaining master tapes stuck in the studio, JOS and I decided to stage the second coming of the SHOCKWAVE INTERNATIONAL HEAVY METAL FESTIVAL. We had organized such an extravaganza the year before, at the height of MAUSOLEUM-mania, with KILLER, WILDFIRE, OSTROGOTH, CROSSFIRE, LIONSPRIDE, BLACK WIDOW and with special guests RAVEN, a NEAT RECORDS act who were also immensely popular in those days. The festival had not only proven a great promotional showcase for our artists, but we had also made quite a bit of money on the night. We decided that the 1985 epic scheduled for October 5th, 1985, at the LIMBURGHAL in Genk, should even be of more extreme proportions than the previous edition. The task was not to be underestimated since by this time there were only three of us left at MAUSOLEUM: JOS KLOEK, my assistant JAN DE GEEST, and myself. BLACKLACE were conveniently touring Europe, so they would be present, and we also invited FAITHFUL BREATH, MCCOY, CROSSFIRE, LIONSPRIDE and TSA. In the end ALASKA - a band fronted by BERNIE MARSDEN, guitar virtuoso and founder member of WHITESNAKE - also turned up. We not only recorded the whole festival with the intention of later releasing several live albums, but we also filmed the whole marathon show, since I had pre-sold the visual rights to VESTRON, a now defunct American video company.
Alas the festival was by far not sufficiently successful to dig us out of the hole we were in, and FILMTRAX, the London based Media Company who had brokered the video deal with VESTRON, furthermore cheated us out of the bulk of the income from that project. So the KILLER master tapes remained unmixed at the studio, and there were very few presents under the Christmas tree that year.
JOS, JAN and myself still released a few mediocre albums in the beginning of 1986 but sales understandably dwindled so that the income barely kept us alive. We effectively threw in the towel in the spring of 1986, but the damn company refused to die. All mechanical copyright had been paid to the last penny, and since the beginning I had been paying most of the recording costs out of my own pocket, which in retrospect turned out to be a blessing since it allowed me to retain ownership of some masters after the demise of the label. So paradoxically the business didnft have that large a debt. We did have a very substantial liability of approximately $ 150,000 towards the bank, which - with a lot of help from my parents and by forfeiting my lifesavings - I personally reimbursed. We had also racked up a debt of more than $ 100,000 towards the bankfs offshoot factoring firm for which I had personally singed, so I was obliged to resolve that debt also, albeit ten years later. In later years a few artists vociferously complained that they had not been paid all of their royalties. And though it is certainly true that some of them fiscally suffered from the bankruptcy, some chose to conveniently ignore the fact that they had received advances, tour support, merchandise, or in certain cases simply had not recouped recording budgets. A few inflated egos boastfully exaggerated the sales figures of their own records, in the end convincing only themselves of the accuracy of their fantasy arithmetic in order to sustain their fairy tales about being owed lots of money. Rival labels, envious of our past success, and the gutter journalism of certain not-so-honourable so-called-journalists, of course often gratuitously fueled these fictional sagas. The truth being that only myself, and absolutely nobody else lost the big bucks.
Finally on October 22nd 1986, ELDORADO ENTERTAINMENT & COMMUNICATIONS, the parent company of MAUSOLEUM RECORDS, was officially declared bankrupt, thus ending part one of the story of the legendary heavy metal label. Stay tuned for part two, because next month wefll enlighten you with chronicles about MAUSOLEUM from the 1991 resuscitation onwards, once more featuring yours truly, KILLER, and other great rock bands such as NAZARETH, ANVIL, ROUGH SILK, JOEY BELLADONNA, VOIVOD, to name but a handful.