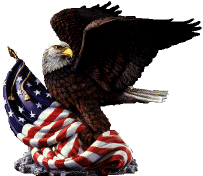 Hushed Be the Camps Today
by Walt Whitman
May 4, 1865

Hushed be the camps today,
And soldiers let us drape our war-worn weapons,
And each with musing soul retire to celebrate
Our dear commander's death.

No more for him life's stormy conflicts,
Nor victory, nor defeat -no more time's dark events,
Charging like ceaseless clouds across the sky.

But sing poet in our name,
Sing of the love we bore him -because you -
dweller in camps, know it truly.

As they invault the coffin there,
Sing -as they close the doors of earth upon him -one verse,
For the heavy hearts of soldiers.

My Father: James H Ward Proudly Served 1941~1945 WWII Still Living
My Son: Richard D Piros Proudly Served 1982~1985 Still Living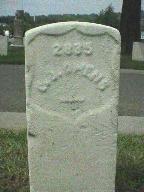 Grgrgrgranddpa C.J.Owens Proudly Served For What He Believed In
1861-1863. Buried in Confederate Cemetery Knoxville TN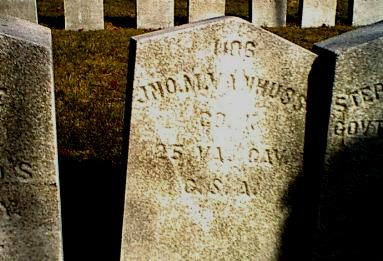 Grgrgrandpa John Michael VanHuss Proudly Served What He Believed In
1861-1865. Buried Camp Chase OH

Tom McDaniel
My grandma's first husband

Palmer Evans WWI~~
My mother's cousin


Alfred (Curly) Piros ~Royal Canadian Army 1941~1945 WWII
My Father-In-Law


Steve Lubrick ~Royal Canadian  1941~1945 WWII Still Living
My husband Bob's Uncle


Art Piros~Royal Canadian WWII Still Living
My father-in-law's brother


Robert Z Piros Royal Canadian Army WWII
My father-in-law's brother

I have no pictures for these ancestors but they fought for what they believed in.
Tandy Welch ~War of 1812
Hymelous Patton~ Civil War Union died at Cumberland Gap
William Patton (son of Hymelous) ~Civil War
Sherwood Delk~ Civil War
Jeremiah Delk~ Civil War
Boston Owens~ Civil War
William Henley York~Viet Nam (my cousin)

Various Patrotic Songs
Created May 25, 2001
Fonts Used CAC Champagne & Arial