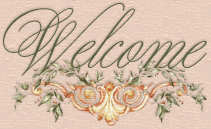 Upon the next few pages I hope to fill,
Please tell me you fit the bill!
Upon these pages will be my ancestors faces ,
Upon some will be faraway places.
I have many a name,
Oh, please tell me you have the same!
Some of the info I have found,
Some of the info is not so sound!
But, after you have looked upon it,
Please send me some little tidbit...

Created November 15,2000
Font Used Edwardian Script I T C