Fresh fruits no more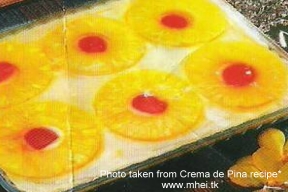 Tired of serving the usual fresh fruits for dessert? Want to make your meal more enjoyable? Why not try this no-bake Crema de Fruta? Creamy desserts like this Crema de Fruta will surely be a delicious and satisfying treat to you and your family. It will also impress your guests when served in special occasions. Aside from that, it can also be a great gift to your friends or loved ones during the holidays. My recipe for this delectable refrigerator cake is so quick and easy, you donít even need to bake. All ingredients are available in the supermarket or in the nearest convenience store; and thereís no necessary equipment as complex as food processor.


INGREDIENTS:

For the cake, you will need:
1 pack Graham crackers
3/4 cup crushed Graham crackers

2 packs (250 mL) All purpose cream

1 small can (180 mL) condensed milk

1 can (830 g) Fruit cocktail (drained, with cherries reserved for toppings)


For the toppings:

1 can (234 mL) sliced pineapple (drained)

cherries (separated from the fruit cocktail)


For the gelatin:

3 cups water

Fruit cocktail syrup

2 packs clear unflavored gelatin (powder)
Hereís how:
Combine all purpose cream, condensed milk and drained fruit cocktail in a bowl. Mix well. Set aside.
For the first layer of cake, assemble graham crackers in the bottom of any regular sized (about 8 by 5 inches) rectangular glass baking dish or container.
Spread a thick layer of half of the milk and cream mixture on top of the graham crackers.
Add crushed graham crackers until the milk and cream mixture is completely covered.
Add another layer by pouring the remaining milk and cream mixture.
Cover the milk and cream mixture with graham crackers.
Decorate cake with pineapple slices. Place the cherries in the holes of the pineapple slices. Cover and refrigerate. Allowing it to chill several hours before serving enables the crackers to soften.
In a saucepan, mix gelatin powder with water and the fruit cocktail syrup. Cook over low heat. Stir gelatin and continue stirring until completely dissolved. Cook until thick. Pour gelatin mixture over chilled cake.
Chill until gelatin is set.
Serve.
Isnít it great? In 20 minutes or less, you can have your own home made Crema de Fruta! No sweat. By the way, you donít need to strictly follow this recipe. You may replace fruit cocktail with pineapple chunks, (and call it Crema de Pina) or ripe mangoes sliced into wedges (and call it Crema de Mangga). You can add peaches, kiwis, or any fruit of your choice! If youíre tight on budget, reduce cream, thus reducing the layers of the cake; or reduce condensed milk to lessen sweetness. It's all up to you.


Itís delicious. Itís mouth watering. The cake, with layers of grahams, milk and cream mixture plus pineapples and cherries on top is such a lovely sight, especially when placed in a transparent or glass dish. It will even be a great peace offering or gift to someone you want to please (like your boyfriend or girlfriendís mom). Itís also nutritious. It is a good source of fiber, Iron, Calcium, Vitamins A, C, and B12. Above all, itís a break from your fresh fruits for dessert. What are you waiting for? Make your own Crema de Fruta now.


For more recipes on other alternative desserts, visit the nearest library or bookstore and grab a cookbook. You can also connect to the Internet and log on to any cooking web site.



---
Photo taken from Crema de Pina recipe*

Source:
The authorís (former) experimental Crema de fruta recipe,
as a product of recipes of Crema de Pina from *Del Monte Kitchenomics at the back of Sliced Pineapple label, condensed milk and all purpose cream labels; various cookbooks; those of her auntís and cousinís refrigerator cake recipes; and her imagination..