Class A-1 (2626) 4-8-4 Northern. Total built 1. Schenectady Works,
American Locomotive Co., 1930.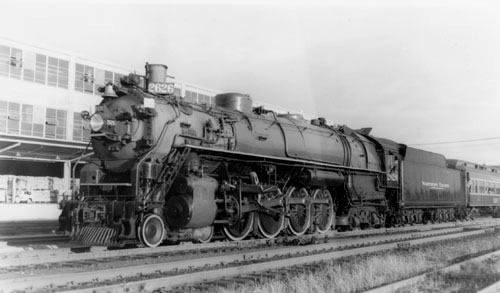 The most famous modern steam locomotive was a Northern. The Timken Roller Bearing Company in 1930 did what railroad experts thought impossible -- designed a locomotive that could operate on all railroads under all conditions. The purpose was to demonstrate the advantage of roller bearings over friction bearings. The 52 specialty manufacturers agreed to supply their equipment on an open account, payments to be made after the engine was tested for 100,000 miles. A tablet with their names was placed on the tender. TRBX 1111 was given strenuous tests on fifteen railroads which included New York Central, Pennsylvania, C&O, Lackawanna, New Haven, Lehigh Valley, Nickel Plate, Missouri Pacific, Burlington and finally NP. There was much publicity, such as when Pennsylvania made a friction test with three men pulling the 355ton engine back and forth on level track. The same stunt was pulled in Chicaco when three women did the trick. The Four Aces hauled 227 passenger trains and 328 freight trains on regular runs "without incident" during the tests.

In October 1931, 1111 was delivered to NP with 88,992 miles behind her. NP, using a dynamometer car, probably tested more severely than the other roads on long distance passenger runs and heavy freights. The speed record for the two year testing period was set on NP by Engineer Jimmy Jones when the dynamometer tape showed 88 MPH while passing through Willow Creek, Montana on the North Coast Limited. Timken 1111 hit the 100,000th mile and NP bought her on Feb. 8, 1933, changing the number to 2626. For 22 years the 2626 worked on the western district, ending its regular service on the hot-shot Portland-Seattle runs. The very last run was made on August 4, 1957 on a special railfan trip from Seattle to Cle Elum and return. The photo was made as she arrived at Seattle for the last time.

Repeated efforts were made to save the historic engine, and the Timken Company considered bringing it to Canton, Ohio, under its own power for permanent exhibition at the Timken plant. But 2626 was scrapped before negotiations could be finished.
Credits: Ron Nixon's Northern Pacific Locomotives