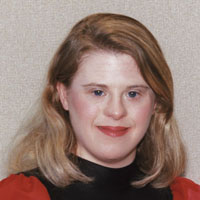 BERNADETTE RESHA
Bernadette is 22 years old and is a very talented young lady. She plays the violin, has been in a movie and does print modeling. The Easter Seal Society made Bernadette it?s 2000 Adult Representative. She was the 1994 Tennessee Special Olympics Athlete of the year. Bernadette works three days a week with children at a day care school.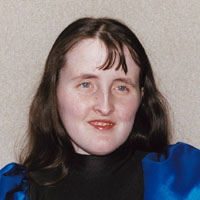 APRIL MILLIKEN
April is 22 years old. She has a beautiful singing voice and was in her high school chorus for four years. April loves to travel and Disney World is one of her favorite places. She likes to watch TV, and Xena and Wonder Woman are her favorite shows. In 1999, April won two gold medals in gymnastics at the World Special Olympics.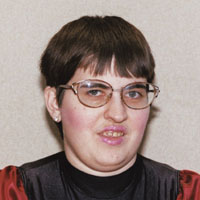 MICHELLE GREENWAY
Michelle is 27 years old. She has a sweet personality and loves to help people. She likes to ice skate and is a big fan of the Nashville Predators Ice Hockey Team. Michelle works at the Wild Horse Saloon. She lives with her parents and is the favorite babysitter of her two-year-old nephew.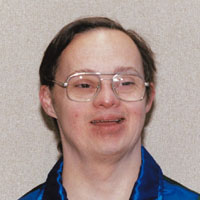 RONALD HITCHCOCK
Ron is 40 years old and lives with his sister and her family. He loves music, dancing, and watching TV. He is a good artist and writes poem. Ron is a diabetic but manages his own diabetes. He is a SAL Member of American Legion Post 182. Ron has participated in Metro Parks Disabilities Program for over 25 years.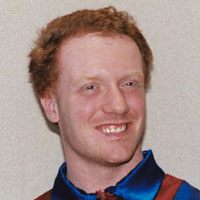 KENNY CARPENTER
Kenny is 25 years old. He says getting to travel is his favorite part of being a Court Jester. Kenny is a good athlete. He bowls in four leagues and carries a 171 average. Kenny works part-time at Taco Bell. He lives with his mom, dad, and his basset hound Syd.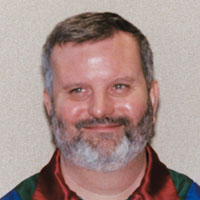 ERNIE FRANK PYLE
Ernie is 43 years old and our oldest Court Jester. Ernie is very mechanically inclined and maintains all of our magic equipment. He likes car and truck magazines and has a large music collection. Ernie likes to bowl and his mom says his biggest joy in life is being a Court Jester.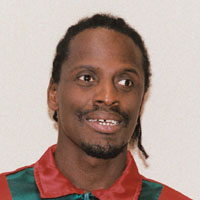 EDDIE BELL
Eddie is 37 years old. He lives independently. Eddie has his own disk jockey business. "Eddie the DJ" does school and community center dances. He is a big Lakers Basketball fan. Eddie was the first Special Olympics Athlete to coach a Unified Special Olympics Basketball Team. He plays drums at his church and performs with a gospel band.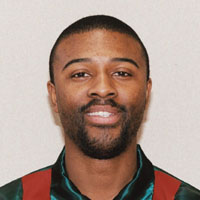 KEVIN ANTHONY
Kevin is 23 years old. He lives with his mom and is very active in his church. Kevin works part-time at a local seafood restaurant. He plays basketball in an adult league and likes to swim. In 1999, he won a silver medal in Team Handball at the World Special Olympics Games.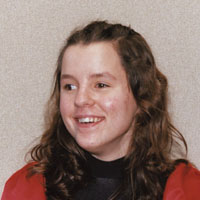 BRENDA ADAMS
Brenda is sixteen years old. She loves to compete in the Special Olympics. Brenda swims, ice skates, plays basketball and volleyball. She has four brothers and sisters and is very active in her church. Brenda has been a Girl Scout for eight years.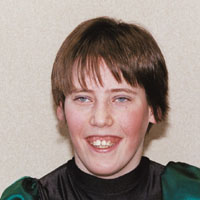 KRISTY DILLINGHAM
Kristy is 22 years old and lives with her mother and brother. Kristy loves people and her favorite activity is talking on the phone with her friends. She considers all of the Court Jesters as a part of her family. Kristy loves shopping and spending time with her nieces and nephews. Kristy works 20 hours a week at a Kroger store and her worst enemy is "boredom."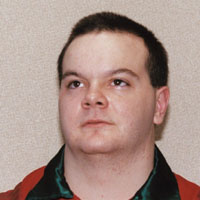 SHAWN FOSTER
Shawn is sixteen years old. He lives with his sister and his parents. Shawn competes in many Special Olympic sports. He is our youngest Court Jester but often assumes a leadership roll. Shawn in very active in the Boy Scouts of America and plans on earning his Eagle Badge.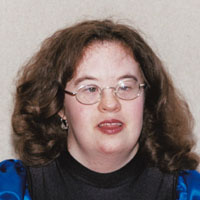 PORTIA CARNAHAN
Portia is 22 years old. She has been a Special Olympics athlete since 1984. In 2000, she won a Gold Medal in Special Olympics First National Golf Tournament. Portia is a huge Titan football fan and considers Frank Wycheck a special friend. She is a member of Woodbine Baptist Church and works part time for Ingram Book Company.