EARLY WORKS OF JOHN W PIERARD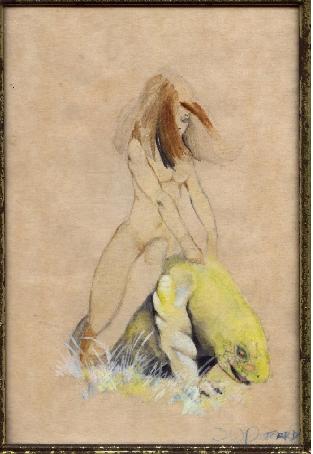 My brother John was born in Denver, Colorado on January 25th, 1955. Since the early 1980's, he has built a small but respectable career in book illustration. Go to any middle-school in America and you are bound to find a book filled with his drawings. Do a search via Yahoo or Google and his name pops up dozens of times. He has illustrated mostly children's books, many by --or compiled by-- Bruce Coville for Avon Books. He has also done several illustrations for the science fiction & fantasy market, including a set of role-playing cards for a game called the Sendai Bubble.
John and I, along with our older sister Pat, are the children of Col. Albert A Pierard, MD and Gertrude J Pierard. Our dad was born in a small town in the southeastern corner of Kansas called Arma, the son of the local sheriff and town postmaster (yes, it was a small town); our mom was born on an island off the coast of Honduras called Utila, the daughter of an American steamship captain. They met in Tampa, Florida at the height of World War II and married soon after. The G.I. Bill --& our mother's own hard work-- helped pay for our dad's years of medical school. He remained in the US Air Force until 1974 and in that time, we travelled around America and the rest of the world & even lived in Europe for four years when I was a little boy.
John's serious artistic abilities began showing up when we had moved to a suburb of Tampa, Florida in 1968. Dad was Chief of Surgery at MacDill AFB, as well as at Plant City Baptist Hospital. We were relatively well-off and living in a large ranch-style home with five acres of land on which to hang out. One of John's early watercolor paintings (ca 1974) is reproduced below; he uses a complimentary-color process (shades of orange and blue) to accurately portray one of Florida's famous sundowns: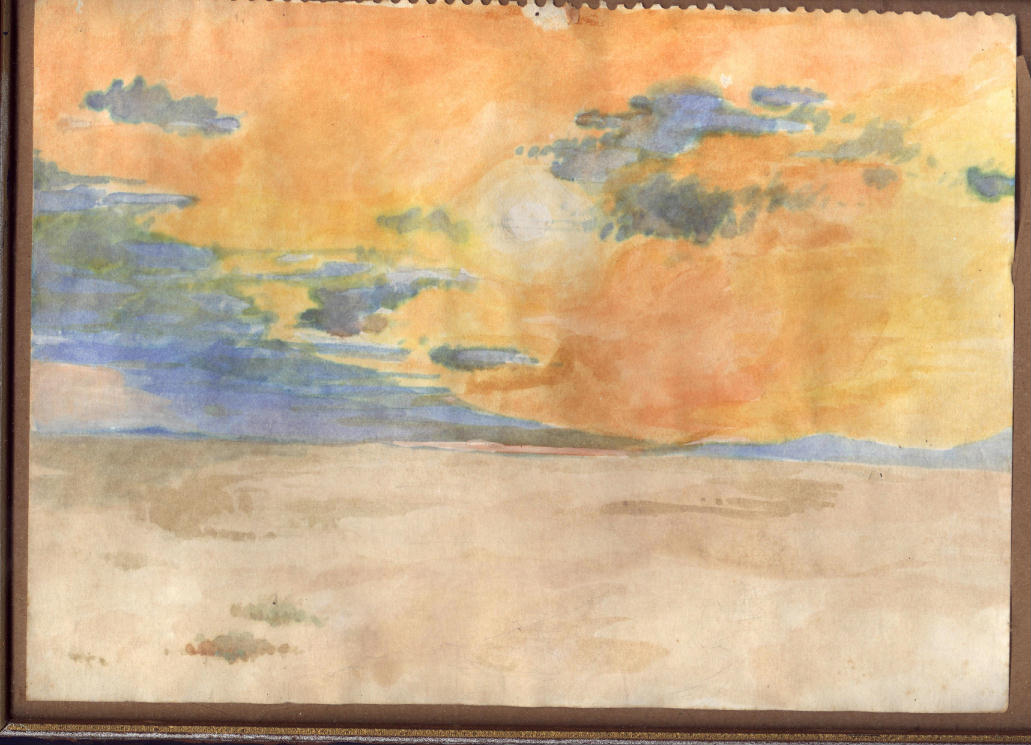 Like many kids of our generation, Mad Magazine was staple entertainment in our house. Also DC Comics, Warner Brothers cartoons, Marx Brothers/Woody Allen/Bob Hope movies (an influence from our dad), the comic strips "Peanuts", "Pogo", & "B.C.", Ray Harryhausen (the master FX animator) movies, and as he got older, National Lampoon and the satirical radio group called Firesign Theater. The cartoonists at Mad (Mort Drucker in particular) and National Lampoon proved to be John's biggest influences early on:
I remember the model for the mini-TV set that the guy is watching under the table. It was one of several gifts our dad brought back from his voluntary 1969 tour of duty as a surgeon in Vietnam. I remember the paperback atlas of physical anatomy John had as well as the obvious availability of more professional resource books from Dad's medical library which John studied to make his illustrations more realistic, as evidenced by the Girl on A Dragon (my title) which is featured at the top of this page. Okay, so one leg bent at the knee is a bit longer than the other; he was just beginning to learn about perspective at that time I suppose....
Sadly, fate took our father very young (he was 52) in April 1975; there is however a handsome portrait of Dad done from his cadet days by John's best friend, the artist Tom Kidd, hanging in the living room of our mom's house. This is how I like to think of him.
John studied art first at the University of South Florida (under artist-professor Theo Wujcik among others), then at Syracuse University. He eventually moved to New York City and slowly but surely began his career.
This is a new scan I did recently of one of John's cartoon critters: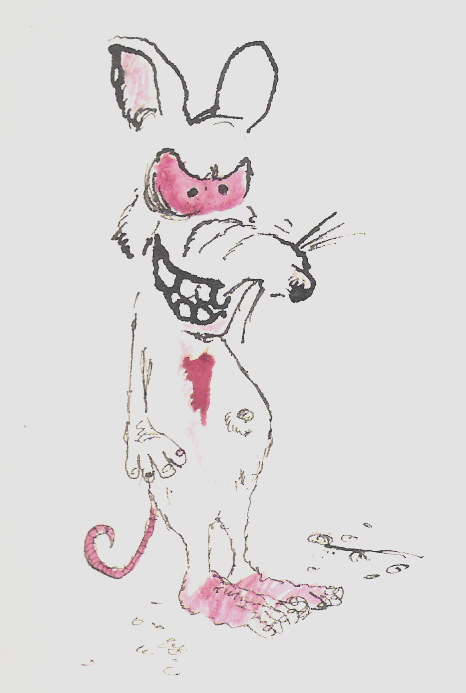 CHRONOLOGICAL LISTING OF WEBSITES WITH JOHN W PIERARD MENTIONS:
http://www.geocities.com/mattpierard_2000/monday2_bw.jpg A recent find, scanned by an old friend of John's, Helen Hough
http://libraries.uta.edu/helen/welcome.htm Helen features these paintings on her webpages
http://libraries.uta.edu/helen/nursclas.htm ""
http://www.gamebooks.org/cgi-bin/search.cgi?Type=Illustrator&Text=John+Pierard&Header=Books+Illustrated+by+John+Pierard -- a collection of books John illustrated in the 80's.
http://noir.com/rich/heresy/Artist=John_Pierard.html Names of the role-playing cards he illustrated
http://www.3000authors.com/authors/John_Pierard.htm Misleading title to this site posits John as an author, not illustrator; still it is a good compendium of his 90's works
http://www.arrakis.co.uk/eots.html 3 cards for a Dune role-playing game http://www.apocalypsefiction.com/issfour/slownight.html SFcomic strip that John illustrated in 2001
http://www.graphicclassics.com/pgs/pierard.htm -- This is John's current publisher (Caution: this page contains adult references)
http://www.artistsunite-ny.org/events/artstroll/artists/detail.php?artistid=41 Page from a NYC art group