Welcome To Taurusatan's RuneScape Fan Site!
Thats right! These are all my accounts! 2 Mains, 4 Pures, 4 Bankers, 6 Noobs = 16 accounts!
Ranked 1st

Taurusatan

2nd

Alyssa Beck

3rd

Anton Chua

4th

Alicia Chua

5th

Fenlowyl

6th

Bigt1234555

7th

Impa2006

8th

Taurusatan2

9th

Verath2006

10th

Tauru Satan

KellyCollin5 101

KellyCollin4 100

KellyCollin6 99

Kimranop 40

Moonmist2006 37

Pumas2006 32

This is my RuneScape website, which is dedicated to all RuneScape fans out there. Kindly Bookmark this page as I will be updating it with lots of stuffs and downloads. Feel free to sign my Guestbook.
Level 333 Kalphite Queen Got Owned By Level 120!
Runescape Links And Downloads For You
I am selling some of the items in my bank. You can click (My RuneScape Bank Sales) for the prices. God and Trim armours are not for sale as they are personal collections of mine.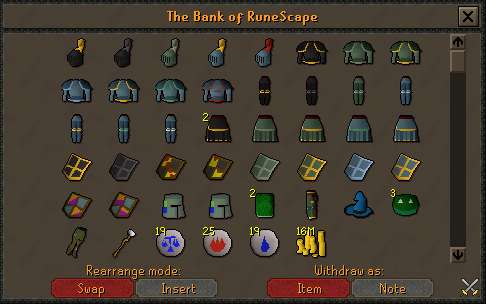 My Armourer Bank

My Holiday Items
Do you like this site? If you do, Kindly to keep this site alive! Thanks in advance!
Above shown is the bank of Taurusatan, and did almost 2Mil drop party at my house on my last day of member on 25/03/2007. Drops include: Dragon dagger p++, Dragon Battleaxe, Lava BattleStaff, Fire Battlestaff, Zamorak Pages, Sara Pages, Rune Axes, Rune Full Armour, Key Half Loops, Sharks, 200K gp, Duel Rings, Games Necklaces, Super Sets, Weapon Poisons, Hunter Pots, AntiFire Pots, Ranging Pots, Herbs, And More... Overwhelming turnout of 40+ People. Thanks to all who turn up!
Links For Your Entertainment
Friend's Photo And Pictures!

My Runescape Ranking is 18,912 as of 26th April 2007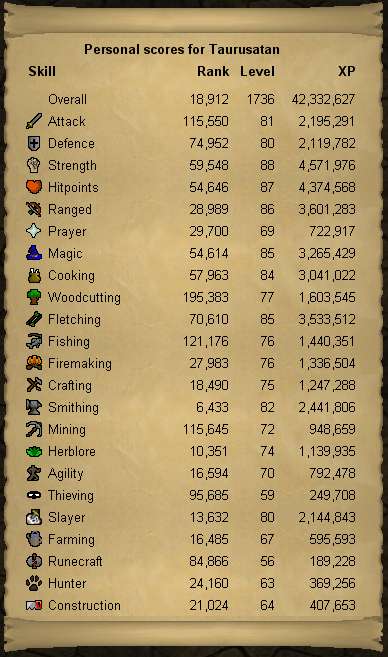 My Level Up Pictures!