In a trial, Olympus has marketed a limited edition camera. The Olympus O.product is a camera that appeals on visual terms. At a time when classic design is often neglected for the sake of pure functionality, the strikingly classic lines of the aluminum-bodied camera restore some of the grace so readily seen in hardware from the 1920s and '30s.
The O.product is being produced as a limited edition, and it is aimed to appeal not just to photography enthusiasts but also to individuals who appreciate good design in its own right.
The limited edition of 20,000 will be marketed through selected channels in Japan, Europe and the United States.
In addition to its striking good looks, the Olympus O.product incorporates the very latest in camera technology, to ensure quality photography at the touch of a button. A built -in motor drive, auto-loading, auto-exposure, autofocus and auto-flash with the stylish detachable flashgun allow simplicity of operation for even novice photographers.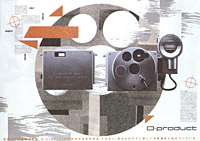 The O.product's name is one indication of its originality. Along with signifying Olympus, the O stands for the way that the engineers started from zero, refusing to acknowledge the usual preconceptions. The result is an instrument that not only takes photographs, but might well be the subject for them.
From Visionage no. 11, 1989

> box content