Thomas Whitfield was born April 30, 1954 in Detroit. He was the eldest of five boys. His great-grandmother inspired him to play the piano and he began taking lessons at the age of five.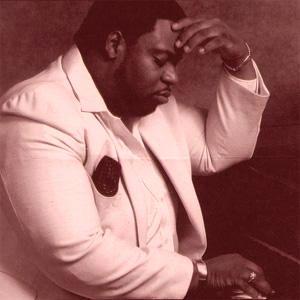 He began to play the organ at the Nazarene Baptist Church when he was ten. Soon he was playing all over the Motor City. After graduating from Central High School, he attended the Detroit Conservatory of Music. After his schooling, he became a music instructor at the city's Finney High School. In 1977, Whitfield and Tyrone Hemphill, also a gifted musician and writer, founded The Whitfield Company, an aggregation of some of Detroit's finest singers and musicians. Sound of Gospel signed the new group and released their first album a year later, appropriately entitled "Brand New".

Thomas was a musician ahead of his time. He crafted a Gospel style so superb that it earned for him the title of "Maestro". Over the years Whitfield produced, composed or arranged material for gospel luminaries such as the Queen of Soul Aretha Franklin, Shirley Caesar, Edwin Hawkins, Keith Pringle, Rev. James Cleveland, Vanessa Bell Armstrong, Yolanda Adams and Bishop Paul Morton who now pastors one of the largest congregations in America.

In 1984 Whitfield received his first of three Grammy nominations, in this case as producer of Armstrong's "Peace Be Still" album. The Company went on to build a name for itself with its signature songs "Hallelujah Anyhow" and "I'm Encouraged." The latter was named Billboard's #1 gospel album of 1987. That same year Whitfield performed during a Papal visit to Detroit and both played and arranged music on Aretha Franklin's "One Lord, One Faith, One Baptism" gospel album that year.

By the turn of the decade, Whitfield embarked a journey of wonderful highlights. He continued to be a heavy giant for production, producing for artists including Douglas Miller and the Soul Children of New Orleans. The Maestro was so amazed at the raw talent and strength of a youthful, radiant soprano named Yolanda Adams after her spiritual performance on "My Liberty" with the Southeast Inspirational Choir of Houston, TX and desired to produce her debut project, "Just As I Am". The project was released on Sound of Gospel and received immediate attention for the young superstar. Benson Records who housed the talent of Hezekiah Walker, Albertina Walker, Commissioned and the GMWA National Mass Choir decided to sign Thomas Whitfield and the Company in 1990 and recorded two albums with the premier gospel label. Towards the end of his life, Whitfield appeared on Quincy Jones' "Handel's Messiah" Christmas project and was planning some of the songs for The Whitfield Singers' next album. Some of those songs such as "Blessed Be The Ties" show up on the "Still ..." project.

Whitfield's Last Days:::..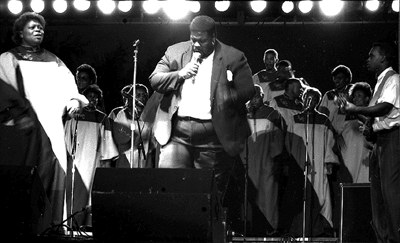 The week leading up to Thomas Whitfield's death had been a stressful one for the man who was affectionately called "The Maestro." That week his beloved mother Jacqueline was diagnosed with stomach cancer. "Thomas was extremely close to his mother," Whitfield Company President Donna Harris says. "After his father died, he became the patriarch of his family. The news of his mother's illness tore him up." At the same time, Paramount Pictures was pressing Thomas to appear in a new Steve Martin film "Leap of Faith."

Thomas agonized over the pros and cons. He felt the visibility might be good, but he also felt the role was too buffoonish and might diminish the dignity of his ministry. Finally, on Saturday June 20, 1992 Whitfield called his choir together. He explained in passionate detail why he decided not to appear in "Leap of Faith" and why there were far more negatives than positives. His primary concern was the ministry.

Tommy could not reason how his participation would behoove the ministry. "In our choir meetings Thomas usually went over music or songs, but this time was very different. He talked in great depth about our mission and purpose and at the end, he gave each person a hug, one by one. By nature, Thomas was a very affectionate man, but the deliberateness of his actions this night was out of the ordinary. I remember remarking to someone that Thomas was in rare form that night."

Afterwards, Thomas, who usually handled all of his business affairs, took Harris aside and spent an hour sharing with her minute details he had never shared before about the business side of the choir. "He talked about record company contracts, he talked about people he wanted the choir associated with and ones he didn't want them associated with. He talked about everything you could think of regarding the business of the choir. It was as if he was preparing to surrender the choir into my care." Later that evening Whitfield went to have a late night supper at Bob's Big Boy on Telegraph Road in Detroit with four members of the choir.

An hour later Harris received a call that Whitfield had died. She was shocked. He was at the table eating when he started to gasp for air and clutch his chest. Thomas' dinner companions administered CPR until paramedics arrived. After his body arrived at Garden City Hospital in the early morning, Thomas was pronounced dead. At 2 a.m., Harris was on the phone-calling choir members to inform them before they heard it on the news. Harris and one of Thomas' brothers broke the news to Thomas' mother who took her grief to an early grave. "Although, she was sick, she had not deteriorated to the point that you would think she was near death," Harris said of Thomas' mother who died six months later.

"I haven't seen the autopsy and don't have any medical proof, but we believe she died of a broken heart." At the various funeral activities in appreciation of Thomas' life, more than four thousand people came out. Jennifer Holiday and Vanessa Bell Armstrong sang at the funeral service. Popular Detroit gospel announcer Deborah Smith Barney (now Pollard) read the obituary. Congressman John Conyers, singer Daryl Coley and a host of well-known clergy spoke. A few months later Fred Hammond, the Clark Sisters and others participated in a special tribute album to Thomas' rich musical legacy.

Whitfield songs have become standards in most churches across the country and are still active in the church and community choir reptoire. Contemporary Gospel musicians such as Donald Lawrence, Fred Hammond and John P. Kee and a host of others have tried to emmulate the "Whitfield" style of music. The Whitfield Company, often referred by Tommy as being the "echoes of the melodies in my heart", continues to keep Thomas' great legacy alive. In 1999, Thomas Whitfield was honored posthumously with the James Cleveland Award at the 14th Annual Stellar Music Awards in Atlanta, GA.