Home

Youth and Studies
The Beginnings
The Vieux-Colombier Theatre
New York
At the Comédie des Champs-Elysées
The Athénée and the movies
South America
Back in Paris




Biography (part one)

Youth and Studies
Louis Jouvet was born in Crozon, in Finistère, on December 24 1887, in a devoutly catholic family. His father, from Brive, is an engineer, his mother Eugénie is from Ardennes.
When he's two years old, young Louis is sent to live with his grandmother Marie, in Belleville-sur-Bar in Ardennes, until 1894. Louis loved and admired his grandmother, and he'll always remember this period as one of the most happy in his life.

At school, Louis is a quiet, reserved child. His time is spent working or dreaming. His teacher tries to make him lose the diction problems that afflict him: he stammers and has great difficulty pronouncing the s sound.
In 1898, the Jouvets send their three sons to a religious boarding school in Lyon, les Lazaristes. This is a strict, gloomy institution where discipline is rigorous. Louis, who spends his rare free time reading secretly the books forbidden by the College, is considered by his teachers to be a hard-working, studious, and good-hearted young man.

In 1901, tragedy strikes the Jouvet family. Louis's father is crushed under rocks while he's overseeing the digging of a tunnel. Now a widow, Eugénie brings her sons to live with her at her brother's house, in Rethel. Louis's uncle is a pharmacist, and all his family is now adamant that he too should make this his profession. Until then, he's pursuing his studies at the Notre-Dame College, where chanoine Morigny is leading the theatre group with passion and harsh discipline. Very soon, Louis is neglecting his studies, so preoccupied is he with his new passion for the theatre, and he decides to make it his career. But his family is staunchly opposed to it. To be left in peace, he'll accept to do as they wish, while still intent on devoting all his free time to the theatre. After a training period in Rethel at his uncle's drugstore, he's finally allowed to leave for Paris in 1904 to study pharmacy, and pursue his dream...


The Beginnings
Once in Paris, Louis Jouvet spends his days studying science, but his nights are devoted to the theatre. He auditions three times, in scenes from Molière's L'Ecole des femmes, in the hope of being admitted to the Conservatoire d'Art dramatique, but he fails each time. He's reproached his bad diction and his physical appearance. Jouvet is wounded by these failures, but manages to be admitted as auditor in Leloir's class at the Conservatoire in 1908. That's where he'll learn to better control his diction.

While sharing his time between training in pharmacy and amateur theatre in the Groupe d'Action d'art, Jouvet can take part in theatrical performances, poetry recitals, but also finds the time to take classes at the Ecole nationale des Arts décoratifs.

Then he meets someone who'll be very important in his growth as an actor, Léon Noël. He approaches him after a performance and enrolls in his acting class, where he'll remain until 1910. Léon Noël is hard on his pupil, but Jouvet loves and respects him. He'll owe him a lot.

While accepting all the acting work he can find, in Paris and on tour, he also finds the time to look for romance. He falls in love with his neighbor from across the street, Else Collin, a young Danish woman. A friend of Jacques Copeau's, Else often speaks to him about Louis. Copeau has been thinking of opening a new theatre and, after having seen Jouvet perform at the Théâtre du Château-d'Eau on Else's recommendation, he tells him about his plans. A spontaneous friendship develops between these two men who share the same passion.
1912: Louis and Else leave for Copenhagen to get married. When they come back in 1913, Louis at last gets his diploma in Pharmacy and, with Charles Dullin, joins Jacques Copeau's theatre group for the creation of the Théâtre du Vieux-Colombier.


The Vieux-Colombier Theatre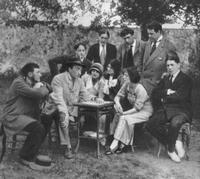 All summer of 1913 is spent in physical training, rehearsals, readings, in preparation of the opening of the new theatre on October 15. Jouvet does a bit of everything in this theatre; actor, lighting director, stage manager, etc; he's learning and, more open and available than Copeau, he soon becomes the soul of the Vieux-Colombier. For a while, he is better known for his lighting design than for his acting (he even designs a new kind of lamp that bears his name). But critics and public alike soon take notice of the great talent of Louis Jouvet, the actor, in memorable productions of Molière 's La Jalousie du Barbouillé, and Shakespeare's Twelfth Night (La Nuit des Rois).

World War I
1914: France is at war. Jouvet volunteers for service. He's a pharmacist, they will need him. Working in an infirmary with the wounded and the dying at La Somme, Jouvet is sad that he cannot be at home when his first daughter is born. But he can still think about the theatre and often writes to Jacques Copeau about it. Stage machinery, electricity, architecture, lighting and set design are always on his mind. He writes, "I'm always thinking so sometimes, from thinking of all things possible, I manage to think of something that's right."
Transferred to l'Oise, he reads, recites poetry to the dying under his care. And he prays. (Giraudoux will use Jouvet's prayers to the dying as inspiration for a scene in Tiger at the Gates.)
It's also at this time that he reads for the first time St François's Introduction à la vie dévote (Introduction to the devout life), and finds the germ of what will become his staging for Molière's Dom Juan.
After some time spent at the front, in 1916, when he takes part in the offensive of la Somme, his health and spirit take a turn for the worst. Diagnosis: heart condition. He is eventually demobilized, but Jouvet has a hard time shaking off the burden of his war experience. He's often agressive, unpleasant, has trouble sleeping...

New York
But new horizons soon open before him, since Jacques Copeau, after giving lectures in the United States, has decided to bring his theatre company there. The Vieux-Colombier will give two seasons in New York. Jouvet is the first one there. He must prepare the stage of the Garrick Theater, leaving his family and his newborn son behind, in France. They'll join him the following year.
The company makes itself at home, led with harsh discipline by an obsessive Jouvet who's always handing out fines and memos. Unfortunately, the Vieux-Colombier isn't as successful as they had hoped, and very soon Copeau makes changes to the repertory that aren't to the taste of either Jouvet or Charles Dullin (who has rejoined the company in New York in 1918). They think Copeau has changed the mission of their theatre and sacrificed their ideal to economic necessities. Relations between Copeau and Jouvet become difficult, so much so that there are times they don't even speak to each other.
After two difficult years, they come back to France. Dullin is gone, but Jouvet, too indispensable, is still there. The Vieux-Colombier reopens in Paris in 1920. Jouvet's role at this point is even more important, but he can no longer get along with Copeau on artistic issues and wants to leave. That's why he accepts, in 1922, the technical direction of the Comédie des Champs-Elysées, that Jacques Hébertot has offered him.

At the Comédie des Champs-Elysées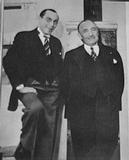 He immediatly sets out to refurbish the theatre. He first stages Jules Romains's Monsieur Le Trouhadec saisi par la débauche and has a good success with it. Then in 1923, from the same author, it's Knock, ou le triomphe de la médecine. Jouvet is worried as opening night gets closer. With his usual anxiety, he fears the play is either too funny, not funny enough, or too short, to have any kind of success. Romains wrote, "Jouvet would often tell me with that preoccupied expression, full of communicative anguish that he had: 'They won't laugh at all. They'll find it so harsh, so dark.'" The play is an overwhelming success for Louis Jouvet. A success that will last throughout the years and the many subsequent revivals.
In 1924, Jouvet is now sole director of his theatre and is free to run it as he likes. He hires some of his early fellow actors that have now become available after the closing of the Vieux-Colombier: Valentine Tessier, Romain Bouquet...
But even though he creates many new plays in this period, Jouvet has a hard time getting the kind of successes that would refill his coffers. After each box-office failure, he reschedules a few performances of Knock, his magical money-maker.
But after losing money on a string of unsuccessful plays (Marcel Achard's Marlborough, Jules Romains's Le Dictateur...), the theatre is in financial jeopardy and Jouvet fears he may be evicted. He hires Valentin Marquetty to help stabilize the budget of the Comédie des Champs-Elysées by means that won't affect his artistic decisions and his choice of repertory. A new foyer, expositions, the creation of the playbill-magazine Entr'acte (1927-1934), and the renting of the theatre will bring back financial health to the Comédie. It is also at that time, in July 1927, that four theatre directors reacted to the indifference of the newspapers and the invasion of commercial theatre and cinema by signing an agreement to protect their common interests. It was the so-called Cartel des quatre, comprised of Louis Jouvet, Charles Dullin, Georges Pitoëff and Gaston Baty: four theatre directors with the same devotion to their art.
Louis Jouvet's artistic philosophy for his theatre is to give the utmost importance to poetry, to the author's text. He sees the actor only as a medium, an intermediary, between the two important elements that are the play itself and the public. The actor's problems and moods are not taken into account and don't interest him. He's hard, uncompromising with his company, but if he yells at them sometimes, it's 'because he takes his work to heart, not for the pleasure'... Besides, the same goes for him as well, as Jouvet cares more about the greatness of the theatre than about his own personal fame.

Jean Giraudoux
1928: Louis Jouvet meets an author, and that meeting is going to change a lot of things in his carreer and in his life, Jean Giraudoux. Giraudoux has just finished writing a play based on his novel Siegfried et le Limousin and he shows it to Jouvet. Only, there's a small problem: as it is, the play would last 8 hours! Jouvet scribbles, underlines, questions, but always remains respectful of Giraudoux's text, and together they'll mold the play into a performable work. It's a great success, and Jouvet asks Giraudoux to save his next work for him.
The talkies are the new rage in movie houses, and Louis Jouvet is often asked by producers to appear in their films, but he always refuses. He hasn't got time. He has too many responsibilities in his theatre.
Marcel Achard's Jean de la Lune is a great success for Jouvet in 1929, despite the tension that opposes Jouvet and his leading man, Michel Simon, whose talent "the boss" doesn't really appreciate. Giraudoux is busy writing his second play, Amphytrion 38. When it finally reaches the stage, it is such a success that the names of Jouvet and Giraudoux soon become famous even outside France.
But if Louis Jouvet's career is at that moment in full swing, all isn't going well in his private life. His mother is dying, and this greatly affects him. His girlfriend Lisa Duncan (one of Isadora Duncan's Isadorables) leaves him after a long relationship. Jouvet takes it very badly, but the theatre continues to fill his life. And as he continues staging new productions, he dreams of the day when he'll be able to stage a Molière masterpiece. He's obsessed by L'Ecole des femmes and Dom Juan. After staging a new Jules Romains play at the theatre Pigalle, he leaves for a European tour that will take him all the way to Vienna, in 1931.
1932: Jouvet has finally decided to make his first movie with Marcel Pagnol's Topaze (directed by Louis Gasnier), and soon after tries his hand at movie direction himself with a filmed version of Knock. In Knock, he casts a young actress in a small role. Her name is Madeleine Ozeray. They'll remain together for the next ten years, both on stage and in life. As his last play at the Comédie des Champs-Elysées, Jouvet stages the long-awaited Jean Cocteau play La machine infernale. Through Cocteau, Jouvet then meets for the first time Christian Bérard, known as Bébé, who designs the sets. This is the start of a lifelong friendship and collaboration. Bérard becomes Jouvet's favorite stage designer.

The Athénée (and the movies...)
1934: end of the lease at the Comédie des Champs-Elysées. Jouvet, who finds the theatre too small, not profitable enough, (and even more so since he'll have to face a rent increase if he stays), decides that it's time to move on. As his next home, he chooses the Athénée theatre, located in the popular Boulevards theatres district. Soon people are talking, hinting that Jouvet may be a sell-out to commercial theatre. Of course, nothing is further from the truth.
He spends all summer long refurbishing the theatre and when it opens, he gives two new Giraudoux creations: Tessa (1934), especially written for Madeleine Ozeray, and Tiger at the Gates (La guerre de troie n'aura pas lieu) (1935), a work of frightening actuality. It's a triumph! Invited to teach at the Conservatoire d'art dramatique (1934) and continuing his film career as much as his work in the theatre will allow, Jouvet is now at the top of his profession and working non-stop. He is happy that he'll be able at last to present his vision of Molière's L'Ecole des femmes. It has haunted him for so long. And of course now he has the Agnès he always dreamed about in Madeleine Ozeray. Christian Bérard designs a beautiful set, but rehearsals are difficult. Jouvet, extremely worried, is very hard on his actors. On opening night, overcome by stage fright he can't go on. He's forgotten his lines. Slowly, he's reassured by the others and can finally make his entrance on stage. Louis Jouvet on that night has one of the greatest triumphs of his career....
Soon he is offered the direction of the Comédie-Française, but he's not interested. (He'll refuse the same offer three times in his career.) He doesn't want to negotiate, to make concessions to members of the Comédie-Française. Jouvet needs to be absolute master in his theatre. However he accepts to stage two plays there, unfortunately without much success. Sadder still, his work at the Français prevents him from taking the part of Boieldieu, written especially for him, in the movie La grande illusion.
1937: Giraudoux's Electre, L'Impromtu de Paris, and in 1938, Marcel Achard's Le Corsaire. Le Corsaire is a huge success for Jouvet in a dual role, but unfortunately it also marks the end of the collaboration between Jouvet and Achard when Jouvet learns from the newspapers that Achard has already sold the movie rights to a producer, and that Charles Boyer is to play his role. Louis Jouvet will never forgive Achard. But other movie projects come his way: most notably Entrée des artistes, and Hôtel du Nord will make him a huge movie star.

The thing that's on Louis Jouvet's mind however at the end of 1938, is finding a set designer for the new Giraudoux play Ondine. Christian Bérard isn't much inspired by the work and Jouvet must look elsewhere. He finds his man, at great expense, in Pavel Tchelitchew. While he's filming La Charrette fantôme, Louis Jouvet, fighting his nerves, awaits the day of opening night, May 4 1939. The play is a huge hit, the house always full and Madeleine Ozeray has a great personal success as Ondine. When summer comes, Jouvet must close the theatre for the holidays. He made a promise to attend the Cannes festival in August where La charrette fantôme will be presented. He'll reopen with a revival of Ondine in September.
But all summer long, the threat of war hangs over France. In September, the country is at war and mobilisation is in effect. When he returns to Paris, Jouvet realizes that almost all the men in his company have been drafted. He will have to keep his theatre closed temporarily. In March 1940, the filming of Volpone that had been interrupted the year before because of a lack of funds, can resume at last. Jouvet has great fun making this film, where he shares the screen with his friends Charles Dullin and Fernand Ledoux. On the first day of shooting, Ondine reopens at the Athénée. However, Parisians aren't in the mood for theatre in this time of war. The box-office receipts are insufficient and Jouvet is forced to end Ondine's run on May 15.
In June, the Germans are in Paris. France has surrendered. Soon, Jouvet is no longer allowed to stage Giraudoux and Romains; the occupying forces want him to stage Heinrich von Kleist instead. In these conditions, Jouvet prefers to keep his theatre closed indefinitely. With Madeleine Ozeray, he spends some time in Aix-en-Provence where they meet Max Ophüls. Soon a project of film takes shape: they'll shoot a screen version of L'Ecole des femmes in Switzerland. But Louis Jouvet is also making other plans and, during a visit in Paris in September 1940, he discusses them with Marcel Karsenty.
The year before, Karsenty had organised the South-American tour of the Comédie-Française. Jouvet had also been invited to perform in South America, but too busy in Paris, he had always turned down the offer. But now, leaving France seems to be the only option. Karsenty accepts to take care of everything.
Louis Jouvet, now also forbidden to teach, gives his last class at the Conservatoire d'art dramatique on December 7, 1940. The following month is spent recruiting actors who'll accompany him. In theatrical circles, some are very critical of Jouvet's decision to leave. What chance have they got if the "boss" runs away. But Jouvet has made up his mind; he takes care of the interim at the Athénée, takes dispositions so that his apartments are maintained during his absence, and gets a safe-conduct that will allow him to move freely until the end of March 1941. On January 2, he leaves for Switzerland, but right from the beginning of filming L'Ecole des femmes, he becomes aware of the real relationship between Madeleine and Max Ophüls. Secretly in love, they've been having an affair for some time now. Deeply hurt, Jouvet stops the filming. The project is abandoned and the breakup between Jouvet and Madeleine Ozeray imminent. Jouvet is thinking of ways to replace her, both on stage and in his life, but Madeleine finally decides to stay.
In Vichy, Karsenty has been working hard to obtain the safe-conducts and bonds that will allow the trip to South America.
And so, on May 26 1941, Jouvet leaves Lyon with 25 actors, 5 crew members, his secretary, and Marcel Karsenty who'll take care of the organisation (theatres, subscriptions, public relations, rentals, publicity, etc.). Jouvet wants to devote himself only to rehearsing. They also bring with them 34 tons of material (sets, costumes and props) and luggage. On June 6 1941, the whole company sets sail from Lisbon on the Bagé for Rio de Janeiro. They're expected to come back in October...