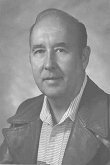 Renowned as one of the most brilliant and accomplished painters of the rocky mountain region and the American West, Lloyd Thorsten, was born in northern Idaho near beautiful Lake Coeur d'Alene.
He began early in life to show talent in drawing and painting. Many subjects including people, western and southwestern scenery, as well as some animals were favorites to paint in oils. Eventually, his interest in art led him to commercial and fine art training.
While in the Air Force in the late 1940s in Germany, Lloyd was able to study oil painting with some European instructors. Later, as a civilian, he completed two courses presented by the Washington State College art department. In Spokane, Washington, he studied with Vesta O. Robbins, one-time counselor on art for the state of Montana, who as a child enjoyed the personal acquaintanceship of Charles M. Russell. Influenced by this prominent lady (herself an accomplished painter, teacher, and author), Lloyd began to acquire the inspiration and ability to portray on canvas his feelings and impressions of the West from Canada to Mexico.
Although he is undoubtedly best known for and recognized throughout the country as the foremost painter and authority on aspen scenes of the Rockies, he is also especially gifted in many other areas of painting. His Pacific seascapes are well known as are the many and varied portrayals of peoples, places, and other subjects related to the Southwest.
Lloyd is past president of the Spokane Art Association and his work has been displayed in a number of western galleries and magazines and is published as greeting cards and posters by Leanin' Tree Publishing Company, Boulder, Colorado. He began painting over sixty years ago, is published in the 1985 edition of Contemporary Western Artists by Peggy & Harold Samuels and has won awards and ribbons in numerous shows. Today he is retired from his own gallery business in Denver, Colorado, and now resides with his wife in Fresno, California.
Although Thorsten Art Gallery makes every effort to ensure that the colors presented in the images are accurate, we cannot guarantee that these reproductions will be accurately displayed on your monitor.
The images located at this website are protected by copyright and all rights are reserved.

April 7, 2005

"No other artist is as widely recognized or respected for his aspen scenes of the Rocky Mountains as Lloyd Thorsten. The sun-drenched aspen groves in the autumn haze, portrayed in the rich hues of his oil paintings have served to provide the artist with the great recognition he so richly deserves."
Artists of the Rockies Magazine