Mr Blandings Builds His Dream House (1945)
A Streetcar Named Desire (1951)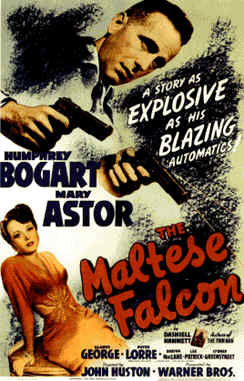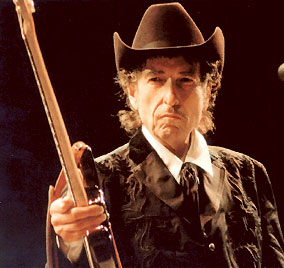 References to particular films and fragments of film dialogue are scattered throughout the lyrics of Bob Dylanís songs, particularly in the 1985 album Empire Burlesque. I have attempted to compile these snatches from the songs and cite the original film dialogue, although some of the quotes may be coincidental rather than deliberate, using phrases that have passed into common usage.
Out of the 61 films listed, 19 belong to the dark, cynical cycle of 40/50s crime films that French cineastes later christened film noir and nine star the archetypal noir anti-hero, Humphrey Bogart. The film from which most of Dylanís quotes are taken is John Hustonís The Maltese Falcon (1941), which defined the noir genre and Bogartís screen persona. Like film noir, Dylanís songs of the 80s, from which most of the quotes are taken, point to what Eddie Muller called the struggle of the individual to transcend or escape ďthe black core of corruption in our Ďcivilizedí society and our primitive essence.Ē
While the sources of the quotes are given on the acknowledgements page, John Lindley and Michael Gray deserve special mention for first drawing attention to Dylanís use of filmic dialogue.
---
Please send me your comments, corrections and additions
Jim Linwood 2003
Last update 17 March 2015
"This website could make you crazy..." The Denver Post.
| | |
| --- | --- |
| | Bob Dylan Webring |
I Was A Teenage Werewolf (1957)