Join us in our 1920s home.
Set in park-like grounds amongst mature trees, nestled in a picturesque valley.
We are a working sheep and cattle farm, which has been in the family for over 100 years. The property covers 680 hectares of farmland, including 70 hectares of QEII Native Bush Reserve.
Guests are welcome to explore the farm and watch the day-to-day running, take a native walk along the riverbank, or observe country life from the shelter of the verandah.
We are an easy 20min drive from the city centre.
---
---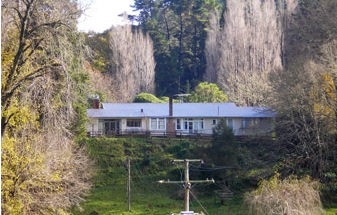 MEALS
Fresh produce from our garden is a feature in our home cooking.

Full breakfast is included in tarriff, served in our formal dining room. Evening meals are also available on request, including a glass of local wine and nibbles - $25 per person.

Your own dining area is available should you require it, or you can dine with the family.

Gourmet picnic hampers are also available.
From Our Visitors Book....
"We really enjoyed our New Year here, very nice place. Thanks Karyn and Mark. The children really enjoyed th e walk on the farm. We would recommend this place to others without hesitation"
"Thoroughly enjoyable, good food, good beds, good views, great company!! Thanks! Beautiful weather"
"Just felt like home away from home, we will definately be back"
"It was a beautiful stay. Me and Christine walked the hills for the round up (muster) - one of the things I always wanted to do. Absolutely marvelous! Will be back."
"Thanks for opening your home, what an amazing facility for our day retreat"
"What can I say, back for the 3rd year and it is fabulous. Great place to come back to after a long day/night. Thanks a million, you are great"