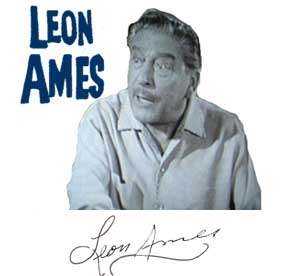 By the time Leon Ames (b. January 20, 1902) joined the cast of Mister Ed, the Indiana native already had a long resume of TV and film roles. He was best known for playing kindly dads most notably on Life with Father (1952-1954) and Father of the Bride (1961). His fans were truly surprised to discover his Mister Ed alter ego, Gordon Kirkwood, had no children. Ames was one of 19 founding members of the Screen Actors Guild, served as its president from 1957-1958. He served on its board for over 30 years and was named president emeritus upon his retirement in 1979.
Larry Keating's death necessitated new neighbors for the Posts. After a month of searching producers hired Ames for a 13-week stint. He looked forward to playing Gordon Kirkwood and working with the cast. "The character I'm playing is an interesting human being and I'm working with Alan, a man who knows his comedy," Ames said. "Heck, I even like that horse. He even scares me, he's so smart."
A frightening incident occurred during his time on Mister Ed. On February 12, 1964, Lynn Benner a 21 year old mechanic burst into Ames' North Hollywood home wielding a .22 caliber pistol. He held Ames' wife hostage and demanded $50,000 ransom. Ames telephoned his business manager and he brought the cash to the home, but only after notifying bank officials who in turn informed law enforcement. The police freed Mrs. Ames and arrested Benner for kidnapping.
After leaving the show for a brief retirement, Ames continued his acting career into the 1980s and operated a profitable Ford dealership in Los Angeles. Ames died from complications following a stroke in Laguna Beach, California nursing home on October 12, 1993. He left a wife, son, daughter, and two grandchildren.