Loss of the USS HECTOR (AC-7), July 1916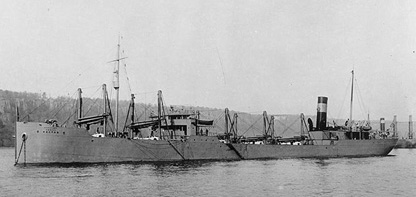 This page is dedicated to the memory of the USS HECTOR, a Navy collier which sank off the South Carolina coast in July of 1916, the unfortunate victim of a category 2 hurricane.
The HECTOR was enroute to Guantanamo, with 52 marine privates on board as passengers. My grandfather, Charles McCarthy, had just enlisted that April, and this was likely one of his first (if not very first) experiences at sea! Rough way to initiate a private, but Grandpa stood up to the test -- he and another private climbed the mast in hurricane winds to reconnect the wireless, so the SOS could be sent. Fortunately all hands were saved, with only four major injuries.
I would like to share with you all the I have collected in my research on the USS HECTOR. Inlcuded here are documents from the Court of Inquiry file at the National Archives and Record Administration (NARA) , including the official report by the ships captain, Joseph Newell. I also have magazine and newspaper articles from the time of the sinking, a map showing the exact location of the wreckage, before and after photos of the HECTOR, and the track and wind speed information on the hurricane.
I hope you will enjoy what I have been able to put together. Its an exciting story, and speaks to the bravery of the young men on board. Please email me with any comments or additional information you might have. I would love to know of the further adventures and careers of the other men on board, and if this has been as helpful to you in your search!