SUBJECTS FOR PUBLIC LECTURES ON ASTRONOMY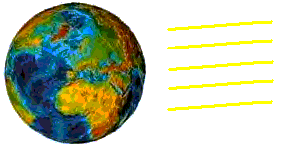 LIFE ON EARTH AND THE NEMESIS STAR

Rock formations and fossil records indicate that major extinctions of vast numbers of species on earth occur at periods of about 26 millions years. The evidence now indicates that this may be caused by the nearby passage of a companion star to the sun, the so-called "Nemesis star." How this star interacts with the cloud of comets in interstellar space to send meteors hurtling into the earth is discussed.




THE POSSIBLE SHAPES OF EXTRATERRESTRIAL BEINGS

The shapes that lifeforms display on earth is vast, yet all of them are constrained by such factors as the thickness of our atmosphere, the distance to our sun, and the strength of gravity on earth. On planets of other suns, these factors will be different, and the shapes of lifeforms will also be different. Slides of artist's conceptions of these lifeforms accompany the talk.



THE PHYSICS OF STAR TREK

Warp speed? "Beam me down, Scottie!"? Holographic immersion? Di-lithium crystals energy sources? Travel through worm holes? Many of the concepts introduced in the popular television series have been seriously discussed in the scientific and engineering community. Some violate the laws of nature as we know them, but others may be realizable.



THE RETURN OF HALLEY'S COMET

For the first time in its ten million passages by the earth, the stuff of which Halley's comet is made will be analyzed. Japanese, Russian, and European spacecraft will pass by and into the comet, sampling its gases. We believe that this material s the same stuff out of which the earth formed. To the extent hat organic chemicals are found, we will have evidence as to the universality of life in our galaxy. Charts of where to look to best view the comet will be presented.




THE POSSIBILITY OF LIFE ON OTHER WORLDS

Although we have no firm evidence of the existence of intelligent civilizations elsewhere in the Milky Way galaxy, arguments can be made to estimate the number of such civilizations, and how far we have to travel to encounter them. Such issues as the number of stars possessing planets, the suitability of such planets for life, and the length of time that life takes to evolve from chemicals are discussed. The most unknown quantity is the duration of such civilizations. Whether they survive for millions of years or destroy themselves in nuclear catastrophes will indicate both how long we have to search to find them, and whether we will exist long enough for them to find us.




BLACK HOLES, PULSARS, AND NEUTRON STARS

For years astronomers felt that stars simply die out quietly as white dwarf stars. We now know that certain types of stars end up in violent deaths. In incredibly energetic explosions, they become supernovas. After the star has destroyed itself, all that is left is a tiny, asteroid-sized star with densities of the atomic nucleus. Such "neutron stars" rotate wildly, spewing out bursts of radiation toward the earth, observed as pulsing signals. Such supernovas, however, are mild compared to the black holes which are believed to be the end products of other kinds of stars. With their huge gravity, they suck up anything in their vicinity, all matter, and even light. We now have indirect evidence for their existence.




CLUB MARS

Martian explorations by fly-by and orbiting spacecraft and landers have indicated the diverse nature of its geography. Dry river beds, massive extinct volcanoes, meteorite craters, and ice caps of water and carbon dioxide exist on the planet. Astronomers look forward to human exploration and colonization of the planet and engineers discuss changing the atmosphere to one more earthlike, "terraforming." When earthlings finally travel to vacation on Mars, they will find abundant opportunities for sking, mountain climbing, and dune-buggying. Detailed maps of the surface of Mars accompany the presentation.



COMMUNICATING WITH EXTRATERRESTRIAL INTELLIGENT CIVILIZATIONS

Nearly insurmountable difficulties may prevent us from traveling to visit exterrestrial civilizations. More promising may be our communication with them. But where do we beam our signals? Where do we look for their signals? Has the leakage radiation from our t.v. and radio broadcasts over the last forty years led them to think we are a civilization of Howdy Doody's and Buffalo Bob's?

Current attempts at discovering extraterrestrial civilizatiĦons and projected systems of telescopes to aid us in this discovery are also discussed.



OUR ISLAND HOME

The researches of the space program have made our generation the first to have first-hand knowledge of the planets. We have learned that we can live comfortably only on our island in space, the earth. We have discovered Venus to be a sulfur-poisoned, hellish cauldron. Mars is criss-crossed with canyons and ancient water-cut river beds. Jupiter and Saturn are huge balls of rapidly rotating gas balls, with vast hurricanes and electrical storms. The moons of these outer planets vary from the volcanic turmoil of the surface of Io to the deep seas of Europa. It is perhaps in these seas, or on the relatively temperate surface of Titan, the moon of Saturn, that we will first find life elsewhere.




THE FAMILY OF GALAXIES

We now know that our Milky Way galaxy is the home of two or three billion suns, much like our own. This galaxy, however, is just one of billions of other galaxies stretching throughout the universe. Some are shaped like pin-wheels, others are huge spherical assemblages. Many of them are grouped in clusters, and these are grouped in larger clusters, and these are grouped in superclusters. How these galaxies compare is shown by a slide presentation.




SPACE TRAVEL IN THE 21ST CENTURY

One lesson that man has learned is that, if something is possible according to the laws of physics, then technology will develop to realize it. Space travel has great difficulties. Space travel demands journeys of duration much greater than our lifespans. Interstellar space is filled with lethal cosmic rays and micrometeorites. The zero gravity of outer space apparently is harmful to our physiological processes. The success of various approaches of rocket technology and design in resolving these problems will determine whether we will ever fly to the stars.




ROMANCE IN THE SKY -- THE MOON

Long the subject of songwriters, the moon is at the same time an astronomical wonder. It is the major cause of our tides and diurnal rhythm, it always keeps the same face to us, its reflected light at times can light up the night, its surface records the history of the formation of the solar system, and its craters and mountainous terrain dwarf its earthly counterparts. The results of the Apollo investigations of the moon are combined with historical knowledge of the moon to make us familiar with "that ol' devil."