Joe Meek (Producer/Songwriter/Performer) (1929-1967)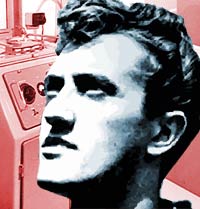 Britain's first independent record producer, sonic innovator and eccentric uncle to studio geeks everywhere. From a chaotic flat on London's Holloway Road he made futuristic tunes that caught the imagination of the not-quite-swingin' 60s. A true original.
Facts:
Producer of the Tornados' massive 1962 hit "Telstar", Margaret Thatcher's favourite record and the first single by a British group to reach #1 in the US.
He was tone deaf
Claimed to have made contact with Buddy Holly during a seance
The first producer to record Tom Jones and Screaming Lord Sutch
On the February 3 1967, at the age of 37, Joe shot his landlady then killed himself

Born Robert George Meek, 5 April 1929, Newent, Gloucestershire, England
Died 3 February 1967, London, England


Britain's premier independent record producer of the early 60's, Meek was equally renowned for his pioneering recording techniques and eccentric personality. His career began in 1954, when he joined IBC, the leading independent recording studio of the era. Originally an engineer, he worked on a number of hits, including Lonnie Donegan's "Cumberland Gap", Frankie Vaughan's "Green Door", Johnny Duncan's "Last Train To San Fernando" and Humphrey Lyttelton's "Bad Penny Blues". He also turned his hand to songwriting, penning Tommy Steele's "Put A Ring On Her Finger" in 1958.

By 1960, he had set up Lansdowne Studios in west London, where he worked with producer Denis Preston on recordings by various popular jazz artists. An ill-advised expansion policy encouraged Meek to launch Triumph Records, which enjoyed a hit with Michael Cox's "Angela Jones" before rapidly winding down its activities. Thereafter, Meek concentrated on leasing tapes to major labels, using the title RGM Sound. His first solo production was with Lance Fortune and "Be Mine" (UK number 4). He subsequently worked from a homemade recording studio situated in his apartment above a shop in Holloway Road, north London, and it was here that he created the unusual sounds that were to become his hallmark.

Recording would take place in the lounge with the artists often dubbing the vocals in the bathroom to get a natural echo. Meek's first major hit as a producer was John Leyton's "Johnny Remember Me", an atmospheric, eerily echo-laden affair which topped the UK charts in 1961. Leyton followed up with other Meek-produced successes, including "Wild Wind", "Son, This Is She" and "Lonely City". With Geoff Goddard composing suitably ethereal material, Meek enjoyed further vicarious chart action with Mike Berry ("Tribute To Buddy Holly") and backing band the Outlaws ("Swingin' Low" and "Ambush"). By 1962, the increasingly inventive producer had reached his apogee on the spacey instrumental "Telstar", which took the Tornados to the top of the charts on both sides of the Atlantic. He was now hailed as a genuine original, with an innovative flair unmatched by any of his rivals. The accolades were to prove short-lived. The mid-60s beat boom spearheaded by the Beatles seriously dented Meek's credibility and commercial standing. His work was increasingly regarded as novel, rather than important, and his love for gimmicks took precedence on recordings by Screaming Lord Sutch and others. Meek responded with the much publicized Heinz, who reached the Top 10 in 1963 with the Eddie Cochran tribute, "Just Like Eddie" and the uncannily similar "Country Boy" soon after.

The same year Meek was arrested for "importuning" at a public convenience, and at a time when homosexuality was frowned upon Meek's private life remained a dark secret. Fortunately, although many of his heterosexual male artists were aware of his penchant for young men they were loyal to Meek, making it clear that the music was their business.

Meek's commercial fortunes continued to prosper with the swirling "Have I The Right", a 1964 UK chart-topper for the Honeycombs, but this was to be his last major success. By 1965, he seemed something of an anachronism, and his production techniques seemed leaden and predictable rather than startling. His space effects, reverb and tape splicing became repetitive and his own compositions became formulaic and banal. The departure of songwriter Geoff Goddard weakened the supply of good material, and a motley series of flops left record companies disenchanted. Goddard's solo effort "Sky Men" however must go down as one of the worst songs of all-time. Complete with space effects, sped-up voice and unbelievable lyrics, it has to be heard to appreciate. Similarly dreadful was Meek's lyrically banal "It's Hard To Believe It", written for Glenda Collins. Meek's tempestuous personality and often violent behaviour alienated many old friends, while his homosexuality produced feelings of self-loathing and engendered a fear of imminent scandal.

His mental instability worsened after experimenting with LSD and there were successive personal and business problems. He became paranoid about his professional work and was also being blackmailed for small amounts of money by past sexual partners. On 3 February 1967, he was involved in a bizarre shooting incident in which he fatally shot his landlady before turning the gun on himself. It was the end of a sometimes brilliant but frustratingly erratic career.

Geoff Goddard (Songwriter/Performer) (1937-2000)

Geoff Goddard passed away on May 15, 2000. He was 62 years old. Geoff started working with Joe Meek in 1961. Joe initially signed Geoff as a piano player, intending to promote him as "Anton Hollywood". Geoff went on to write more than thirty songs for RGM Sound, including "Johnny Remember Me", "Tribute To Buddy Holly" and "Wild Wind". Geoff was a recording artist in his own right, releasing four singles, "Sky Men" being the most enduring. Geoff also appeared as a session musician on hundreds of RGM recordings. It was Geoff who played the organ and Clavioline on the official version of The Tornados' multi-million selling smash hit, "Telstar".
Obituary: The Guardian
Geoff Goddard
Innovative song-writer in an era before the Beatles
By Alan Clayson Thursday May 25, 2000
In the early 1960s, Geoff Goddard, who has died aged 62, was the soul, in-house composer, general factotum and eminence grise of record producer Joe Meek's RGM Sound. Operating out of a tiny flat-cum-studio in north London's Holloway Road, RGM was a cauldron of other-worldliness, funfair vulgarity, tunes drenched in echo and technical innovations that changed studio procedures forever. It was Goddard who, in the middle of the night, fingered the keyboard melody on the Tornados' multi-million selling Telstar in 1962 - for which he was uncredited. It was Goddard who wrote the melodramatic "Johnny Remember Me" (1961) for singer and actor John Leyton.
Apart from music press coverage and an outing on Harpers West One, an ITV drama series, the disc featured in Psychic News, since Goddard had claimed that his muse had resulted from an interest in spiritualism dating from his spell in the army. Thus, during one of the twice-weekly Holloway Road seances, contact had been made with Buddy Holly who, via the tumbler, had affirmed the record's hit potential.
Goddard's later hits for Leyton included "Wild Wind" and "Son This Is She". A perpetrator of the death disc par excellence, Goddard also specialised in tribute songs such as Mike Berry's BBC-banned "Tribute To Buddy Holly", and "Just Like Eddie", an Eddie Cochran homage from sometime Tornado guitarist Heinz Burt.
Born and bred in Reading, Berkshire, Goddard was a chorister in a local church before studying viola and piano at the Royal Academy of Music in London. Following national service, he made inroads into pop music, and met Meek. He performed as a pianist, optimistically projected by Meek as "Anton Hollywood", complete with candelabraed concert grand - even if he more resembled a saturnine Harpo Marx. "I was seen," he told me, "as a sort of mixture of Russ Conway and Liberace".
One of Goddard's first published compositions was "Lone Rider", an instrumental to which he added lyrics - about a ghostly motorcyclist cautioning the living against "taking risks for kicks". In 1962 that too was recorded by Leyton.
Two years later the Meek-Goddard partnership shattered forever. Goddard lost a legal battle over whether the Honeycombs' "Have I The Right" chart-topper infringed the copyright of his own Give Me The Chance. Meek meanwhile, in the wake of the success of the Beatles and a new musical era, was facing increasing commercial and mental disintegration. Goddard quit RGM Sound and Holloway Road.
Weary of the shabbier aspects of the music industry, his withdrawal into anonymity was of his own choosing. The artistic motivation seemed to have gone out of his life. The most notable post-Meek ripple he made was in writing "My Head Goes Round" for Cliff Richard's "Tracks And Grooves" album (1969).
Later the once vastly successful songwriter took a job in Reading University's catering department. He just did the clearing up, he told me, he was nobody of any importance, he thought - although once in a while he did get recognised.
Yet he was not a recluse, neither did he renege on his past. Last year I gave a talk at Reading University's sociology faculty on "mortality in the popular song" - and there he was, with his sometime RGM colleague Lord Sutch (obituary June 19 1999). And he was always pleased by public attention, as when "Just Like Eddie", transformed, became the (mildly lucrative) Just Like Shreddies for a television commercial. As for "Johnny Remember Me", it was frequently revived - by anyone from Showaddywaddy to Dave Vanian and his Phantom Chords.
By the mid-1980s the royalties had been drying up. Then his London music publisher got in touch, asking Goddard to drop by. The songwriter went down to Reading University's students' union, found a telephone and rang the publisher. Thus was he told that he had a platinum disc waiting for him; Bronski Beat and Marc Almond's medley of Donna Summer's "I Feel Love" and "Johnny Remember Me" had sold more than 300,000. Goddard, completely out of touch with the modern music business, had never heard it. However, its success prompted him to resume song-writing.
In 1991 he was interviewed on a Channel 4 documentary on his sometime collaborator Joe Meek, who, finally deranged, had committed suicide after murdering his landlady in 1967. In the 1990s Goddard was heard on piano at various university functions, notably at end-of-term Christmas celebrations where students could wonder why the clearer-up inserted ancient pop songs like "Johnny Remember Me" and "Just Like Eddie" in among the carols.
Another song that Geoff Goddard wrote was recorded but never released by Houston Wells titled "We'll Remember You", which was a tribute to Jim Reeves.
Stuart Hamblen (1908-1989)

Audie Murphy (1924-1971)

The most decorated American Veteran of World War II, native Texan Audie Murphy became an international hero before he was 20 years old, his war experiences leading to a best selling autobiography, lifelong involvement in promoting Veterans causes, and a successful career in films. An orphan who touched the lives of millions with his heroism, humility, and painfully honest books, poems and songs, Audie Murphy died in a plane crash on Memorial Day Weekend, May 28th, 1971 at the age of 46.
An unassuming man whose deeds became the stuff of modern legend, Audie Leon Murphy went from hardship as the son of poor sharecroppers to the horrors of war to acclaim as a national hero before most of his contemporaries had finished high school. Born on June 20th, 1924, Audie Murphy was the seventh of twelve children born to Emmett Berry Murphy and his wife, Josie Bell Killian on their farm stead outside of Kingston, Texas. Three of Murphy's siblings died before his birth, and by 1934 Emmett Murphy had abandoned his wife and children during the first years of the Depression. Murphy's life from his earliest years was one of hard work and extreme poverty: as soon as he was able to carry a pail he was responsible for helping to milk cows and seed fields. By the age of 10 Murphy was the oldest child at home and was caring for his five younger siblings. When Murphy's mother, Josie Killian Murphy died in 1941 at the age of 50, he became a surrogate father and sole support for the younger children at the age of 16.
Murphy had become a crack shot with a rifle as a youth, his rifle and the local game providing much of the food for the Murphy children as the family struggled through the Depression. When America entered World War II, Murphy saw military pay as an opportunity to feed his family, and hoped his sharpshooting skills would gain him entry in the armed forces. Rejected by the Marines and US Navy because of his age, Murphy enlisted with the US Army early in 1942, abandoning his life as a sharecropper to fight on the battlefields of Europe. As a young, half-starved private in the 3rd Infantry Division, the 5'7" Murphy was soon designated "Baby Face" and "Little Texas" by his fellow enlisted men.
Murphy's life of self-sacrifice, sense of duty and his strong feelings of responsibility for the welfare of others had as much or more to do with his distinguished military career as his famed marksmanship. Once designated "Little Texas", Murphy was eventually declared the best fighting combat soldier of the century by the United States Army. During 3 years of active duty during World War II, Murphy rose from Private to Staff Sergeant to a field promoted Second Lieutenant. A survivor and hero of 9 noted campaigns, Murphy was seriously wounded on 3 separate occasions (one having his hip shattered by a bullet), earning for each a Purple Heart. In all, Audie Murphy earned some three dozen medals, citations, and decorations, including those presented by the grateful leaders of France and Belgium. Among his distinctions, Audie Murphy was presented America's highest tribute, the United States Congressional Medal of Honor, for Conspicuous Gallantry and Intrepidity at the Risk of (His) Life Above and Beyond the Call of Duty.
Though he had begun his career as an unlikely soldier, Audie Murphy proved an even more reluctant hero. Discharged from the Army in September of 1945, Murphy was featured that same month on the cover of Life Magazine, one of many national publications to herald his record of service. Murphy took no joy in his wartime statistics, which had included nearly 250 combat kills as well as numerous enemies captured during his service with the 3rd Infantry: With trademark humility, Murphy frequently commented to the effect that the true heroes were the soldiers who had not come home. Despite his celebrity, Murphy returned to Texas where he found work as a garage attendant and may, (as many decorated veterans) have lapsed into obscurity if not for the intervention of Oscar winning actor James Cagney.
With what were assuredly good intentions, Cagney invited the young veteran to Hollywood to try his luck in films: However, Murphy arrived in 1946 to find he had no film roles or prospects, and after meeting Cagney (with whom he never made a film) found himself stranded and broke half way across the country from his native Texas. After over a year of living in men's clubs, gymnasiums, and shelters (during which time he began writing poetry and drafting his autobiography) Murphy landed a small role in the 1948 film "Texas, Brooklyn and Heaven", followed by the war saga "Beyond Glory". Murphy's untutored but charismatic performances were rewarded with a starring role in the 1949 film "Bad Boy" as a self-destructive juvenile delinquent, a role he received good reviews for though he was by then 25 years old.
In 1949 Murphy's long anticipated autobiography "To Hell and Back" was published, quickly becoming a best seller. Universal Studios offered the young actor and author a motion picture contract, beginning a career that resulted in more than 40 feature films, the majority of which were Westerns. Murphy's first film for Universal, "Sierra" introduced him to actress Wanda Hendrix, who Murphy married and was divorced from within a year. By 1951, the actor had married Pamela Archer and been tapped by director John Huston to star on loan to MGM in the Civil War epic "The Red Badge of Courage", a critical and box office success. Universal, however, continued to place Murphy in largely B-grade projects for the duration of his years there. Murphy never complained, however, nor fostered illusions about his acting abilities, often panning his own performances. Murphy's refreshing humility only served to strengthen his appeal for fans and filmgoers.
In 1955 Murphy scored his greatest success- and that for Universal- with the film adaptation of his life story, "To Hell and Back", setting a box office return record that held for Universal Studios until 1975 (displaced by "Jaws"). Ironically, Murphy, still baby faced, almost declined playing himself, thinking a more rugged matinee idol might be more believable (Murphy's suggestion was Tony Curtis). The success of "To Hell and Back" led to better film roles for Murphy, notably "Night Passage" with James Stewart, a top-billed turn opposite Walter Matthau in "Ride a Crooked Trail", and a second Huston film, "The Unforgiven" which teamed him with Burt Lancaster and Katherine Hepburn. In 1961, Murphy made the move from films to television as the star of the Western detective series "Whispering Smith", based on actual 1870s crime cases.
In addition to his success as an actor and author, Murphy was a prolific songwriter whose hit songs included "Shutters and Boards" and "When the Wind Blows in Chicago". With home in Dallas, Texas, Tuscon, Arizona and Perris, California, Murphy enjoyed ranching and raising racehorses. Murphy's successful Thoroughbred and Quarterhorse stables produced such champions as "Depth Charge". With diverse incomes and interests, Murphy had believed himself fairly well secure when the Hollywood studio system collapsed in the 1960s, leaving hundreds of actors scrambling to work film to film.
Murphy chose to use time away from the motion picture industry to address his personal demons, particularly the then astigmatic "battle fatigue" or Post Traumatic Stress Syndrome. As it was then considered an unsavory form of mental illness, PTS was often ignored or swept under the rug: Murphy had spent years battling insomnia, night horrors, and severe depression, which were worsened by doctors failure to do more than prescribe various tranquilizers. After completing his final film for Universal, "40 Guns to Apache Pass", Murphy survived his own self-imposed rehabilitation when he gave up the tranquilizer Placidyl cold turkey. Murphy, always an ardent defender of Veteran issues, became a leading force in gaining government reforms in medical benefits for soldiers to afford them better treatment of the mental and emotional scars of war. War again turned the course of Murphy's life in 1967, when an oil field he had purchased in the Middle East was destroyed during the Six Days War, resulting in heavy financial losses.
Audie Murphy returned to films in 1971, costarring with singer Waylon Jennings in the motion picture "Travelin' Light" and weighing offers that included a costarring role in "Dirty Harry" with fellow Western star Clint Eastwood. Murphy completed work on his role as Jesse James in the film "Time For Dying" which proved to be his last. On Memorial Day Weekend, Audi Leon Murphy was one of five persons, four passengers and a pilot traveling in a small private plane that crashed on May 28th, 1971 outside of Roanoke, Virginia. It was one of very rare occasions when Murphy, a licensed pilot, had not been at the controls of his own plane, deferring to another pilot when the weather turned thick with fog and rain. All on board died when the plane collided with the face of a mountain: Audie Murphy was believed to have died instantly. He was buried with full military honors at Arlington National Cemetery near the Tomb of the Unknown Soldier on June 7th, 1971, two weeks before he would have celebrated his 47th birthday.
At his death, Audie Murphy was survived by his wife of 20 years, Pamela Archer and their sons Terry and James. Among his many honors Audie Murphy was enshrined in both the Cowboy and the Country Music Halls of Fame. The State of Texas declared June 20th to be Audie Murphy Day in memory of the celebrated war hero, marking the day of his birth, and also named US Highway 69 from Greenville to the Fannin County Line as the Audie Murphy Memorial Highway. In addition to a hospital, library and school which bear his name, the US Army's San Antonio Division was dedicated in Audie Murphy's honor. His family founded and maintains the non-profit Audie Murphy Research Foundation
If you would like to learn more about Audie Murphy we recommend these works:
To Hell and Back by Audie Murphy
The Films and Career of Audie Murphy
A&E Biography: Audie Murphy
To Hell and Back(VHS)
The Red Badge of Courage

Frank Coughlan (The Trident Showband) (?-?)

Richard Duffy (The Masters) (?-?)

Frank Minihan (The Trident Showband) (?-2007)