News
April 2008:
A new look has been given to the website to coincide with the upcoming release of the first official Houston Wells CD by Jasmine Records titled "Then & Now: From Joe Meek To Taupo, New Zealand", which has a released date of 14th March 2008, this 2CD set can be purchased from the Jasmine Records link provided right here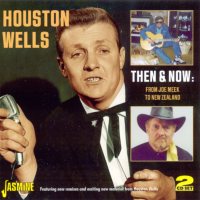 Congrats to Houston (and of course Rob, Catherine & Laura) for "Lonely Street" taking on the charts over on Soundclick.Com, please note however that these tracks up are only samples and not the full length recordings.

If anyone has any feedback they would like to leave with regards to the new CD then please by all means Email: [email protected]
Houston will be undertaking several interviews during the promotion for Houston Wells - Then & Now: From Joe Meek To New Zealand we will endeavour to post any interviews that are undertaken. Any contributions in this department from outside interests would be most appreciated as would any feedback from people who have purchased this collection.

Colin Bell has posted a flailing banjo/vocal rendition of "Only The Heartaches" on youtube, nice effort Colin as such we are more than happy to send Houston Wells fans to check out your work....if anyone else has any covers of Houston Wells related songs they would like to make us aware of then please by all means drop us a line at the email address below. We will endeavour to get comment from Houston himself.

Our hope is to encorporate new features to the site in the upcoming months.
---
---
Email:

[email protected]


© Houston Wells, Polar Music New Zealand & RAAA International Productions 2007-2008





<! END END END END END END END END END