Be welcome,

to the new english fanpage of Koichi Sugiyama, the musical mastermind behind Enix's famous RPG-Series Dragon Quest.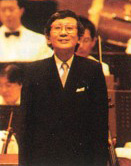 This website is for all people who enjoyed the Dragon Quest games and their soundtracks throughout the last 18 years.

What would the saga (Dragon Warrior in N.A) be, without K. Sugiyama's unique composition style? Highly influenced by western baroque composers like J.S Bach and Georg Friedrich Händel, Mr. Sugiyama helped in creating the DQ World we all know and love.

Epic overworld themes, breathtaking battle songs, charming romantic pieces
and the imposant DQ Overture.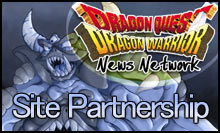 This site will help you in overviewing the huge & entire Dragon Quest Discography with it's Symphonic works, Piano & Brass albums, Synthesizer Cds, OSV's, Drama Cds, Anime Soundtracks, Vocal Singles and Compilations. But also the other game and movie/anime soundtracks composed by Koichi Sugiyama are listed in their entirety.
I'm working together with the Dragon Quest / Dragon Warrior News Network (DQNN), a powerful daily-updated site with all the hottest news & information concerning this renowned roleplaying series. [click the picture]


Do not get lost, for there's a lot to discover, for fans of DQ as well as fastidious classical music.

[Currently in database: 130 known albums / ~65 thereof registered)

yours, George | Leergutdieb (

[email protected]

)



---

What happened on 19.09.2004?
Links Update (www.DQshrine.com)
ADDED 1 new article
ADDED 1 album (Dragon Quest Symphonic Suite I & II Remastered)
What happened on 11.09.2004?

News Update
ADDED 1 album (Monopoly ~ String Quartet Musical Compositions)
What happened on 09.09.2004?

ADDED Dragon Quest IV Dramas with scans (see news)
Minor site modifications: new link/article section
HTML code now IE,Opera,FireFox compatible.
What happened on 05.09.2004?

ADDED 2 new lyrics

ADDED 3 albums (Game Music Super Collection 2,
Dragon Quest in Concert 1987 & !!!Koichi Sugiyama Works Collection with Scans!!!)

Better scans for DQIV London Philharmonic Print & PSX Symphonic
What happened on 29.08.2004?

Discography Update (New Vocal Section)

ADDED DQV Drama Vol. 1, Abel Yuusha TV OST, Marriage Waltz Single,
Dragon Quest Densetsu, Toruneko's Adventure Symphonic Suite & more
New albums with scans. Scans are now mirrored at GeoCities
What happened on 25.08.2004?

Big CD Theater Update!!! Scans for all drama albums except DQ IV/V

ADDED 2 rare albums (Dragon Quest VI CD Theater Vol.1 + Vol.2)
Discography is now ordered by year.
What happened on 22.08.2004?

ADDED New article: The Dragon Quest Disc Paranoia (See Discography)

ADDED Selected Midi Collections for DQI,II,III (See downloads)
What happened on 20.08.2004?

UPDATED 8 Albums
e.g. Scans for the rare DQ on Electone and DQVI on Electone albums,
+ Inlay Scans from Loula ~ Vocal Collection and DQ IV Live Concert 2002

ADDED 2 new albums (DQ Super Collection 1 and Divertimento Hanjuku Eiyuu)

ADDED 5 new pictures
What happened on 18.08.2004?
The Koichi Sugiyama Unofficial Fanpage is "officially" launched! o_O

URL to memorize is http://www.geocities.com/leergutdieb/

All files are now temporary mirrored, I'm still in search for alternatives.
What happened on 17.08.2004?

ADDED 5 Dragon Quest VIII preview mp3s

CD scans/Download Parts are down! Will be fixed soon.
What happened on 11.08.2004?

ADDED Biography
ADDED 10 new pictures
ADDED 2 new lyrics
ADDED 1 new article (see biography)



© G. Vallant 2004 | All rights reserved
Dragon Quest™ is a product of SquareEnix