Leavenworth High School
Class of 1971
Leavenworth, Kansas

please bear with us as we make changes
reunion, melissa etheridge, leavenworth

| | |
| --- | --- |
| | Welcome to the Class of '71 web site. It has been created so that those in the class can easily access and distribute information among ourselves from any location around the world. Please log in with an e-mail when you are finished, so that we may know how many people have been reached. It may take a moment for four photos to load. |
Thanks to Carl Davaz




Graduate in a different year??
Go here for links to other LHS classes.

insert herethis l
Melissa Etheridge

For those people looking for information on the singer, she was a mere 10 years old in 1971. However, her father, John, taught and coached many people in this class.
Her web site is the best place for information.
| | |
| --- | --- |
| | There have been four reunions since graduation; in 1981, 1991, 1996, and 2001. We started a database of addresses some years ago with the combined list of students from the graduation night program and the yearbook, a total of 419 people. We have maintained the database over the years, but is has become less accurate with each passing year. Many people have moved, but we have had no way to be informed. |
To send information for reunions, the most recent address known at the time was used. Many times mail was sent to parents or siblings, in hopes of making a connection. Often, mail was returned as undeliverable without a forwarding address, and we had no way to update information. The cost of postage has become expensive to send mail to incorrect locations, only to be returned. Now, with this web site and searches available on the internet, we hope to find lost classmates, and keep the database updated for this reunion. This central site should allow the opportunity to easily notify someone of a new address.
---
| | |
| --- | --- |
| Currently, this site has three sections. The first is a listing of students that we have an address for. These were used for the 30 year reunion. I will not post mailing addresses or phone numbers to this site, because of privacy issues. However, I would like to link to your e-mail or web page so your friends may contact you. Notify me of your e-mail address and I will create the link. Do you want the address of someone specific? E-mail me and I will send it, if you identify yourself. If you did not receive mail for the 30 year reunion we do not have your address on file. Should you wish to confirm we have the right one, contact me. What is the picture?? H.G. Wells time machine. | |
The second section is the list of students that we do not have their current address. If you are listed here, it is either because we do not have your address, or it is a mistake. You may possibly know the whereabouts of someone that is listed in this section. In any case, notify me to make changes.

Because of marriages and name changes, the females have been particularly hard to track. If you are aware of the name of someones father or brother, it could be helpful in an internet search to find an address. Those who were stationed at Fort Leavenworth are also hard to locate. Any help in networking to keep the database updated would be of great assistance. If you know the location of someone listed, please pass it on.
The last section contains pictures from the 10 year, 20 year, 25 year, and 30 year reunions.
---
No doubt, the web address will change some day. Regardless of URL, the keyword will always be "Leavenworth High School", and is now in the Infoseek,Lycos, Yahoo, and Alta Vista search engines. Also, it is linked in the Leavenworth web site. Because of anticipated future changes, check occasionally to find new items. Also, please pass along your comments and suggestions. Finally, because there is no way to advertise this site other than what is being done, tell those you know about it.
---

---
We have an address for these people:
---
---
Aaron Linda A
Abreu A. Roberto
Adaif Alan
Adams Kevin J
Adams Wanda K
Allan Kristine

Anderson Vernon
Armstrong Debbie
Bear David A
Bice Martha A
Blaser Jack E
Bogner Mary M
Borst Debra L
Bovetz Viola K
Bradley Debra R
Brooks Harry C
Brushwood Penny L
Burnett Harry
Butler Mark E
Cain Rhonda F
Caldwell Annabelle
Cannon Pamela O
Carmichael C Gary
Carnoali Martha J
Cassell Clifford K
Cenac David M
Chapman Dennis K
Chapman David W
Christenson Mary A
Clark Bruce E
Clevenger Roy E
Clough Doris A
Coleman Carolyn K
Colon Douglas
Colston Hosea L
Combs Candi
Constance Douglas H
Cook Charles R
Correa Alberto
Crompton William B
Cunningham David B
Dancer Delores R
Daniel Dave T
Dawson Jill D
DeBlois Barbara A
Dillon Patricia A
Donahue Charles M

Donoho Dave
Dorsey Helen L
Drury Kathleen A
Ebel Debra J
Edmonds Kathy A
Edwards B Michelle
Elcock Paul
Emler Sandra L
Enloe Craig
Esher R Mark
Floria Margaret C
Forsberg Debbie M
Fouts John A
Fraker Stephanie D
Fulk Danny L
Gallagher Daniel G
Gartz Gail M
Gatewood Mary R
Gauger Debra K
Geddes Jody
Giles Charles A
Gloor Charles M
Gulick Bill C
Hall Christine
Hermann Patricia A
Highfill George E
Hill Steve
Hill Tommy A
Himes Karen J
Hofstra David C
Howell Darcy L
James Bonnie
Jenanyan Sheila K
Jones Elizabeth M
Kelly Barbara E
Kenyon Marty L
Kessler Karen L
King Joyce M
Kinney Michelle A
Kloster Vickie P
Kopp Deborah S
Kosakowski Rita J
Kreutzer Ralph R
Krueger Debbie J
Lamb Wayne A
Lamb Frank I
Land Linda S
Lang Margarita
Lange Gary A
Layne Lamont
Leao Maria A
Ledet Blair J
Leu Christopher J
Leu Mike A
Link Thomas H
Loar Therese A
Long Donna
Lott Pamela
Mandersheid Kathy
Marshall Gayle M
Martin Joanne
Mathis Vincenta
Mayhugh Donald W
McCarthy Ann D
McCrea Terry Y
McLeod Ricky L
McNett Phyllis E
Messinger Richard E
Miller David E
Mitchell Dwayne F
Mohan Joann
Morrison Cindy M
Mulvaney Mary E
Mundt Stephen D
Nichols Jerry L
Noll Joyce K
Oatney David M
ODonnell Jerry L
Olson Gary G
Page Kenneth L
Parks Nancy Jane
Parr Mary Ann
Parsons Kathy L
Payne Ann F
Perrin Joyce A
Perry Lorenzo R
Peterson Brad
Quinn Don
Pizzini Anna M
Polczyski Richard L
Proietto Randy A
Raub David A
Raymond Victoria C
Rhoades Candance M
Riggs Jeanette M
Roberts Cathy L
Rogacki Mary
Rousseau D Charmaine
Russell Karl
Saulter Larry D
Schultz Debra S
Schultz Richard
Scott Linda K
Senfft Oscar E
Shelton Mary L
Simmons Vicky A
Simpson Judy J
Skaggs Sandy N
Sloan Debbie M
Smith Claudia J
Smith Douglas L
Smith Mary J
Smith Ricky L
Sowter Michael S
Stoudemire James M
Stroble C Pat
Swann Sarah A
Swisher Donna M
Taylor Eleanor K
Taylor Matthew E
Teymoori Ellahe
Thomas Larry D
Thomas L Marty
Tingle Patricia A
Tolbert Pamela D
Tolbert Marilyn
Tripp Linda
Umsheid Sam A
Upchurch Mike E
Vanderstaay James L
VanNorsdall Danalee
Vanwey Bob A
Varner Annetta M
Visser Joel
Wahler Randy
Wallace Diane
Wallace Sharon F
Ward Michelle D
Wardlaw Susan W
Watt Bruce D
Wehking Patricia
Welday Alan
Wenzel Woods Jack
Westenberger Melvin T
Williams Charles
Williams Michael
Williams Nile E
Williams Ruth A
Winkler Lynn
Wolfe Susan
Zia Shahriar
Zink Billy Jan
---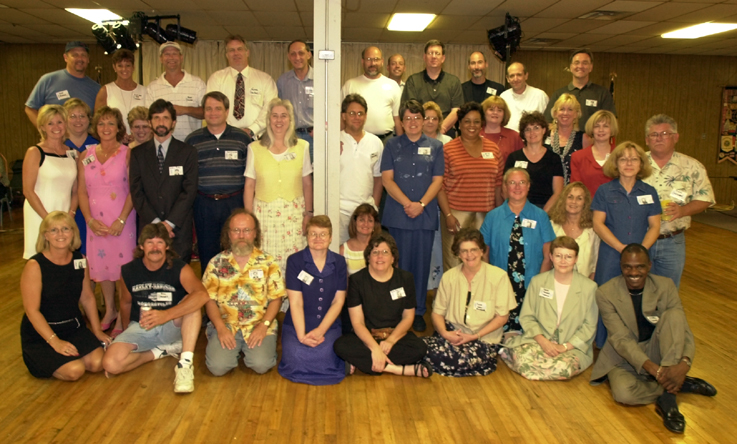 Front l to r: unk, Denny, Philbrook, unk, Bryan, unk, Turner, Brundy.
Kneeling: Mitchell, unk, Jenkins
Standing : Damon, unk, Arnold, unk, Potts, Summers, Gwartney, Beauchle, Hancock, unk, Miller, Burgessl, Mitchell, Nelson, Maxwell, Greenwood., Wiseman
Rear : Unk, Parr, Henshaw, VanHorn, Buff, Asher, Polz, Brown, Arnold, Davaz, Lallier
---

25 Year Reunion

---
---
---
Persons graduating in years other than 1971 have asked me to do a web site for them. Although I can't do that, I can act as a clearinghouse for names to be passed on. If you want your name listed here, send your nameand year of graduation. If you can help find someone else, please pass the information along. And this site is free!!