More available author's 21 patents for SALE OR LICENCE.
1- BICYCLES AND VEHICLES WITH INDUSTRIAL MOTORS.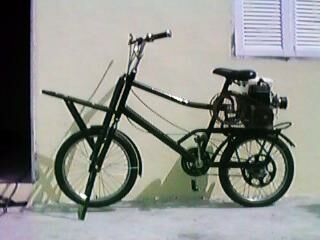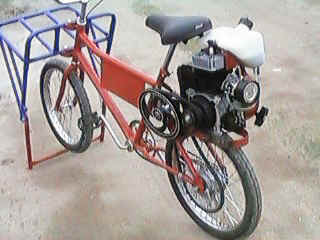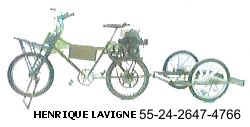 It is a mechanization for load vehicles; bicycles, tricycles and scooters, for use rural or agricultural.
They use stationary motors of general use, two or four times, gasoline or diesel.
The motor besides drive the vehicles are endowed with an mecanical outlet force expresses to motorize use implements eminently agricultural, grinders of rations, bombs of water, mills, mountains, compressors, generators, etc.
It is easily removable for other uses; motorizing boats or other vheicles.
2 - TRACTION IN WITH LEVERS.
The invention moves the concept of the centennial traction in wheel chairs that isolates the patient in your home ambit.
The chairs do not have mobility for move in streets in GREAT COURSES, because your traction system is very painful, the manual force is used being pushed of brings forward a lot in an inconveniences position and developing a scanty speed.
The invention creates traction for independent levers for each wheel with a reservation system and subsequent application of accumulated energy in a springs or elastic system.
The wheels are moved for levers that are manually pull and pushed.
THEY CAN BE EQUIPPED WITH A COMPRESSED AIR MOTOR DEVELOPED BY INVENTION.
With a silent operation and not pollutant, they can circulate in public places, supermarkets, airports, etc.
They are equipped, as the bicycles, with 3, 4, 10, 21, 30,marches.
They help the patients moved in streets and liberates him to go purchases in the supermarket, to go to your distant place of job
IT COMPETES WITH THE BICYCLE IN AUTONOMY AND SAFETY.
When pull move the wheel, when pushed move an elastic band that reserves energy to aid when the lever be pulled again, wants to say, the elastic band helps to pull the lever.
The direction in a front wheel is acted by the own levers that still contains the one-handed brakes, independent for each wheel. One second brake of safety it acts on the two wheels. A system impedes that the chair move back to avoided accidents when going up slopes or stairways.
 

    I seek for institutions that want to develop this patent.
3- MAGNETIC TIRES FOR 

MOTORS and

 GENERATE
They serve as electric power generators for us to work light lamps, flashlights and brake lights in BICYCLES. They are totally encapsulated and are water and mud proof.
Small disks of permanent magnets is implanted in the own material in that the tires of bicycles or other vehicles are manufactured.
They also serve as electric motors or brakes, for vehicles where the tire, the wheel, or both, they are the own magnetic fields.
Arrested to the chassis, involving the tire is the reels commanded for collectors or for sensor that they command, with electronic circuits, your commutations.
 4 - MINI TANK LIFEGUARD OF DISPOSABLE COMPRESSED AIR. 

  

 
Its a small and light portable, disposable plastic flask and of low production cost containing enough air for some breathed under water.

Prisoner is taken the body close to and in case of a more lingering accidental dive, a lot common to surfers and swimmers that face waves of the sea, it should be taken the mouth and a simple faucet or valve, it will supply air with a vazão and appropriate pressure to be aspirated under water, saving the user of an imminent drowning.

It is your autonomy of few minutes that turns possible your small size, reduced weight and pressure reasonably low, could be built with PET, plastics and several other materials of low cost.

He/she/you has a potential of sales of world character, besides for armed forces, Navy, Firemen, etc.

Your portabilidade makes possible medical helps of breathing urgencies, could supply medicinal oxygen, anesthetic and other products soluble farmacológicos in gases, besides for applications domiciliares.

5 - PRESSURE WITH EXPLOSIVE LOAD.

It is treated of a device that contains an explosive load and when commanding the explosion it fills instantly, with the resulting gases, workmanships inflated that they contain them, as tires of vehicles, ships inflated, pieces of furniture inflated, buoys and lifejackets, toys, etc.

Tubes and hoses can be individually rigid with coming gases of detonations of explosive loads, they grow up structures drained lighter and resistant in materials you molded as cement, ceramic, mud, glass fiber, fiber of carbon, PET and plastics.

It can be stored these gases under pressure, just as compressors make him/it with air, in appropriate recipients for subsequent use, to fill or to give pressure in workmanships you inflated or to work devices and to move pneumatic machines.

6 - DISTRIBUTOR AND ELECTRONIC PROGRESS OF IGNITION.

The invention creates an electronic device to advance the ignition point or of injection of fuel in motors to the explosion eliminating several mechanical components and allowing a wide administration of this progress, it can determine logarithmic, exponential or programmed lineal progresses, he/she can also offer the option of a fine adjustment of the ignition point or of injection starting from the panel of instruments with I transmit him/it in movement, determining a great point for the temperature conditions and pressure adapts of that moment for each range of rotations or for each rotation.

A sensor one any, mechanic, magnetic or optical, placed in specific places in the motors, it indicates for pulses to the device the rotation of the motor as well as it always indicates the earlier ignition point, logically the point of maximum rotation of this motor, with these data the electronic device introduces a specific and proportional programmed retard for the smaller rotations than the maxim and after the retard, it discharges the ignition, until the slow march, where it happens the introduction of the largest retard.

7 - RECICLAGEM OF BOTTLES DISPOSABLE PET.

Disposable bottles PET of sodas, new or already used, they are full with air compressed for you turn them very rigid.

They are contained with poliuretano foam for us to form light and resistant structures, ideals for amphibious vehicles, rafts, ships, pieces of furniture, vehicles, etc.

They can also be placed inside cement blocks during your production, ideals for walls, walls, columns, linings, lages, beams, etc.

Besides they liberate the environment of this pollution, they generate employments for catadores.

8 - AMPHIBIOUS VEHICLES WITH RIGID AND LIGHT STRUCTURES.

They are built with bottles disposable PET that are pressurized and contained with poliuretano foam and belts of several materials.

It can be built from a simple raft to vehicles more elaborated, as a small amphibian to the candle where the floats are great wheels built with pressurized bottles contained with poliuretano foam and covered with glass fiber or of carbon.

9 - BLOCKS OF CEMENT WITH INNER TUBES COMPRESSED.

According to the patent of reciclagem of bottles disposable PET, the bottles already pressurized they are placed in forms for the production of cement blocks, forming cameras of high resistance inside the blocks.

The system is also applied to form floors, columns, lages, beams, etc. working in the own work where the bottles already pressurized they are placed with the concrete in the forms of wood.

10 - GASIFICAR DRUNK IN THE OWN BOTTLE.

It is constituted of a small disposable plastic flask containing carbonic gas under pressure, tends in one of your extremities a thread standard of covers of bottles of sodas PET.

He/she becomes full a bottle PET with water, juice of fruits, refreshments, wine, etc. This tube is coiled in the bottle mouth, the gas is liberated and gasifica the liquid contained in the bottle.

11 - BOMB OF PRESSURE FOR BOTTLES OF SODAS.

It is a bomb constituted by an eraser tube or plastic that externamente is applied in the disposable bottles of sodas of two liters, bomb air inside of bottles partially consumed not allowing the soda to lose the gas and the flavor.

It is an advertising vehicle for sodas of ridiculous cost, it can be distributed gratuitously.

12 - BOTTLES PET OF SODAS WITH INCORPORATE BOMB.

It is partially a bomb to inject air inside bottles PET of sodas consumed not allowing the soda to lose the gas and the flavor.

The bomb is formed in the own body of the bottle and worked with pressure of the hand.

13 - INTERNAL RESERVOIR OF CO² FOR BARRELS AND GARRAFAS PET.

It is a reservoir formed in the body of vessels of sodas, draft beers and beers containing carbonic gas that serves as propelente of the liquid maintaining the constant pressure until emptying not allowing the liquid to lose the gas.

14 - MAGIC -TUBE FOR BOXES TETRAPAC.

To be used in cardboard packings with aluminum, type boxes of milk long life, or smaller boxes as of achocolatados or juice of fruits. These small boxes usually come accompanied of a tube that comes arrested externamente to the little box, he/she strays, it dirties, it is difficult to place in the little box etc.

The magic tube comes inside from the little box, and when crowding together with the fingers in the center, that is, in the "belly" of the little box, the tube appears externamente.

15 - PEDALS SWAY FOR BICYCLES AND VEHICLES.

It creates a new concept of pedals for traction in bicycles and other vehicles of muscular traction with objective of improving the acting and revenue of the applied muscular force.

It uses two pedals in a sway system that tracionam two located pinhões on each side of the axis of the motive wheel through currents of links, flexible cables or axes comb and, in such a way that when a low pedal the other is pulled upward.

They describe a semicircle of thirty degrees to hundred and fifty degrees, working in a moment of force of larger revenue.

It creates alternatives of obtaining of additional energy for impulse of these vehicles with new inventions, such as: Impeller With Springs; Motor to Compressed Air; Descompressor of Springs of Suspensions Inject Air.

16 - IMPELLER WITH SPRING FOR PEDALS OF BICYCLES.

It is a system to take advantage of the pulse given at the end of the course when the cyclist's weight is played all against the pedals, reserving this energy compressing a spring, that decompresses pushing the opposite pedal forward, generating an auxiliary pulse.

It may applied in pedals sway and conventional pedals with different systems.

17 - COMPRESSED AIR MOTOR FOR BIKE SWAY PEDALS.

They are motor very simple applicable only in pedals sway, they are constituted of two pneumatic cylinders and they are to do to walk vehicles of muscular traction, such as bicycles and wheel chairs.

The alternate acionamento of each cylinder is gerenciado for the own pedals, when force is applied to a pedal, he/she opens up a valve that applies compressed air in the piston and it helps to push the pedal down.

The compressed air can be stored in the tubes of the own pictures of the bicycles, that are redimensionados for larger capacity and they can be full with a homelike compressor, or in the gas stations. Other systems of compression of air are presented by the author.

Slopes below and desacelerações or braked, a valve commanded manually he/she makes the cylinders they act as compressors, pushing air for the reservoir.

18 - SUSPENSIONS SPRINGS DECOMPRESSION INJECT AIR.

Creates a system that taking advantage of the decompression of springs of suspensions of any vehicles injects air in a reservoir for subsequent use, besides for motors to compressed air of bicycles.

It is constituted of one of pneumatic bomb worked by the suspensions of the bicycles of elastic pictures or telescopic forks, the shock absorber is substituted by an air pump compressed, when the bicycle moleja the bomb, besides acting as shock absorber, injects compressed air in the reservoir for subsequent use.

19 - FRONT WHEEL DRIVE FOR BICYCLES.

The system can apply traction to the front wheel of bicycles using the own guidom, that with an axis in your center, form two levers that tracionam two turnstiles, each one on a side of the axis of the front wheel.

These levers formed by the handlebar they can be used to add manual force to the back traction of pedals sway or of conventional pedals, increasing the performance of bicycles.

He/she/you presents two systems of change of marches, varying the distances of application of force in the handlebar or, as in the conventional system, using several pinhões with applied different diameters to the turnstiles.

20 - ELASTIC MOTOR-ACCUMULATOR FOR BICYCLES.

It is a system that accumulates kinetic energy winding a synthetic elastic band, of eraser or silicon of reasonable length, contained in a tube to do to walk vehicles with muscular traction, as bicycles, wheel chairs, ships and kayaks or motorized vehicles of small potency.

The energy can be applied to the elastic band in several ways: when the vehicles go down slopes; in having braked; applied with electric motors; drills.

The accumulated kinetic energy will be used later as I aid motor.

When the system is applied in bicycles besides the advantages of reservation of energy, it endows them of traction in the front wheel, that is, the bicycle is with traction in both wheels.

21 - ELECTROMAGNETIC GUM FOR TUMULTS CONTROL.

It is an electromagnetic accelerator of projectiles. It is for guns with control of potency of shots that allows wide variations in the sizes and forms of the projectiles. They allow the creation of armaments without explosions, smokes, sparkles or sparks.